Showbiz and Sport Legends in Havana
By Ronal Quiñones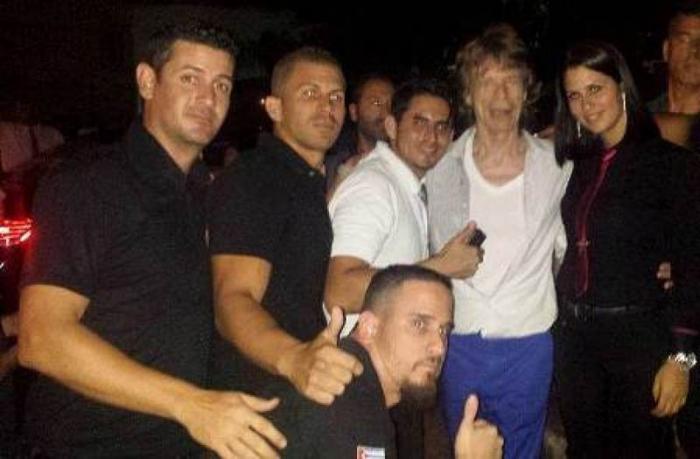 HAVANA TIMES — Despite their incipient nature, the current, more flexible diplomatic relations between Cuba and the United States have had multiple repercussions on the island, and one of them has been the increase in famous people interested in visiting the country.
Setting their sights almost exclusively on the capital, showbiz stars haven't waited for the complete normalization of relations to set foot on the Caribbean isle.
Renowned for its beaches, Cuba has now also come into the spotlight as the destination of the famous, including musicians and singers like Mick Jagger, Rihanna, Luis Enrique, Beyonce and Katy Perry (and others who have expressed their desire to pay Havana a visit).
As expected, the sports world didn't lag behind and renowned soccer players such as Uruguayan Diego Lugano, Spaniards Raul Gonzalez and Sergio Ramos and Brazil's legendary Pele, basketball players Dikembe Mutombo and Steve Nash, in addition to boxer Floyd Mayweather Jr., packed their bags and dropped in on Havana at different points in 2015.
Before them, other athletes such as goalkeeper Iker Casillas, Argentine Walter Samuel and the one and only Cristiano Ronaldo had set foot on Cuban soil, but only as part as low-profile (practically incognito) visits. Only the former stayed in Havana, while all others spent their vacation in private resorts in Varadero.
Everything seems to indicate this is merely the beginning of a process promising to revitalize tourism on this, one of the most renowned destinations of the Caribbean.
For people in Havana, the phenomenon, though largely unpublicized, has been quite exciting, allowing them to come into contact with individuals they had hitherto only seen on the screens of their television, be it on Cuban regular programming or the so-called "package", a compilation of films and series distributed surreptitiously around the country.
Alicia Regueiferos, a home keeper from Centro Habana, considers this highly attractive. "Everyone's a little bit into showbiz and would like to meet any of the stars who have been here in person. It all depends on people's tastes. I for one would like to see more soap opera actors come visit us."
For Regla Maria Fernandez, this also represents a good financial opportunity. "I rent out rooms to foreigners, and I think this is very positive. I know none of them are going to want to stay in someone's home, because they're not used to that, but their visits get people interested in coming. Also, it may not directly benefit my business, but it does others, like restaurants, luxury car rentals and others that these people are interested in."
"I'm still waiting for them to show an interest in getting to know the real Cuba," says German. "They're still clinging to stereotypes and don't really want to find out how Cubans actually live. They come in their private jets, stay for a day and get on with their lives."
"But athletes have come into more direct contact with average folk," Hassan interjects. "Sergio Ramos played soccer with children at Cuban schools. It's true he did that as a UNICEF representative, but it's still something, and Maywheather didn't stay at a luxury hotel, but in one of the humblest in Old Havana (The San Isidro Hotel). He also visited a gym where the best Cuban athletes before 1959 trained (the Arena Trejo). I think they're a little humbler than the rest."
"You can't ever really tell," Tulio adds. "Messi has been invited to Cuba more than one time and hasn't come, not even when they've offered to pay for his trip and lodging. It's hard to believe, because he's Latin American and an idol here. People are still waiting."
"He'll come any time now, I think," Alexei jumps in, "just like Cristiano. When he came, he wasn't yet with Real Madrid and wasn't as renowned as he is today. If he came now, it wouldn't be like last time, when people didn't even notice, and perhaps didn't recognize him either. We can't forget that now, when we have more sports broadcasts, these people are more famous and people recognize them more."
"You can't argue with that," German replies, "others who came before them went completely unnoticed. I know others have come for the Habana Cigar Festival, but, since we had different laws then and they wouldn't even step out of their hotels, and they got no publicity, we didn't find out about it. I don't remember the names, but several former NBA players and famous actors who are cigar aficionados were there."
"This is just the beginning, folks." Tulio says. "Now that Cuba's got soccer fever, no player who comes is going to go unnoticed. I still remember how Revolution Square filled up during the Concert for Peace, and those weren't even great musicians. For me, this showed how crazy Cubans are to see famous people up close, and we've seen this with everyone who's come. Every time they come, huge crowds follow them and they've had to escort them everywhere."
"Don't even remind me of that," Henry cuts in. "When Beyonce came, there was huge scandal over a bodyguard who pricked a photographer with a pin, the news went around the world although here we didn't even find out about it. Luckily, no such incidents have taken place with those who came afterwards, it looks as though State Security has finally realized it is not part of their job description."
Motivated, with their hopes up and on the alert (so that the next famous visitor won't surprise them), many people of Havana feel more and more like any other citizen of the world, in this connection. The so-called Iron Curtain that once separated socialist and capitalist countries fell a long time ago, but it had been kept up in Cuba as though nothing had happened, bringing secondary effects like the ones we're seeing. Cuba is now probably on the agenda of a number of important vacationers. We'll be able to see this in person in the coming months.