Singing & Living With Aids
By Sara Mas

HAVANA TIMES, August 8 – "Sing or die."  That idea crosses Fernando Marcoleta's mind often. Other thoughts brought on silence or filled him with nostalgia and pain upon learning the results of a test that, for him, was just routine, until the result came: HIV positive.   The year was 2001 and for Fernando the sky fell to the earth.  "My life changed, everything changed," he told us in an interview seven years after that diagnosis.
"That news knocks you to the floor; it's shocking…" The virus suddenly interrupted his career as a tenor. Instantly, an attractive job that he had recently been offered went up in smoke, an upcoming disc that would be recorded in Strasbourg, France.  There was a long trip planned, and possibly new performances and awards.  "I pulled myself together.  First I had to report to Hygiene and Epidemiology and identify the possible chain of infection.  It's devastating.  And then: that day, at some point, they come by to pick you up."
Marcoleta went to live in a sanatorium, an established practice for people who are diagnosed HIV-positive in Cuba: they are admitted into the health facility where they receive direct attention and take a course that helps them to accept their condition and learn how to live responsibly with it before returning to society.
"I spent two years in the Menocal sanatorium, in San Jose de Las Lajas in the province of Havana, where I completed the course on learning to live with HIV."  There he established a close rapport with his doctor and had a room of his own, which he decorated with his most precious professional mementoes.
Native of the city of Cardenas in Matanzas province, about 100 kilometers from Havana, he had moved to Havana as a young man in 1989, driven by his desire to study at the Higher Institute of Art (ISA) and build his career.
In the sanatorium, his temporary home, he performed two or three times, "but out of necessity, because it was difficult for me," he recounted.  "Since I had little spiritual impetus to go back into the outside world, I stayed there longer.  It was due to depression, an emotional problem, not for lack of medication," he clarified.
"I experienced panic," he explained, "over my two greatest fears simultaneously: confinement and AIDS. To me, HIV was somewhat abstract, but I knew that at some point I could get exposed."  That's why he voluntarily took the test.
"I was not a person who lived on the fringe of life and I wanted to know," he said.
"As I told the doctor before I left the sanatorium, I can say that I was happy there.  There I created my world; I kept at bay the people that I didn't want to deal with and accepted those who I got along with due to their nature."
"I Used to Visit People at the Sanatorium"

Previously compassionate toward those experiencing the pain of being HIV-positive, he used to visit them in the sanatorium, never imagining that one day he might be in the same situation.  "I felt great empathy for those who had this problem.  I identified with them as they were in an extreme situation. But I feared the disease so much that I even washed my hands upon returning home; I was too scared to even touch my face for fear of infection," he confessed.
Along with his diagnosis came the rejection of his family.  Nearly everyone turned their back on him except a very dear sister, who had cared for him as a child, and his mother; because he didn't tell either one of them.  He wanted to spare them the pain.
"Everyone knew except them," he said.  "My family's reaction was not good at all, because they figured I had asked for it."
Once at the sanatorium, he retraced his footsteps, back to the group he had left without notice upon being diagnosed.  Also frustrated was a very attractive project with the Benedictine monks that included two years in the Dominican Republic, four years of studying Philosophy in Brazil and one year in Rome learning the iconography of the Gregorian chant.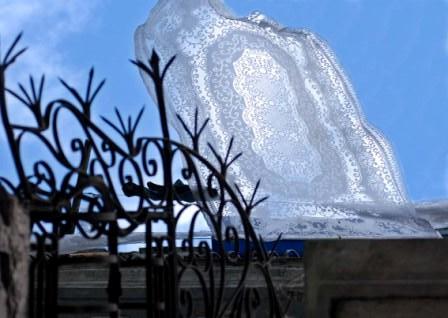 "I went from the Benedictine monastery to a diagnosis of AIDS.  It's like going from Notre Dame in Paris to Auschwitz, although that may seem a little dramatic."
"When I learned of the diagnosis, I just disappeared.  So later I went back to talk with the director of the group and explain what had happened.  I preferred to tell the truth, however hard it was, and I asked to keep the matter private."
Then one day he returned to where he thought he never would go again: Cardenas, his home town, his refuge.  "When I came to this town, I could understand.  The first year was very hard. My sister became ill and died of cancer.  I sort of gave up: I had no friends, nobody and nothing interested me," he recalls.  He began to believe that he would not live to see 40. The drugs began to take a physical toll.
Singing Was the Key to Revival
"Then I started to fight, to exercise, and I became a new person. I began to take care of myself and feel good about myself," he said.
But if something managed to 'revive' him, it was singing again.
"It happened by accident" he says. One day a boy came by his house asking for help because he wanted to learn to sing.  "And he invited me to perform one night at the Cárdenas Theater.  I had not sung in three years… I was overwhelmed and from that moment I have not stopped singing," he said as the excitement and happiness rose in his voice and a glimmer of humor shone in his eyes.
The stage manager was great, he recalled. "She took me to the side of the stage and said, 'relax, everything will be okay.' I wasn't sure if I was brought there to sing or to undergo surgery," he joked.
He also performed in some nightclub acts, something completely new for him; almost by chance …
Striking a Cord with Schubert

He was working as a bricklayer, covered in cement, building the bathrooms of the Hotel Coral in Varadero, when he suddenly heard his voice over the bar speakers.  It was from a compilation album of a contest in which he had received an award.  The album went from the bar to the entertainment director, who immediately suggested I sing live: five nights of cabaret.
"I've had the satisfaction of someone stopping me in the street and saying: 'man, you kick ass, you're awesome.'  That, which may seem like a vulgar expression, is really touching, because you know that through Schubert you have struck a chord in someone."
"So I have reconciled with this town, with my city."  More confident and prepared, Marcoleta said that singing now has added meaning for him.  "At 42 years-old and seven years after being diagnosed HIV positive, I'm full of plans, of zest for life, of joy."
Again he feels the adrenaline of stepping onto the stage.  "Singing is a way to convey what I feel and carry inside," he said.  "Because I love a lot," he confessed.  "I've loved and I have been loved. And I have also lost what I have loved."  But he is convinced that it is all part of life.
"The conclusion that I draw is that HIV is like any other disease and that the sword of Damocles hangs over everyone.  Now I know that having AIDS does not mean that the door has closed, but rather another dimension has opened up.  AIDS itself is a blade that falls like a guillotine in slow motion.  It can be upon you at any moment.  But the important thing is to live life with dignity," he said, adding that already he has sung in more than 20 cities since he began.
"I have experienced very hard situations that I could have never imagined, such as illness and death of my sister, then the diagnosis and illness of my mother, and I was able to face them, to fight and remain well.  God will reward with health that which has been anointed with love."
"Sing or die," the phrase Fernando began this interview with, is more than just a slogan: singing has given him the strength to go on living.
"I can say, even with HIV, with the family's lack of understanding and the millions of things in this life, I am a happy person because I am full of optimism.  And I don't plan to throw in the towel," he assured.