Small Entreprenuer Returns Tram to Cienfuegos, Cuba
HAVANA TIMES – Pulled along by horses and later powered by electricity, trams circulated in Cuba until the early 1950s. Approximately 65 years later, a "self-employed" worker from the south-central city of Cienfuegos has "rescued" this form of transport from oblivion. Although his tram is very unique.
Made out of wood, aluminum and steel scraps, Paul Lima Arecibia's vehicle has made possible sightseeing tours of the city's historic center in carriages pulled by animals.
Suffering from acute emphysema after working as a bricklayer with cement for nearly 20 years, Lima Arencibia claims that he found his inspiration in old photos at his son's primary school, an old tram station until 1953.
"It wasn't a tram in the beginning. For two years, all I had was a small boat that I added wheels to and I used to take children all over the city with my horse Caramelo's help. I then thought that this city was missing some things and the tram was one of them. I used to see railway lines on our streets everywhere, so I decided to investigate."
His research took him to the city's archives and libraries and to consult various cultural institutions directly, several of which underestimated his proposal.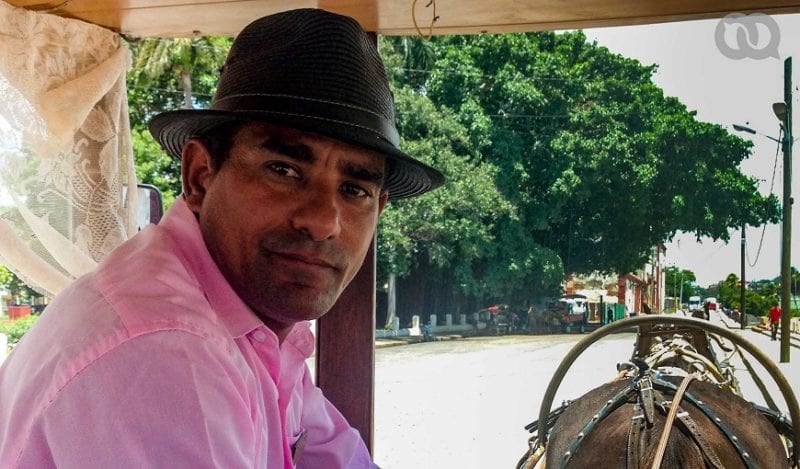 "They told me that there was enough on offer with traditional carriages or colonial calashes," Paul remembers.
He went to the Municipal Administration Council with low spirits, but they applauded his initiative. The people responsible for a program called the "Sustainable Comprehensive Local Development in Cuba" (PADIT) encouraged him to make it a Local Development Program immediately.
"The Tram exists thanks to them," he insists.
On December 9, 2017, the bricklayer-turned-coachman was given an exclusive license to travel through areas that other carts were banned from traveling in, such as the main avenues of the Malecon, Prado and other streets in Cienfuegos' historic center.
"Now, I'm about to sign some contracts with the Tourism office and its state agencies, although they have already given me flyers and videos to put on the screen I have set up in the carriage. The Heritage Board has given me the history of sculptures and buildings so that I can study it in my free time.
"This is what I share with my customers on their trip, which costs 3-4 CUC for foreign tourists and 10 pesos (CUP) for Cuban nationals. People also hire me for weddings for 40 CUC per day and I take them wherever they want to go."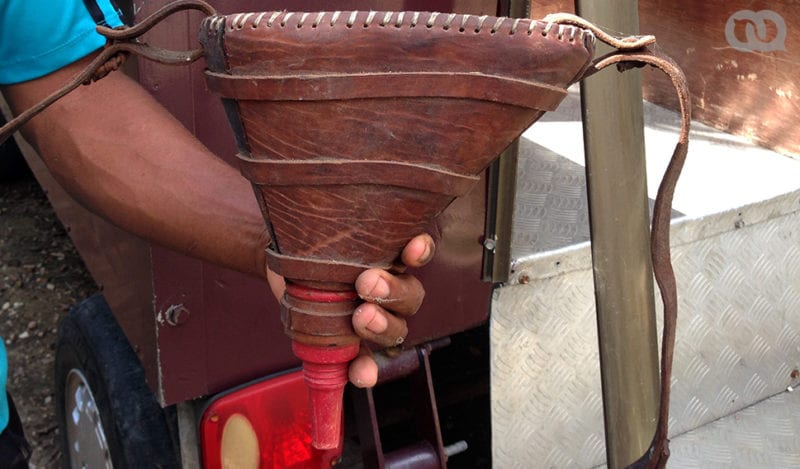 As well as creating a tram with his own two hands, Paul Lima came across a possible solution to the public health issue carriages and carts parked in foul-smelling and not very hygienic parking lots pose. Paul's vehicle has its own "waste treatment system" for horse urine and excrement.
"It's a kind of funnel that I lined in leather and I put it on the horse when it is resting. All of this liquid travels into a stainless steel tank underneath the carriage. And the other thing is a "diaper" which leads to some bags too, which are also under the carriage, to collect waste."
Lima hopes that the idea catches on and even demands it to become standard, especially in cities such as Cienfuegos where hundreds of horse-drawn carriages stop the urban transport system from completely collapsing, but they also dump kilograms and liters of waste onto its streets.
For now, his idea of rescuing the tram has been assessed and has received consent from the Traffic Engineering Board in Cienfuegos.
This invention from Cienfuegos is an example of a rare but productive communion between independent workers and government agencies in Cuba, which has been encouraged after reforms were made 10 years ago. Although, there still aren't very many concrete alliances like this one yet.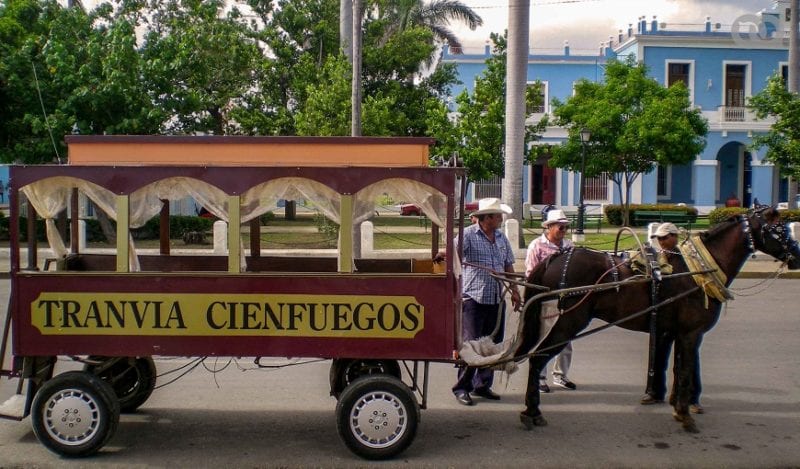 The issue is very clear in the creator of this intriguing service's eyes:
"As long as Cienfuegos is attractive, so is my idea. As long as we are able to preserve what has made Cienfuegos a charming destination in these years, my Tram will also be charming.
"The city has other options for tourists, both in the private and state-led sector. I have even heard that they are building other trams. It makes sense, it's a good idea. I'm not worried about that because we can only measure the quality of our service by comparing it with our competition. We will have to compete to be better and that can only be a positive thing.
"Right now, I myself am working on another tram. I am dedicating more time to this one, I want it to be more loyal to the original design, with entrances on both sides and other details. Using my own means and resources of course, so there isn't a rush. My brother will drive the first one, exclusively for children. I don't want it to lose such beautiful value."
*Claudia Martinez Bueno and Rosario Conyedo contributed to this article.