Small Town Cubans Set Their Sights on "Agro-Tourism"
Aurelio Pedroso  (Progreso Semanal)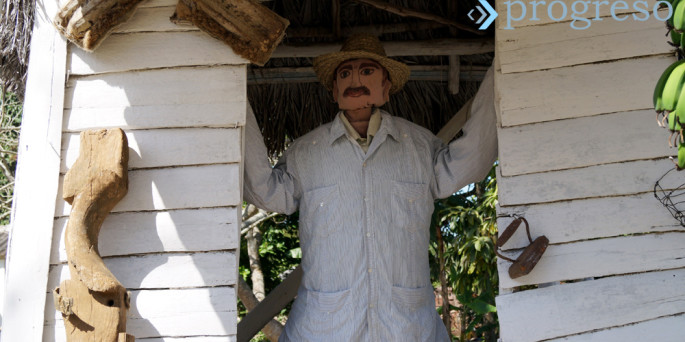 HAVANA TIMES — Practically off the map, or at least far away from any respectable road, a rural community in Cuba is working for a decorous and prosperous future, relying on the efforts of many locals – locals who do not exactly consider their city as a bastion of salvation.
What is happening in La Picadora, Mayjigua, in the municipality of Yaguajay, Sancti Spiritus, is worthy of admiration and should be held up as an example to follow, now that the country is involved in a process of reforms and changes, in which the State has decided it need not continue to inadequately take care of everything. Authorizing and supporting initiatives like this one is more than enough.
There, 227 people live in 88 houses. There are 115 men, 97 women and 15 children. Their main incomes come from farm and livestock sales, through 45 farmers grouped in the Manuel Montaña cooperative and another 8 who work in the Centenario de Baragua cooperative.
A Singular Experience
La Picadora is preparing to undertake a uniquely attractive enterprise with proven international results: agro-tourism, offered through Cuba's well known "countryside homes." This name may be a neologism of the tourism industry, but it refers to a worldwide practice that dates back to the time when our ancestors first started to walk on two feet.
Resting in a natural setting and mingling with the locals, enjoying the hospitality and wisdom of those who are in constant touch with Mother Nature, is one of the many interests that could inspire a foreigner to travel beyond the borders of their country. There are those, of course, that are looking for an 18-hole golf course, but there are also those who wish to see how a cow is milked, birds in flight or old artifacts for working the land in use.
To mention one (and perhaps not the most appropriate example), most visitors to Greece stay in homes rather than hotels.
Cuba has not yet begun to offer this particular form of tourism which has become widespread in many countries and contributes to the wellbeing of villagers.
That is what farmer Esther Denis Perez, a community leader and promoter of agrotourism, thinks. Esther had similar experiences in Spain. She is the wife of Jose Angel Rodriguez Sanchez, better kown as "Titi", a local government representative.
Some of the locals have the basic knowledge required to set this plan in motion. Every two years, international archeology and paleontology events are held in their village.
The plan conceived for La Picadora involves lodging tourists in the homes of the farmers, holding exchanges about crop management and the handling of different domesticated animals, tours for observing different forms of vegetation, the appreciation of peasant identity, culture and tradition, interaction with archeological and paleontological sites and the observation and participation in the production of lime furnaces.
The agrotour, titled "Farmers Working the Land" also includes a visit to Las Meliponas, a cultural and crafts center, horseback riding and tours on ox or horse-driven carts, nature watches from the La Loma Grande lookout point and visits to local historical sites, and others such as a "mini-factory" where more than twenty types of conserves are produced.
La Picadora and its inhabitants deserve a better future, with more prosperity at all levels, and they aspire to achieve this through their own efforts and initiatives. They do not steal, they do not embezzle. Corruption does not flourish in their fields. They only work. That is what they are good at. Let's hope luck will smile down on them and they do well and draw many tourists to their community and that the province and country will follow in their footsteps.