Solo Exhibition of Cuban Artist Tomas Oliva
at Havana's Guayasamin Museum
Irina Echarry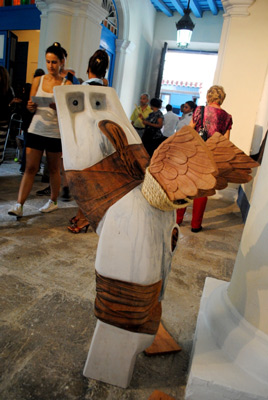 HAVANA TIMES — The toilet – that intimate and carefully concealed artifact – is brought out from its hiding place by Tomas Oliva and used as a means of expressing different emotions, moods and ideas.
Oliva is not well known among young Cubans, for he has lived in Miami for years and hasn't had an exhibition in Cuba since the 90s. That is why, since October 2, many have been visiting the Guayasamin Museum in Havana's old town, to appreciate the harmony between drawings, installations, paintings and scultures that make up the series To-To – a title that plays with the repetition of the artist's name and the inscription we find on toilet bowls.
Hay un presagio en el aire ("There's a Presage in the Air") shows us toilets that have been imprisoned, with wings, dirty or looking in the mirror, all in large-format pieces. The materials and media vary: wood, charcoal, plaster, oil on canvas, ink, pencil drawings, chords.
One piece, titled The Silence of the Sirens, pays tribute to the Czech writer Franz Kafka. The installation reminds observers that the sirens have a weapon that is far more terrible than their song: their silence.
These pieces will be on display until the beginning of November at 111 Obrapia St., between Oficias and Mercaderes, Old Havana, during office hours. It will be an opportunity to come into contact with the personal poetics of this talented Cuban artist.
Click on the thumbnails below to view all the photos in this gallery. On your PC or laptop, you can use the directional arrows on the keyboard to move within the gallery. On cell phones use the keys on the screen.