at the Hispano-American Cultural Center in Havana

Irina Echarry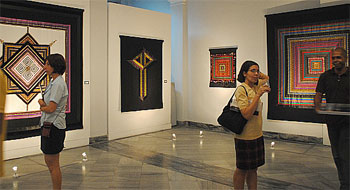 HAVANA TIMES — Martha Le Parc's hands — mere instruments of her spirit, according to her — arrange ribbons, stones, feathers, lace and various threads to form beautiful tapestries.
This Argentina artisan/artist (or artist/artisan) — who lived in Paris for many years but graduated from the Academy of Fine Arts in Buenos Aires — has not neglected the study of crafts.
For her there's no barrier between the academic and the popular. Her work combines both worlds, hence the title of the exhibit that opened in Havana on February 15 under a heavy downpour, "Martha Le Parc: Artist or Artisan? A Tribute to the People of Cuba."
Harmony of color and a geometry whose functions are based on motion call attention to her textiles on display at the Hispano-American Cultural Center.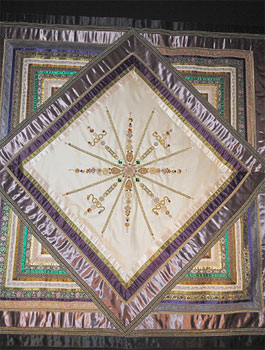 Martha Le Parc thrives on what she knows well: the popular cultures of Latin America and other parts of the globe. She's also well-versed in academia, as some of these great tapestries remind us of the works of Annalise Albers, Paul Klee, Piet Mondrian and Wassily Kandinsky.
Although Martha identifies herself with Bauhaus (the movement that proclaimed that artistic production couldn't exist without solid teaching in artistic craftsmanship and that artistic craftsmanship cannot exist without conception), she questions all of this by saying, "I reject this idea that arts and crafts needs to be considered art only if arrived at through formal art education."
And she wonders, how then do you explain the wisdom demonstrated in the forms and chromatic palettes of indigenous Latin Americans, and African, Oriental, Asian and Indian ethnic groups, since many of these artisans have never studied in any school?
Martha dedicates her work to those anonymous hands.
The Hispano-American Cultural Center is located at 17 Malecon (between Prado and Capdevila) in Old Havana. This exhibition is open to the public from Monday through Saturday from 9:00 a.m. to 5:00 p.m. until mid-March.

Click on the thumbnails below to view all the photos in this gallery. On your PC or laptop, you can use the directional arrows on the keyboard to move within the gallery. On cell phones use the keys on the screen.