"The Cuban Five" All-Star Game Appearance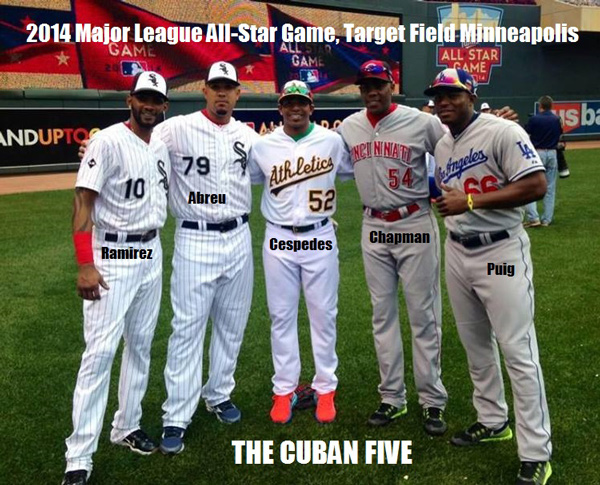 By PETER C. BJARKMAN* from Minneapolis
HAVANA TIMES — It was more a case of historic Cuban presence than one of impactful Cuban performance, at least when it came to the All-Star Gala Game that actually counted. With five Cubans appearing for the first time in four-plus decades, and with Yoenis Céspedes walking off with a record-tying second straight Home Run Derby crown on Monday night, the stage seemed set for a memorable All-Star Game encore for fans on both sides of the Straits of Florida.
In the end the 5-3 American League victory produced no slugging fireworks from Abreu, Céspedes or Puig (the one starter). Puig was the night's biggest disappointment for fans in Havana, Miami and Los Angeles, Abreu and Céspedes had only limited opportunities which in the end they couldn't convert, and eight Cuban at-bats produced only a single base knock. Nonetheless the night was not without a few spotlight moments provided by Aroldis Chapman (in a losing cause) out of the Senior Circuit bullpen and Alexei Ramirez (in a winning cause) off the Junior Circuit bench.
The night's most memorable moment clearly came in the home half of the eighth frame when Cuban flame thrower Aroldis Chapman squared off against Cuban slugger Yoenis Céspedes, a scene that could only have been dreamt about back on their native island as little as only three or four years back. Such a confrontation had only happened once before (1967) and this time it ended quickly enough when Céspedes rapped Chapman's second third delivery to shortstop for a bang-bang infield out.
The scene was almost anticlimactic, however, since Jose Abreu led off the frame one batter ahead of Céspedes and flied out to short left field on the first delivery he saw from Pittsburgh southpaw Tony Watson. Had NL skipper Mike Matheny opted to open that inning with Aroldis Chapman rather than Watson, then fans might have been treated to an even more intriguing match-up of Cuban muscle power – the Cuban power hurler Chapman against the current MLB home run pacesetter Abreu.
A second highlight moment for Cuban baseball devotes came several innings earlier with the game-impacting appearance of Alexei Ramirez in the home fifth. Ramirez had played a small role an inning earlier in one of the evening's more dramatic staged moments, that coming when he replaced Derek Jeter (who had already occupied his infield position) in a staged final curtain call for the certain Hall of Famer.
After Oakland catcher Derek Norris opened the fifth with a single, Ramirez also wrapped out a safety in his first plate appearance, something that had not happened with a Cuban player in more than a half century. The safety helped launch a game-winning home club rally which continued with a double by eventual MVP Mike Trout (scoring Norris) and then a sacrifice fly off the bat of Houston's Jose Altuve that brought in Ramirez with the crucial insurance tally.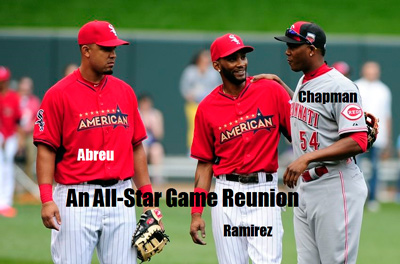 In the end it was Chapman, however, who impressed most despite his ever-so-brief two-batter outing. After disposing of countryman Céspedes the Cincinnati closer also enticed a harmless roller off the bat of Seattle's Kyle Seager to close out the final AL offensive inning. Chapman threw but five pitches, four off which lit up the scoreboard at 100-mph-plus and in the process drew some of the loudest crowd reactions of the night.
If there was any noteworthy downside to the Cuban end of the ledger it had to be an altogether disappointing two-day showing by Dodgers sensation Yasiel Puig, the lone Cuban starter. If Puig burst onto the scene last summer with one of the fasted and most celebrated rookie debuts on record, his All-Star arrival was anything but either explosive or eye-popping.
On Monday evening Yasiel was the only one of ten Home Run Derby contestants who failed to send even a single long missile into the grandstands. Facing true live pitching tonight Puig was stuck down twice swinging (by Felix Hernandez and Max Scherzer) and once looking (by Yu Darvish). The two-day performance did nothing to enhance a growing legend for Puig, who also saw both a Derek Jeter double and a Mike Trout triple escape his grasp in right field during a three-run AL uprising in the opening inning.
On the whole Puig's plight was the only true negative. Abreu connected with the only pitch he saw, even if it produced a line-drive out; Céspedes was handcuffed twice but had already come up big twenty-four honors earlier in the showcase exhibition Derby; Ramirez hit safely in the midst of the AL game-winning rally; and Chapman produced the anticipated handful of smoking three-digit speed gun fastballs for which he is noted. And the biggest plus of all was the sense that this was only a beginning. Chances seem promising that the all-star "Cuban Five" will be back on the field twelve months from now when the 86th Midsummer Classic is unveiled on Chapman's home turf in Cincinnati.
Cuban 2014 All-Star Game Milestones and Memorable Moments
A record number of five former modern-era Cuban League veterans appear in the All-Star Game, including the first four non-pitchers. The only larger Cuban All-Star contingent numbered six in 1968, but of that group only starting pitcher Luis Tiant had actually played professionally back on his native island.
Alexei Ramirez becomes the first former Cuban Leaguer (and also the first-ever Cuban-born big leaguer) to hit safely and also score a run during his first All-Star Game plate appearance. Ramirez is also the first Cuban to hit safely in his first trip to the dish since Tony Taylor did so in the second of two 1960 games. And he is also the first to reach base in each of his first two All-Star plate appearances.
Aroldis Chapman delivers a mere five pitches with four being clocked at 100-plus mph. Chapman also becomes the first Cuban hurler to play in as many as three different All-Star Games since Luis Tiant made his third appearance back in 1976. Camilo Pascual and Mike Cuéllar are the only other two Cuban pitchers to appear in three different All-Star Games.
Yasiel Puig becomes the first Cuban to strike out in each of his first three All-Star plate appearances and also the first of his countrymen to go down swinging three times in a single Midsummer Classic contest.
Yoenis Céspedes (the only Cuban Home Run Derby winner) also becomes the third Cuban Derby participant (along with Rafael Palmeiro and Jose Canseco) to appear in both the Derby and the All-Star Game itself in the same year.
A Cuban pitcher (Chapman) and batter (Céspedes) square off in an All-Star Game for only the second time ever. The first and only other occasion came when Mike Cuéllar struck out Tony Oliva in the eleventh frame of the marathon 1967 contest.
—–
(*) PETER C. BJARKMAN is author of A History of Cuban Baseball, 1864-2006 (McFarland, 2007, 2014) and is widely recognized as a leading authority on Cuban baseball, past and present. He has been reporting on Cuban League action and Cuba's national team as Senior Writer for www.BaseballdeCuba.com for nearly a full decade and is currently writing a groundbreaking book (The Yanqui in Cuba's Dugout) detailing his two decades of travel throughout Cuba and his adventures covering the Cuban national team abroad. His work as a "Cuban baseball insider" has also been featured on Anthony Bourdain's Travel Channel episode of "No Reservations Cuba" (2011) and with a 2010 front page profile in the Wall Street Journal.