The Disturbing Frederich Cepeda Case
Ray Otero (*)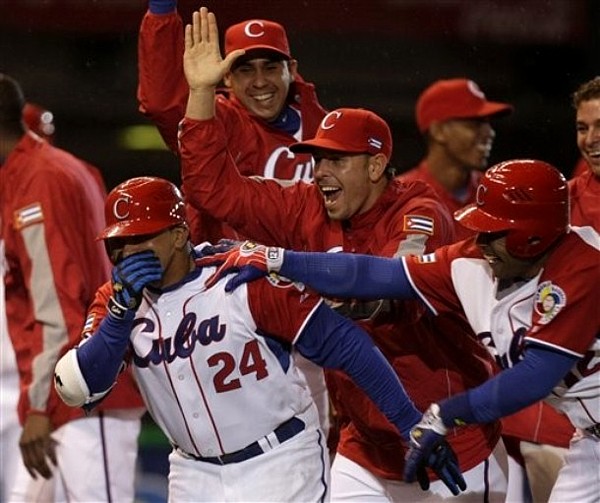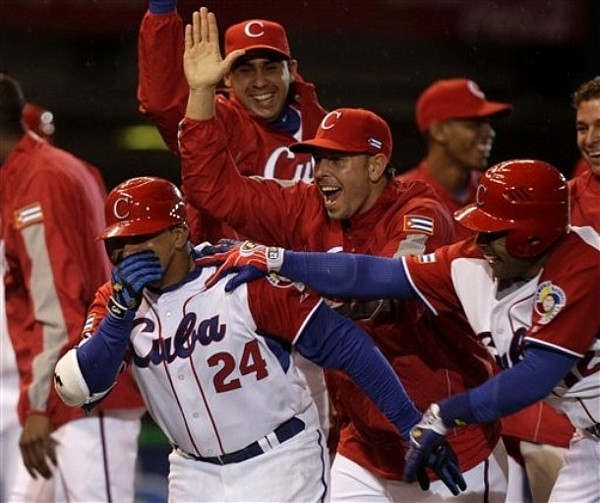 HAVANA TIMES, Nov. 20 — Wearing number 24 and representing both Sancti Spiritus Province and the island as a whole, Frederich Cepeda Cruz is one of the most renowned baseball players to have put on the shirt of the Cuban national team in international competitions.  His absence so far on his team's roster for the 2010-2011 baseball season that begins later this month has shaken fans across the entire nation.
Early Thursday morning I received an email from my friend Peter Bjarkman.  It was a note that, without him intending, would turn my day sour and would return to my mind a maze of questions without answers that I had already endured for weeks.  Peter had written, "It's been confirmed that the Sancti Spiritus roster was issued without the inclusion of Frederich Cepeda."
I was shocked by the news.  I immediately received notification concerning the roster of the Sancti Spiritus "Roosters" for the upcoming season.  I posted it online but I still couldn't believe that the superstar of the outfield would not be present with the squad.  I was especially dismayed that they didn't even mention his name.  It was as if he had disappeared from the life of a country or had never even existed.
Of course to look for information concerning this I had to prepare myself, especially knowing what an enigma it would mean to find any detail on the issue, especially when the institution involved wasn't communicating any information on what had happened, something truly unheard of in this time in which we live.
The only clear answer I got was from Cuban journalist Ibrahin Sanchez, who apparently heard the words below from the head of Cuban baseball himself, Santiago de Cuba native Higinio Velez, the baseball commissioner who to almost everyone appears to be at the center the storm, though he remains sparing with his words.
A complex situation
"There was not a slap, or a punch or a scuffle, as was posted on the Internet, that Martin (Eduardo Martin and myself) were waiting for him at the door because he had left the hotel and came back late.  It was also said that there was a fight.  There was no such thing!  Cespedes and Despaigne were there and can vouch for this," Velez stated.
But then he added, "I can't give explanations about this case, because it's a complex situation."
Several hours later, after constant inquiries from friends, associates, a few journalists and people off the street, what I in fact obtained was no clear confirmation or different information about what had happened to number 24 of the Sancti Spiritus squad and Team Cuban.
Indeed, this was the same number 24 who belted a homerun in Japan that made all of Cuba shiver during the finals of the first World Baseball Classic.  This was the same person who racked up a .385 batting average, a spectacular slugging average of .731, a pair of homers and got eight hits off the best pitching that the Cuban team had faced in years.
And as if that wasn't enough, it turned out that Cepeda did even better in the second WBC by batting a phenomenal .500 average with 3 homers, 10 hits, a .958 slugging percentage and winding up as one of the tournament All Stars.  Plus, he was one of only two players to receive a unanimous vote from the press to be on that team.  All of this is only to give a few examples of the greatness of the athlete in two of the most-watched events of the Cuban national team in history.
If Cepeda —someone who has worn the shirt of the Cuban team since 2003 and has never sought more glory than to represent his country— has disappeared overnight from the life of baseball in this country, don't we deserve some explanation.
Of course not only to me has this turned out to be counterproductive, with such uncertainty and a fog around one of the baseball players who has given Cuba the most glory in the history of the National Series.  It's ironic that this year —the 50th year of the current Cuban league— while an entire country wants to go all out celebrating it, without Cepeda it just won't be same for many people.
People have spread talk and rumors about everything, but we're not questiong the need to impose discipline, nor are we questioning the need to establish order when it's required, especially since this is a customary practice in any baseball or sports league in the world if some infraction is committed.
Such gossip flew during the recent World Cup qualifying tournament in Puerto Rico, when the Cuban left fielder and pitcher Pedro L. Lazo turned out to be key figures in something unknown about up to now by practically all Cubans (or at least the majority).  To me this is not simply about that; it's about responding to an entire people and to an international association, which in their majority deserve an explanation concerning matters like this and others that deserve a greater reflection.
Try explaining the no-explanation to a kid
The most terrifying and what I constantly wonder about is how someone will be able to explain to their child that all the decisions made in their country are correct if that child —an indescribable fan for the Sancti Spiritus "Roosters"— will never understand the vanishing of his favorite baseball player, the one who sometimes keeps them from falling asleep at night because they're thinking about one of his glorious hits.  What will happen when they don't understand why part of their life has disappeared overnight from their favorite team without getting any reason or explanation?
Is this correct or am I mistaken and no one needs to explain why things like this occur?  Attitudes like those being acted upon today —in my personal opinion— only act to deteriorate the image of Cuban baseball.  They also completely erode the credibility of the Cuban press and they discredit journalists who have as their principal function to keep an entire people informed, no matter how difficult it may be for some to hear the truth.
I prefer not to express my criteria without knowing what happened.  I don't want to be a sensationalist and I never will be.  Many people have written me —to me and to my colleague Peter Bjarkman— asking if we know something about what happened.  In my case I can only say "I only know that I don't know anything."
—
Note: At the end of writing this article I receive notification from a good source in Cuba that this Friday Frederich Cepeda was to participate in a meeting with the National Baseball Commission.   Also invited to it will be the manager of the Sancti Spiritus team, Lourdes Gourriel.  In this will supposedly be communicated the real cause of Cepeda's separation —for the moment— from the "Roosters"' roster in the 50th National Series.
—

(*) Ray Otero is a columnist (writing in Spanish) and director of the website www.baseballdecuba.com.  He works along with the recognized US writer and columnist Peter C. Bjarkman (writing in English).