The "I Accept" Project and Marriage in Cuba
By Yudarkis Veloz Sarduy   (Progreso Semanal)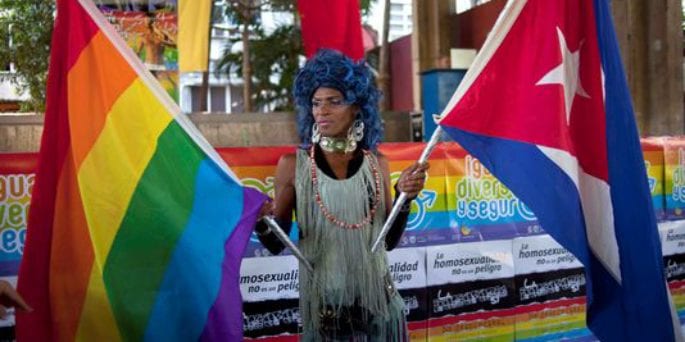 HAVANA TIMES — When it's no longer a secret to anyone that the institution of marriage is in crisis and for some people is even backward and bourgeois, the lesbian, gay, bisexual, transsexual, intersexual and queer (LGBTIQ) community in Cuba is outlining its debate and demands for the need to establish equal rights that come from marriage, because it's the only way to acquire them.
The helplessness in the face of the illegality of being a same-sex couple as an established body isn't fixed by people's acceptance that they exist. Two people who have set up a home together still don't have the same rights regarding their assets, or custody of children, and lesbian mothers don't have the chance to adopt or have access to assisted reproductive technology because marriage is "the union between a man and a woman."
Ever since 1975, the late Vilma Espin, who was the president of the Cuban Women's Federation back then and the mother of Mariela Castro Espin (the current director of CENESEX), advocated for the concept of marriage to represent the "union among people". A lot of things have happened ever since then, but nearly a half century later non-hetero couples still don't have the right to marry and therefore don't benefit from all of the advantages that come with us.
For other couples, same-sex marriage is a way to eliminate the stigma that surrounds homosexuality in terms of promiscuity which they suffer, it legitimizes their love, the concept of family; it's a right which is chosen or is not exercised, but it empowers and brings respect to those who have been discriminated against.
According to Lidia Romero, an activist for sexual orientation and gender identity (SOGI) rights, it's also a political matter. The very fact that the person who leads the only leading institution in this matter is so close to power, could have meant that the implementation of anti-discriminatory laws could have been sped up, such as the Labor Code.  But meanwhile, because of the great hierarchy that exists in the decision-making process in this country, and the backtracking that can be seen in the National Center for Sex Education (CENESEX) – who first advocated for same-sex marriage and is now talking about legal unions for asset purposes- have now lost credibility and strength among Cuban LGTBIQ people and its activists.
That's why Lydia, other activists and friends have decided to call for public participation of everyone who suffers the same concerns or is touched by this subject, via the "Acepto" (I accept) project. "We know the power social media has," she tells me, "and that's where we want to launch ourselves."
The project is made up of three key stages and one is sharing a letter which exposes the need to legalize same-sex parenthood and families and the certainty that via giving visibility to signs of love between same-sex couples who decide to make a life together could lead to a debate.  The resulting discussion would serve as a text, once collected, to be presented before the National Assembly as a draft bill which demands that this issue receive greater consideration.
There are many other initiatives. In Cuba, the Metropolitan Community Church exists, which doesn't stop being Christian just because of its liberal views on sexual orientation and has 250 congregations in 23 countries, and whose ministry, "is radically inclusive of lesbians, gays, bisexuals, transgenders…", according to the words of Cuban pastor Elaine Saralegui. They give a divine meaning to sexuality like a gift from God and work with the context of love, and that salvation will come to whoever loves another human being without these relationships ever being violent.
"It's just a matter of love" is the motto of the "I Accept" initiative. That's why the team makes handcrafted personalized envelopes where the letters and friendliness invite a "Yes, I do."
Other activists mention the need for representation at the National Assembly in building the social model that we want for this country. This includes demanding a space within the media and the implementation of sex education policies which promote a more inclusive awareness far removed from bullying and violence and with respect for difference. Such activism comes from the inherent need to exist.
Lidia, an attorney, tells me about a law of legal acts, of constitutional amendments, of legal practices that have been used to change economic relationships within this country, which could also be used to change other laws that undermine an individual's rights.
"Is it possible to advocate for same-sex marriage as the basic precept of love rather than a basic human right?" they write in their letter and continue to ask: "If this out-dated institution of marriage is in crisis, why is it so important that Cubans with non-heteronormative sexual orientations have this? Is it a moral legitimator of sex? What we are looking for? Public permission to inherit, adopt, lesbian women having access to assisted reproductive technology? Buf, a can of worms!
It's also true that for other LGTBIQ people -same-sex or any other kind of – marriage isn't a matter of interest. These prefer to live out their sexuality with the freedom that unassigned laws give them. Nonetheless, the majority from this community understand that this is a sign of inclusion and a right that will open up new disparities and reconciliations in national unity as well.
The Acepto project invites people to share this human experience, independently of sexual preference or attitudes. This is a very good thing for a country which prioritizes structural changes over transforming individual behaviors and attitudes. It's now the time for a personal, intimate and progressive revolution, and if it is carried out with love, we will win this battle.
There are now more than ten countries which approve same-sex marriages throughout their entire territory, and it is already legal in seven jurisdictions in the US and two in Mexico. The Netherlands were the pioneers of this in 2001, and it's interesting how a ruling from the Constitutional Court of South Africa in 2005, rules that discrimination based on sexual orientation was unjustifiable and it gave the government 12 months to change the National Marriage Law, replacing words "husband" or "wife" with the word "spouse".  It was finally approved by the National Assembly with 230 votes in its favor and 41 votes against.
Acepto wants to talk about love as an emancipating emotion, as a privilege for all, "because we have all been born free and equal in dignity and rights." Mariela Castro Espin has said that we don't want to copy other experiences, although we should look at how the process took place in similar contexts. Thanks to one of the privileges marriage gives couples, I personally was able to come and work in Havana, and even though I don't belong to the National Assembly, and I believe that commitment in our emotions is much stronger than any signature on paper, I will vote in its favor. I accept, especially when talking about rights that is not only a political matter but also a matter of love.