The Long Voyage across the Atlantic
Final Excerpt from Cuba at Sea by Ron Ridenour*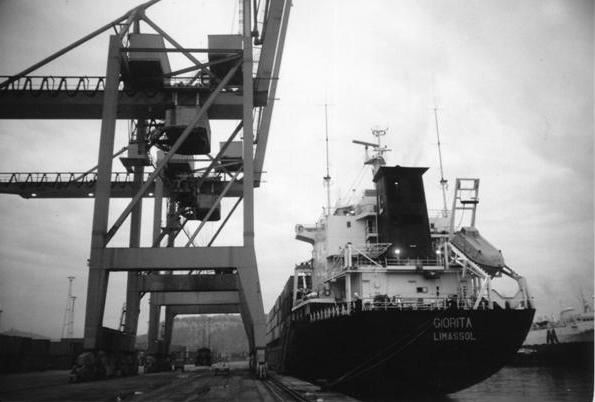 HAVANA TIMES, Jan. 24 — I spent the first evening aboard the Giorita pestering the first and second mates for data about our cargo and route.  We were carrying a light load: only 1,158 tons of merchandise.  Counting the ship's own weight, fuel, fresh water and ballast sea water, the crew's weight and its food, it weighed 12,000 tons, 6,000 tons under capacity—a sign of the rough economic times for Cuba.
Second mate Raúl, who was the navigator, punched figures into his hand calculator.  "If the captain maintains the same course—round Cabo Cruz direct to Windward Pass and into the Atlantic, hugging the north coast of Haiti, in order to miss a cyclone predicted for the normal route, then northeast towards the Azores, then due east into the Strait of Gibraltar, then across the Mediterranean to Barcelona—it should take 14 days and 15 hours, a total of 4,567 nautical miles.  That is, if we average 13 knots, which is routine during the windy winter weather.  Then it is 1,941 miles, or 6 days and two hours, to Amsterdam. Your voyage will take 22 days, depending on how many hours we have in Barcelona, and the ever-unpredictable winds."
I chatted with Raúl when he finished charting the rest of the ship's route to England and Montreal and return to Cuba (total time away would be a calculated 42 days).  Raúl was raised on or near the sea.  His grandfather, father and uncle had been or still were merchant marines. As a young man, Raúl had joined the revolution to overthrow Batista.  He enlisted in the merchant marines soon after the triumph. Now 56 years old, he'd been sailing for 27 years and he looked older.
On a voyage to southern Africa, Raúl had worked on a refrigerated ship and experienced frequent and drastic shifts in temperature, from 35-40 degrees to minus 25 degrees.  One ear was ruptured and he lost the hearing in that ear as a consequence of these sudden changes.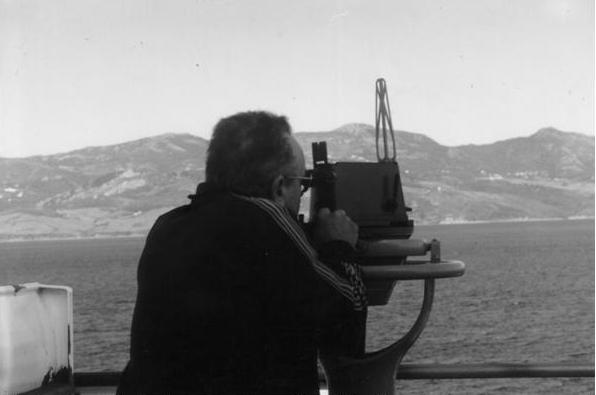 "A sailor's life is hard.  I feel tired.  I look forward to retirement.  Fortunately, our government has an early retirement plan so I can retire in four years. I can't complain about my daily life.  It is very routine.  My body is so accustomed to the same watch shifts that it hardly feels it is navigating. And my life is more tranquil since I've been married to Luz.
We've sailed together most of our marriage, 12 years now. We have separate cabins and distinct work hours. She works the day and I work all hours. We don't sleep together much but we go back and forth to each other's cabins when we like. We are content.
"We don't go out much when ashore. We prefer to enjoy our home and each other's company. We read, watch television and sail together.  That's our life. And we are not jealous people like many others. We don't fear we will cheat on each other, even when we have to be separated because there is no need for both of us on a particular voyage.  No one on this ship makes passes at Luz.  This is a stable, respectful crew.  The captain is reliable and insists on reliability from everyone."
I was impressed by a modern 10-gear bicycle propped up against a cloth-covered sofa in Raúl's cabin. He had bought it in Canada for his wife.  The two-room cabin was decorated with large photos of Fidel, Che, Camilo Cienfuegos and Celia Sanchéz.  The door opened and Luz walked in.  The shy woman nodded hello and sat down on the sofa.  She was one of the two stewards and the current destacada worker. It was said that it was her Chinese blood that made her exceptionally rapid and efficient in her work.
"I was working in a factory when I read an announcement on the bulletin board encouraging women to join the merchant marines," Luz explained how she became a sailor 15 years ago.
"I was 30 years old, still single and with no children.  I had a good friend whose husband was a purser. He encouraged me to apply.  It sounded interesting and it was work the government had use for.  So I signed up.  I never thought I'd stay.  But here I am," she grinned.
Not now as shy as usual, Luz continued her story.
"I had never been on a ship before but I soon got used to the strange motions. I learned to like navigating.  It is stable and tranquil—most of the time. I've never met catastrophically bad weather.  There are no big problems or daily annoyances when sailing: no long lines, no crowded buses, no corre-corre.  I feel relaxed.  Sometimes we're gone for several months.  We get to see new places, new faces. I've enjoyed all this with my husband for most of our 12 years together.
"I met Raúl aboard ship.  We started a romance and got married a year later.  It's been a good marriage sailing together.  I wouldn't want to be married to a sailor if I were not sailing with him. One misses too much of life if you are separated a lot.  It's best to be with someone.  Isn't that why we married?"
Raúl agreed.  "Luz and I are planning to spend part of our next vacation at a campsite for volunteer agricultural workers.  We enjoy working the fields.  It is a pleasant distraction from the routine at sea, and is another facet of life that we share."
For the next two days, we sailed down Cuba's western coast, passing the Sierra Maestras and then along the southern coastline.  Fortunately, we were too far out to see the hated Yankee naval base, which they call Guantánamo after the province from which they stole the area.
I had visited the province and came as close to the military base as possible on the Cuban controlled side.  I could see uniformed figures through a telescope on top of a lookout post.  I gave them The Finger out of anger and impotence at their rapacious, occupationist behavior.
Soon we were sailing through the Windward Passage.  We could see villages on the Haitian coast for several hours.  Then there was nothing to see except the world's second largest body of water, the Atlantic. The Pacific is twice its size. It would be ten days before we would sight land again.
*To purchase a copy of the book you can place an order with Amazon (www.amazon.co.uk/Cuba-at-Sea-Ron-Ridenour/dp/0906378028), Socialist Resistance (www.resistancebooks.blogspot.com/http) or write the author at Soderupvej 1, 4330 Havalsoe, Denmark.