Two Cuban Actors Together in Life and Censorship
The stars in the banned film Santa y Andres

By Raul Medina Orama (El Toque)
HAVANA TIMES — Eduardo Martinez and Lola Amores play the leading roles in Cuba's latest award-winning fiction feature movie. However, in spite of Santa y Andres' (2016) international success (the first movie they shared scenes in), it hasn't been shown at any Cuban movie theater or on national TV.
The film didn't go down well with the Ministry of Culture and Cuban Institute of Cinematographic Art and Industry (ICAIC), and maybe even higher up. It tells the story about the affectionate relationship Santa, a 30-year-old rural woman, had with Andres, the homosexual writer who needed to be monitored because he was accused of being counter-revolutionary and subversive. Stories like that are still taboo in Cuba's public sphere.
For both actors, censorship applied against the young filmmaker and script writer, Carlos Lechuga's, movie is a consistent irony with the discreet career they have chosen to maintain.
Lola and Eduardo's paths have been wedged together like two forged pieces of metal for the past 17 years. They graduated in acting at the Superior Institute of Art and shared the stage together as part of El Ciervo Encantado, an experimental and controversial theater group, for more than a decade. That's where they fell in love.
Censored Cuban movie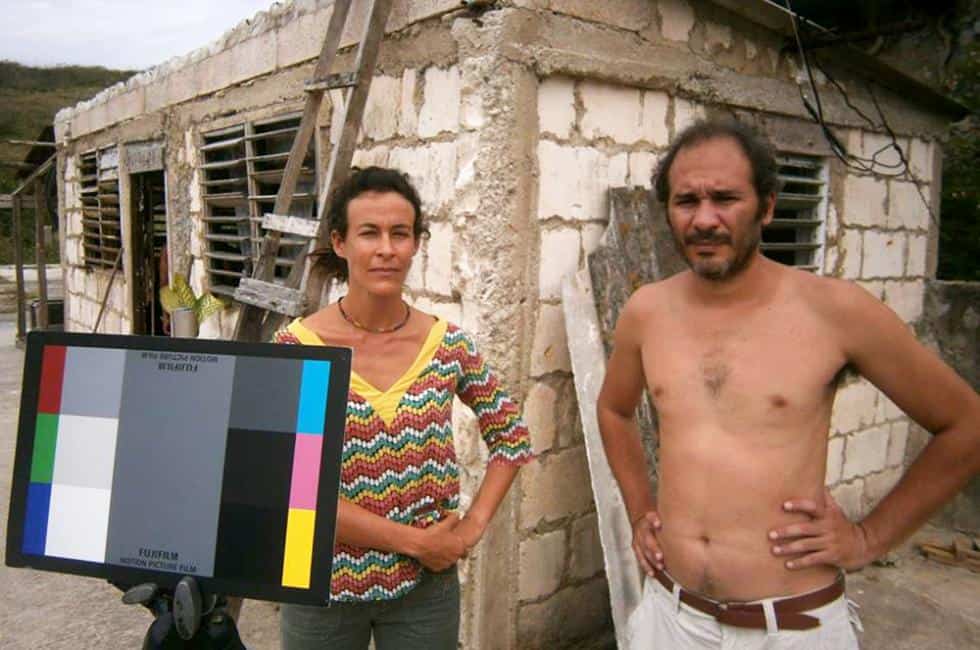 When their careers at El Ciervo seemed to be most solid… they left it to find La Isla Secreta, a theater project located in a small home at Central Havana, (which only allows about fifteen people in), and where both of them are actors, directors, make-up artists, costume designers…
They were never interested in working in Cuban film or TV before the movie that has led them to walk down red carpets at important film festivals in the world, dressed in gala clothes.
"We prefer the theater because it's a more immediate phenomenon. Film is colder, you can't feel the audience when you are performing," Eduardo says. He's a calm and talkative guy who gives you the impression that he thinks a lot about things, about different issues.
While it seemed he was the only one set to play the role of Andres, various girls went to the casting in order to play Santa. Lola remembers that Lechuga had told them from the very beginning that he wouldn't necessarily be choosing the both of them. However, the chemistry between them was really clear during the castings; so much time watching each other act, correcting each other and even helping each other go over their scripts.
Then months of research followed, of collecting knowledge about experiences similar to those in the script, which they shot in just 28 days during a scorching hot August.
In order to build himself up as Andres, he submerged himself in Delfin Prats' poems, novels written by Severo Sarduy and Guillermo Cabrera Infante, who were all writers who had a tense relationship with revolutionary power and weren't very well known among the majority of their fellow countrymen. She turned to her family, she interviewed women close to her in order to understand what it's like to be a rural woman in a poor and machista region.
Eduardo enjoys these grueling processes: "The creator takes more to the screen than what the audience sees. Lola and I were lucky we agreed on this point of growth. We both feed off of the small and big discoveries we make via our characters, as well as all of the awards we have received."
When it came to filming, they remember how difficult it was to act out a hate scene, where Santa is forced to take part in the attack by those who believed themselves to be "revolutionaries" and do away with Andres' dignity. These are scenes with aspects of truth that still hit many Cubans hard.
Cinematography
As a couple, we wanted everything to go well for the other one, Lola says and Eduardo remembers that when she was on the screen alone, he suffered many times with any hardship that she faced in the scene.
Both of them consider themselves "two whips", each of them extremely rigorous and critical with the other one's work, although they respect their differences: "If we didn't, we wouldn't have lasted two weeks together because we are both very strong-minded," Eduardo says laughing.
He likes to see Lola playing Santa, how she pieces this character together and brings her to life.
Santa y Andres is an example of the kind of project they choose to be a part of. They believe they performed an intelligent and bold script, of a movie that will open up other doors.
According to Eduardo, Cuban cinema made by young filmmakers has a very bright future, he believes in them. He likes to work with unknown filmmakers: "They fill you with energy, a vulnerability that is lost over time with experience. We like to shake ourselves up and keep this innocence. That's why we like to take risks with young directors. Lots of very interesting experiences come with these windows of opportunity."
With the movie being censored in Cuba's official film circles, Lola has convinced herself that their paths won't take them to large audiences. Even thought she has been applauded at contests such as the San Sebastian Film Festival, she would have liked Cuban viewers to have been the first to see it. Nevertheless, thanks to pirate copies and watching movies illegally, some Cubans have already seen it and have given their opinions about the movie.
"Someday it will be shown at the Yara movie theater," Eduardo slips in, smiling.