US Shuts Itself Off to Cuban Tourism, while Panama Encourages it
New relaxed Panamanian visa requirements encourage shopping tourism by Cubans, while the US has drastically cut Cubans' ability to travel to its neighbor.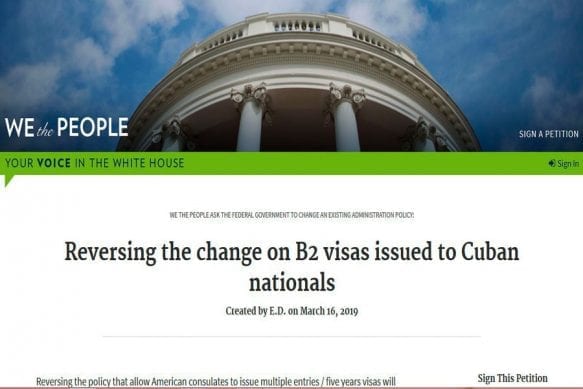 HAVANA TIMES – In a recent discussion on its Facebook page, the US embassy in Havana has received hundreds of complaints from Cubans because of its decision to restrict B2 visas. This goes hand in hand with the creation of the "We the People" digital platform, that has launched a signature collection campaign to ask the Trump administration to revoke this measure.
Besides further limiting family ties on both sides of the Florida Strait, the Trump administration announced the latest immigration regulations that will prevent a large group of Cuban entrepreneurs from buying goods in the US.
It also comes as bad news for the hundreds of businesses in US cities, such as Miami, which have made good profits and offer a wider variety of products, as a result of the shopping trips Cubans embark on.
Even the executive director at the Center of Democracy for the Americas, Emily Mendrala, recognized this. She reminded us in a statement that Cuba's private sector has faced great obstacles ever since visa applications stopped being processed in Cuba, a year and a half ago because of the alleged "sonic attacks" against US diplomatic personnel.
"Many Cubans who have paid the extra to travel to a third country to request their visa to the US be renewed depend on the 5-year visa with multiple entries, to keep their businesses up and running," she explained.
On March 15th, the Business attaché at the US Embassy in Havana, Mara Tekach, announced that as of March 18th, the US government would reduce the validity of B2 visas from five years to just three months for Cuban citizens, with only one entry into the US.
This measure particularly affects those who were issued this visa and were able to enter the US multiple times for family visits, doctor appointments, holidays and shopping trips.
The US government has received many complaints on its Facebook page because of the elimination of B2 visas.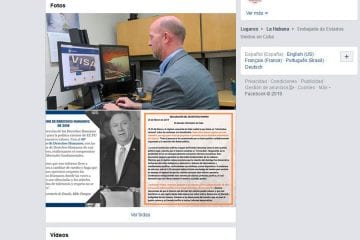 Ever since President Donald Trump set foot in the White House on January 2017, bilateral relations between the two countries has deteriorated to the point that the harsh language used before diplomatic ties were restablished (in December 2014) has made a comeback.
The mysterious sonic incidents, which have yet to be explained, led to the removal of most of the US' diplomatic staff in Cuba, as well as the suspension of consular services.
Ever since then, Cubans interested in traveling to the US must make their visa application in a third country, which has only made this process more complicated and much more expensive.
The Cuban Foreign Ministry rejected the decision to restrict B2 visas saying that "it makes it harder for Cubans to visit their families and for other purposes."
Meanwhile, the Cuban government deplored "the unjustified suspension of visas to Cubans, forcing them to travel to third countries without any guarantee of their application being approved, and the failure to abide by the quota of visas established by Immigration Agreements," which date back to 1995.
In a recent discussion on its Facebook page, on March 18th, the US embassy in Havana received hundreds of complaints, requests and suggestions from Cubans because of the delays in visa applications for family reunification and its decision to restrict B2 visas.
The "We the People" digital platform (which is being used to voice demands to the White House) has launched a signature collection campaign to ask the Trump administration to revoke this measure.
The numbers speak for themselves
Economic reforms under former president Raul Castro's government (2008-2018), encouraged the emergence of a private sector in 2011, which is today made up of half a million Cuban entrepreneurs, who represent 12% of the national work force, according to official data.
The absence of a wholesale market and chronic shortages or the excessive price of products because of the country's never-ending economic crisis since the early '90s, has meant that many entrepreneurs travel abroad to purchase the goods they need for their businesses or to resell them on the black market.
The Zona + store, which opened in 2016, offered customers products that would lighten the burden on the retail sector, but it still hasn't managed to satisfy the demands of the wholesale market for cooperatives and private business owners. Many entrepreneurs travel abroad so they can buy the merchandise they need for their businesses.
These trips were encouraged with changes to Cuba's immigration law in 2013, which eliminated authorization to leave.
For the first time in over half a century, hundreds of thousands of Cubans were able to travel abroad with just a valid passport and a visa for their destination country, and the period they were allowed to remain outside of Cuba was extended from 11 to 24 months.
Measures by President Barack Obama's government (2009-2017) which facilitated remittances to be sent, extended the type of trip that could be made and allowed direct charter flights from the US to Cuba, were additional benefits and meant that Cuba's private sector was able to boom.
According to statistics from the Havana Consulting Group, over 48,000 Cubans went abroad to buy on average 11.5 times in 2017.
This organization estimated that the total amount of purchases by Cuban entrepreneurs that same year amounted to over a billion USD, 61.5% of which (620 million USD) were spent in the US, followed by Panama (14.9%), Mexico (8.4%), the Dominican Republic (4.9%) and Guyana (4.5%).
Panama opens its doors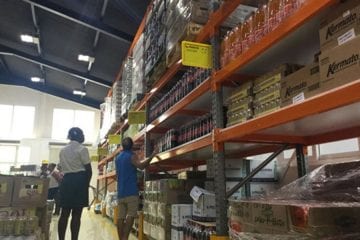 Panama might be multiplying its potential as thousands of Cuban's favorite spot to buy products and supplies in the Colon Free Trade Zone, with revenue estimated at about 100 million USD, according to various sources.
On March 16th, the Panamanian government put into effect an executive decree that increases benefits so that Cubans can get a stamped visa with a tourist visa.
This visa will allow multiple entries into Panama, not just one, like the tourism visa had allowed for up until now. It is also speeding up applications with its Consul in Havana, who determines how long the document is valid for.
The tourist visa, which costs 20 USD and allowed Cubans to stay in the country for 30 days, came into effect in October 2018 with the aim of encouraging shopping tourism.
The stamped visa which allows for multiple entries and exits for Cuban citizens is valid for five years. The regulation seeks to "facilitate applications for tourists and business people who regularly come to Panama and contribute towards its development and economic growth," the National Immigration Service announced.