Venezuelan Migrant Crisis Continues Unabated, Stubbornly Underfunded
By Ella Joyner (dpa)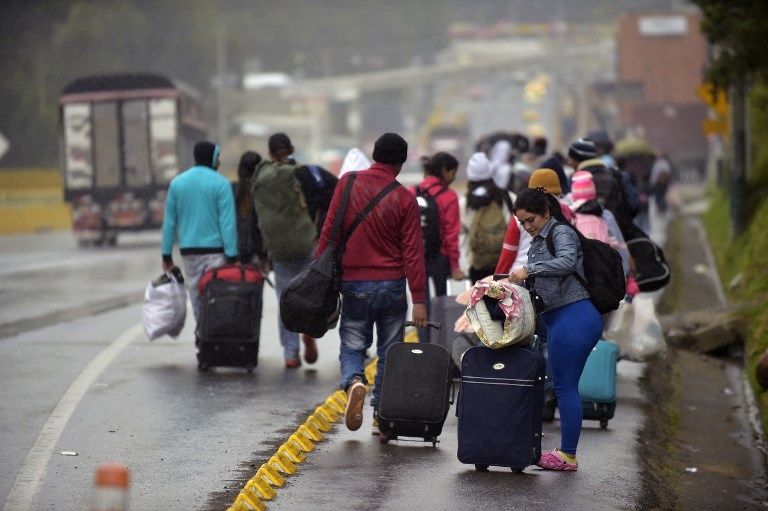 HAVANA TIMES – Venezuela remains in the throes of a political and economic crisis, with millions more people thought likely to flee in the coming months. Yet international funding is still well short of UN goals.
Over the past few years, the world has watched Venezuela's meltdown. First the oil-rich nation's economy tanked, decimating citizens' savings and inflating the price of goods so high as to make normal life nigh on impossible.
Soon after, a political showdown broke out, pitting President Nicolas Maduro against the opposition, led by self-proclaimed interim president Juan Guaido.
Marked by violence and human rights violations, these crises have helped propel an estimated 4.5 million Venezuelans out of their home country. Another 7 million receive aid within Venezuela due to a lack of basic goods and services, according to the United Nations.
It is the largest refugee crisis in Latin America, second globally only to Syria. And with no sign of a political solution in sight, the number of Venezuelans on the move could reach 6.5 million next year.
However, global attention has not translated into the financial support needed to alleviate strain on host countries, according to UN and EU officials, or to protect Venezuelans from the risk of abuse or exploitation they face abroad.
Just 1.4 per cent of the amount of funding made available to war-ravaged Syria has been earmarked for Venezuela, according to one senior EU official.
And only a little more than half of the 738 million dollars deemed necessary for 2019 by the UN has so far materialized. A fresh round of international pledges made a dent in the funding gap on Tuesday, but there is still a major shortfall. Moreover, UN officials estimate that twice as much aid may be needed in 2020.
The vast majority of Venezuelans who have so far fled have stayed in the Latin American and Caribbean region. With more than 1.5 million, neighboring Colombia has taken in by far the most.
Solidarity with Venezuelans in their host countries has remained remarkably high despite isolated incidences of xenophobia, according to Eduardo Stein, Venezuela representative for the International Organization for Migration (IOM) and the UN refugee agency (UNHCR.)
But the patience of host communities could wear increasingly thin, he warned at a conference in Brussels in October, adding that international funding can help take pressure off strained social services and national budgets.
The crisis is also spilling out of the region.
Already in the first eight months of this year, close to half a million Venezuelans have claimed asylum in the European Union plus Norway and Switzerland, with official figures putting them in third place behind nationals from war-torn Syria and Afghanistan.
In addition, close to 1 million Venezuelans have a European passport or parents from Europe, according to a senior EU official.
One of the Venezuelans who has built themselves a home in Europe is Daniel Alejandro, a 32-year-old chemist living in Brussels.
He left Venezuela in 2014 for France, but – partly due to discrimination he faced there – later relocated to Belgium, he tells dpa.
But the major problem for Venezuelans, according to Alejandro, is their vulnerability: "A lot of Venezuelans have very difficult working conditions in Europe and fall victim to employers who profit from the crisis in Venezuela and the fact that many of us are sending money back home to our families."
Another issue is obtaining the necessary paperwork. Many bureaucrats in Europe don't understand the political reality in the country, he says, and that it's almost impossible for Venezuelans to get passports.
Even highly qualified professionals face "huge obstacles" getting residency permits, he says.
For now, Alejandro has no plans to return: "Only as a tourist."
He hopes there will be a clear solution to the political conflict, one that will allow his country to return to democracy.
What does Venezuela need from the international community? He'd like the EU to play a more active role and to have advisers help rebuild the economy. "My country has many natural resources, minerals and oil. But everything is being stolen."