Villa Clara Emerges as Cuban League Champ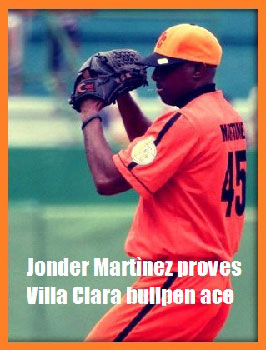 HAVANA TIMES — Hollywood script writers could never have provided a more dramatic or less predictable scenario. In March veteran catcher Ariel Pestano (by consensus likely the best backstop the island has ever produced) saw his glorious 14 year tenure (1999-2012) as starting national team receiver come to a rather inglorious end when he was overlooked for a slot on the Cuban World Baseball Classic roster.
Many fans and most commentators in Cuba (without any actual concrete evidence) attributed the embarrassing exclusion solely to national team manager Victor Mesa; Pestano had endured a rather stormy relationship with Mesa during the latter's lengthy tenure as skipper of the Villa Clara ball club.
The rumored Pestano-Mesa flap was of course based mainly on speculation; there might have been numerous defensible reasons for overlooking Pestano and certainly the decision was never made by Mesa alone: Pestano's career was on the slide after 21 long and productive seasons; he was employed now mainly as a DH by his own league club; and there were plenty of other options (especially given the recent power displays of veterans Eriel Sáncez and Yosvani Peraza).
But the surprise decision nonetheless created a firestorm and resulted in a premature retirement announcement by the celebrated Villa Clara star.
Two month later Ariel Pestano was back in uniform and again handling the backstop duties while a surprising Villa Clara club under manager Ramón Moré changed down the stretch to a fourth-place finish and a slot in the revamped and truncated 2012-2013 playoffs.
When Villa Clara upended regular-season pacesetter Cienfuegos to reach the finals, I immediately wrote in this column two weeks back that Ariel Pestano had now been handed the ultimate scenario to exact a full measure of revenge on his former charismatic skipper – now the manager of championship opponent Matanzas. And in the end it all played out precisely that way, and with a heavy dose of Hollywood hyperbole to boot.
During a string of five incredible outings by Freddy Asiel Alvarez (three in the semifinals) it was Pestano who was calling the signals behind the plate while the ace Naranjas right-hander rang up a record skein of 40-plus consecutive scoreless post-season innings.
Then with the league championship finally within reach, it was none other than Ariel Pestano who drove a final nail into the Matanzas post-season coffin with his dramatic sixth-inning grand slam smash that clinched victory and brought home the trophy in Tuesday night's National Series wrap-up game.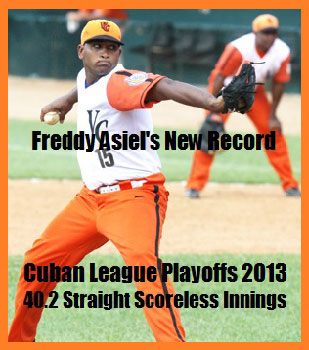 The championship was the first for the Naranjas in 17 long years and provides perfect bookends to Pestano's illustrious career with the Villa Clara ball club. The Orange-clad ball club reigned as league kingpin for three consecutive seasons at the dawn of Pestano's two-decade tenure, those titles earned under manager Pedro Jova in 1993, 1994, and 1995).
Previously the same province had earned one additional crown under the Villa Clara name back in 1983 with Eduardo Martin at the helm. In more recent years the Orangemen had reached the league finals on six different occasions (five under Mesa and once more under Eduardo Martin) only to come up short on consecutive outings in 1996 and 1997, 2003 and 2004, and 2009 and 2010.
Four of those final-series disappointments came at the hands of Industriales, the other two being defeats at the hands of Pinar del Río (National Series #36) and Habana Province (National Series #48).
Cuban Baseball League Championship Series

Game   Date/Location                          Score                          Winning Pitcher
#1        June 11 (Victoria de Girón)        Villa Clara 4, Matanzas 0           Freddy Asiel Alvarez (12-6)
Highlight: Freddy Asiel Alvarez extends new record playoff scoreless streak to 33.0 straight innings
#2        June 12 (Victoria de Girón)        Villa Clara 8, Matanzas 1           Misael Silverio (10-7)
Highlight: Lefty Misael Silverio hurls 7 solid innings (5 hits) and the Naranjas blast three home runs
#3        June 15 (Augusto César Sandino)         Matanzas 4, Villa Clara 1           Jorge A. Martínez (3-1)
Highlight: Jorge Martínez hurls 8 shutout innings (4 hits) and Lázaro Herrera knocks in clinching runs
#4        June 16 (Augusto César Sandino)         Villa Clara 4, Matanzas 1           Freddy Asiel Alvarez (13-6)
Highlight: Freddy Asiel Alvarez's scoreless-innings streak finally ends at 40.2 in the eighth inning
#5        June 17 (Augusto César Sandino)         Game Rained Out
#5        June 18            (Augusto César Sandino)          Villa Clara 8, Matanzas 5           Jonder Martínez (8-5)
Highlight: Veteran catcher Ariel Pestano blasts game-deciding grand slam home run in sixth inning
The true hero of the final series and clear post-season MVP choice was of course Freddy Asiel Alvarez. The talented 24-year-old right-hander – one of Cuba's leading starting pitchers of the past couple seasons, alongside Sancti Spíritus ace Ismel Jiménez and Ciego de Avila workhorse Vladimir García – built a string of 25 scoreless frames in the semifinal series shootout with heavy-hitting Cienfuegos (three starting 8-plus-innings winning efforts), then stretched the string to 33.0 with another 8-inning whitewash in the final-round lid-lifter.
The league's 125 pitch restriction ironically prevented the Villa Clara ace from registering a single complete-game, with closer Jonder Martínez doing the ninth-inning mop-up chores on all four occasions.
In Game 4 of the finals the mark was stretched to a final record 40.2 innings; it only ended in the most bizarre of fashions when a pair of infield errors in the eighth frame (with the last two batters Alvarez was allowed to face due to the pitch count regulation) opened the door on an unearned run surrendered by Martínez but credited to Freddy Asiel.
The previous league post-season mark had been 29.1 frames once registered by retired Pinar del Rio stalwart Pedro Luis Lazo. The all-time regular-season standard in Cuba remains the 46.1 innings logged by Maximiliano Gutierrez (Vegueros) in National Series #17 (1978), but Alvarez does become only the fifth hurler ever to cross the 40-inning plateau in any season of Cuban League play.
Villa Clara benefitted immensely from this year's odd precedent-breaking legislation that allowed the eight second-half qualifying teams to draft reinforcements from the league's cellar dwellers. Both the defense and offense of Moré's ball club enjoyed a huge boost with the pick-ups of Edilse Silva (Santiago) in right field and Yordan Mandulay (Holguín) at shortstop.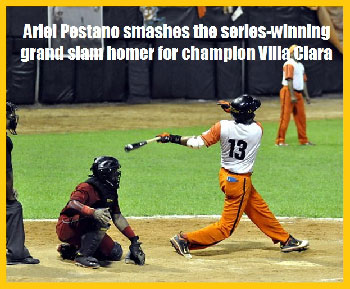 But the biggest gain came when former national team hurler Jonder Marínez joined the squad from cellar-dwelling Artemisa and immediately fortified the Villa Clara starting rotation (regular season) as well as the bullpen (post-season). Posting a lame 2-4 (3.56) mark during the season's first half with an Artemisa outfit that provided little offensive support, Martínez went 3-0, earned three saves, and dropped his ERA to 3.06 once given new life in Villa Clara.
Then in the post-season he switched roles – becoming the team closer – and performed that new assignment rather brilliantly. Jonder outpaced his full-season saves total with four playoff rescues, appeared in five of six semifinals matches (7.0 innings), and saved three of the club's four victories.
In the finals the new bullpen workhorse reached the field in all five contests (8.2 innings) and not only racked up a fourth save but walked off with the title-clinching Game 6 victory. If it were not for the unsurpassed brilliance of Freddy Asiel, Jonder himself might well have merited post-season MVP honors.
This year's league champion will now enjoy a very special and truly historic prize with a ticket punched for next winter's Caribbean Series winter league championships in Isla Margarita, Venezuela.
Cuba was an early major player in the half-century old post-winter league tournament that once flourished with all-star big leaguers but which has recently fallen on hard times due to the MLB gutting of the traditional Caribbean winter circuits.
Cuba was a showcase participant in the original Caribbean Series (Phase I) between 1949-1960, hosting the inaugural meeting (won by Almendares in 1949 at what is now Latin American Stadium), capturing seven of the dozen titles, including the final five straight, and also hosting the event on seven different occasions.
Cuba's return for the first time since the banning of MLB-affiliated professional baseball in 1961 is expected to pump a healthy dose of new life into the dwindling week-long round robin. Under the Caribbean Series rules the Cuban League winner (Villa Clara) will be allowed to draft six additional league players to fill out a 28-man tournament roster. Opponents will be the 2013-14 champions from the Mexican (Mexican Pacific League), Dominican Republic, Puerto Rican and host Venezuelan winter pro circuits.
What has now finally become a reality as the new spruced-up showcase for Caribbean winter baseball was only achieved with the aid of considerable lobbying from the Cuba-friendly host Venezuelans. The re-introduction of Cuba has been rumored for a number of years but has always received strong opposition in some quarters (especially in Puerto Rico) due to the lack of any kind of working relationship between the Cuban Federation and the MLB-controlled world of North American professional "organized baseball."
—–
(*) Peter Bjarkman is author of A History of Cuban Baseball, 1864-2006 (McFarland, 2007) and is widely recognized as a leading authority on Cuban baseball, past and present. He has reported on Cuban League action and the Cuban national team as senior writer for www.BaseballdeCuba.com during the past six-plus years and is currently writing a book on the history of Cuba's post-revolution national team.