When Cuba Sends Patients Abroad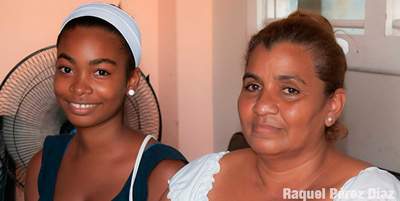 HAVANA TIMES — When I wrote about Rafael's illness, I became curious about the medical services that Cuban Public Health arranges for patients abroad. Following a rather arduous search, we found a teenager who had just been treated at a clinic in Europe. Below is her story.
Alda Soria's world fell apart when she found out that her daughter's illness could not be treated in Cuba because the country did not have the needed medical equipment. 17-year-old Hilda had multiple vascular ramifications in the right hemisphere of her brain, a condition that caused her splitting head-aches and was pushing one of her eyes out of its socket.
Alda is a nurse's aide, a low income woman who could not afford to pay for medical treatment abroad. Specialists at Havana's neurology hospital calmed her explaining that there was an option available to her: they would recommend that Hilda undergo an operation in Europe.
A short time later, a Ministry of Public Health commission approved the procedure and some 60 thousand euros were destined to the surgery, air tickets for Hilda and her mother, hotel expenses for the mother and transportation. "Ultimately, my daughter's treatment cost 26 thousand euros, so the remainder of the money was reassigned to a Cuban being treated for spinal cancer at a clinic in the same country. They've already spent 200 thousand euros on his treatment," Alda explained to us.
Hilda's case is no exception, former Cuban ambassador in Spain Alejandro Gonzalez reminds us. "I know about this well because, during my stay in Europe, we paid for the treatment of Cuban patients in different countries, up to 70, 80 and even 100 thousand euros." Gonzalez recalls that "when kidney transplants weren't being done in Cuba, a two-year stay abroad for the patient and a companion was paid for."
Alda agreed to the interview on the condition that we did not mention the country or clinic where her daughter was treated. "They're good people who charge very little because they sympathize with Cuba and, if we mention them, smear campaigns against them will start." She also told us that Cuban patients are sent everywhere around the world. "While waiting for my trip, I came across a little girl that was going to be treated in the United States, and another one they were sending to Italy."
"When a case like my daughter's turns up, they start looking for a clinic anywhere in the world that has the technology needed to treat the patient. Then, they have to find one among these whose medical doctors are willing to take on a case that has already been treated by physicians from a different part of the world. It isn't easy," Alda told us.
Despite this, Hilda was being treated at one of the best clinics in Europe within four short months. There, the procedure was so successful she didn't even need radio-surgery afterwards. The mother told us the treatment she received was marvelous. "The doctor asked me and my daughter what we expected from the surgery. I said I wanted my daughter's wellbeing. My girl replied she wanted to look pretty. After the procedure, we found out they had also done a bit of plastic surgery to erase all traces of her condition."
They returned to Cuba in August this year. Hilda is still recovering from the surgery, but she will be able to resume her studies in the next school year. She has been reborn, but she regards the entire process as something normal. For Cuba's teenagers and youth, receiving medical attention free of charge, no matter how costly the procedure, is not something extraordinary – it is something they are entitled to from the moment of conception. Alda, incidentally, works at a pregnancy home, where expecting mothers are admitted when any complication arises.
Hilda's mother cannot help but shed tears when she thanks Cuban Public Health authorities and the foreign doctors who treated her daughter. She knows she would never have been able to put together the money needed for her daughter's operation and that this would have surely meant her death.
She regains her smile when I ask her if they're related to any higher-up in the country. She spreads her arms so as to direct my attention to her humble apartment and its old furniture. "I have no important relatives, not even acquaintances. I am even a single mother. I didn't have to pull any strings. The doctors who treated Hilda in Cuba were the ones who arranged everything. That's how things work here."
—–
(*) Visit Fernando Ravsberg's blog.