Women in Cuba Knitting a New Order
Dalia Acosta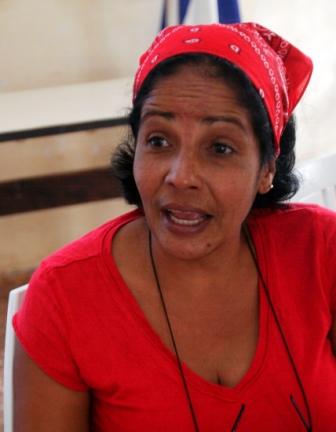 HAVANA TIMES, January 26 (IPS) – A neighbor started calling Andrea del Sol "Persistent," and the nickname stuck.  Since 1998, she and her small team of women in Alamar (a large housing district on the outskirts of the Cuban capital) have put their energy behind a common purpose: "To change the order of things."
They had many concerns: from the need for a meeting space, to creating a library and promoting environmental cleanup activities.  But any urgency seemed easy to face compared to the issue of violence —particularly gender violence— which is experienced daily in that bedroom community par excellence of Havana.
"In my area live people from more than 57 of the country's 169 municipalities. Each one brought their customs, their roots, their religion – and that's one of the elements you have to keep in mind when conflict situations are generated," related Del Sol.  She speaks from experience after 20 years as a resident of East Alamar, one of the main areas of the extensive series of housing projects located in Alamar.
"We experience (forms of violence) ranging from extreme physical aggression to the most concealed occurrences within the family.  On one hand there's the abused wife, or the father who kicks his son out of the house, or the other guy whose kid lives in the house but gets no attention.  But on top of all this, we're starting to experience street violence more frequently," she said.
Rows of buildings, almost all the same, mistreated by the salt air that rolls in off the sea, the Alamar projects extend kilometer after kilometer.  Only basic health care and educational services are provided, along with a few stores and scant cultural, sports and recreational facilities.  This is the reality of what could be considered a never completed project.
The neighborhood where Del Sol lives extends over more than nine square kilometers and has a population of nearly 38,000 residents.  However that figure doesn't include a significant number of non-registered residents from other provinces and areas of Havana.
A native of the town of Santa Cruz del Sur, 570 kilometers to the east of Havana, and a graduate in pedagogic sciences from the former Soviet Union, Del Sol is the principal specialist with Alamar's Integral Neighborhood Transformation Workshop (TTIB), a structure administratively subordinate to the municipal government.
Emerging in 1988 from a proposal by then-president Fidel Castro, TTIB serves 20 Havana neighborhoods that evidence varying degrees of social risk. Its purpose is to promote the physical, social and environmental transformation of communities through the active participation of residents themselves.
Ariadna's Thread
It all began in the basement of a building where two knitters decided to share their art with a handful of neighborhood residents.  The group was growing spontaneously, and when TTIB obtained its own space, the knitters moved into that facility, where they continue to meet.  In this way arose the initiative known as "El hilo de Ariadna" (Ariadna's Thread).
If in Greek mythology Ariadna's thread helped Teseo find his way out of a labyrinth after killing the flesh-eating Minotaur; in Alamar, this group of knitters became the heart of an idea which became rich in patches, macramé, papier-mâché, doll-making and painting.
A decade later, we find more than a hundred women taking courses at the center every year. In addition, the facility supports the area's Seniors University (an initiative for people over 60), works with the youth population in the Mapa Verde (the green map) environmental network, and has trained more than 200 residents through workshops in community participation and leadership.
"People learn what participation really is, and they experience the opportunity to be involved in their reality: to assume commitment and make decisions," the community leader said.
Last year, almost as a logical consequence, they wound up assuming central responsibility in the collective design of a banner against gender violence.  Coordinated by the non-governmental Oscar Arnulfo Rosemary Reflection and Solidarity Group (OAR), the banner involved people from four workshops across the Cuban capital.
At five meters in length and one meter wide, the banner presents a Cuban flag covered with embroidered flowers, a sun with a man and a woman in its center, with everything surrounded by a garden.  Each workshop took responsibility for crafting some part of the work, which was stitched into a whole in East Alamar.
For Ventura Gonzalez, the artist who patterned the garden on the banner, her design was a unique opportunity for artisans and artists to unite around a common task. "Persistent" de Sol, valued the atmosphere of solidarity that arose around the work, as well as working with people who came from the "other side of the city."
"It was something you could touch.  We learned how to ally ourselves around something positive and, during the months that the work lasted, people volunteered from many communities to offer their ideas and to cooperate with whatever was necessary. The banner strengthened us," the specialist noted.
Changes from within the community
East Alamar is only one of the workshops in the city that participate in a sensitization project that OAR has sponsored for years pertaining to the problem of gender violence.  Added to the program of activities since 2006 are those organized in Cuba for the November 25 International Day against Violence toward Women.
"The 'de-naturalization' of violence begins with each one of us who are involved in this problem – men and women. The community plays an important role because in it are people who want to take action in support of nonviolence," said Gabriel Coderch, OAR's general coordinator.
With this same reliance on the contribution of each person in the promotion of social change, the team from the East Alamar workshop has defined gender violence as one of its strategic lines of work.  From workshop to workshop, they understand that it is not enough to work with victimized women, men or families.
Therefore they went to institutions, especially to the educational system.  "We work with young teachers and well-experienced teachers, because we understand that it's necessary to begin with children's games.  Children have to learn how to play without violence," highlighted Del Sol.
"When we began, we believed that the presence of women would be enough.  Over time, however, we discovered that without men we couldn't accomplish anything… that in this initiative we had to think and dream of women and men alike.  Then we understood that we had to create spaces for certain groups, but also inter-generational ones," she explained.
While she continues to work on promoting nonviolence, Andrea del Sol has the feeling she has a lot more left to do. "It's like a mission that lasts a lifetime," she concedes.
A Havana Times translation of the original IPS article in Spanish.