"You don't build a cultural industry by centralizing ideas"
Gisselle Morales Rodríguez  (Progreso Weekly)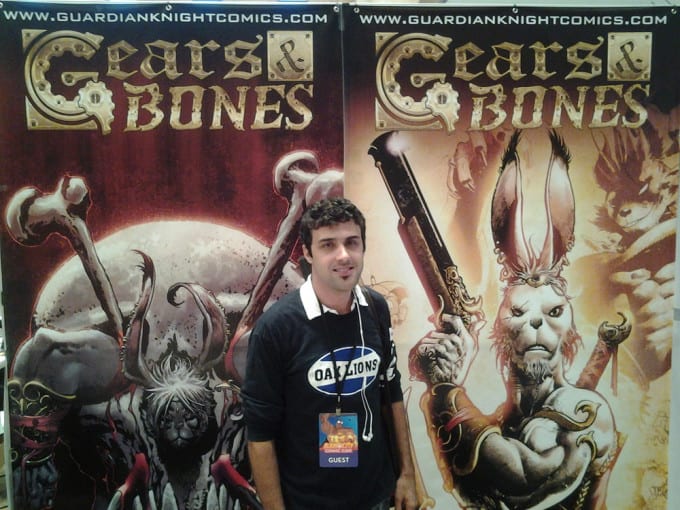 HAVANA TIMES — How Osvaldo Pestana Montpeller (Montos) went from an irreverent boy in Sancti Spirituss who scribbled on any blank page that fell into his hands — the classical doodler — to one of the "stellar" illustrators of the US publishing company Guardian Knight Comics (GKC) is not something he attributes much importance to.
In fact, he flatly refuses to talk about his insertion into the international circuits because (to him) that would imply that the series on which he's working is being published simultaneously in several countries or has some presence outside the United States. That, he swears, is not the case.
"A short while ago I read," he says to underscore his modesty, "that the US comics market divides its revenues into a 70 percent shared by Marvel Comics and DC Comics and a 30 percent shared by the remaining publishing companies. My work is represented in some small portion of that 30 percent, so I don't think that it is significant in that context."
Not to him, perhaps, but to the Cuban comics scene it is. Before Montos, there were few cartoonists who maintained professional links with some publishing company outside Cuba, much less with the US cultural industry, a sort of Major Leagues in the field.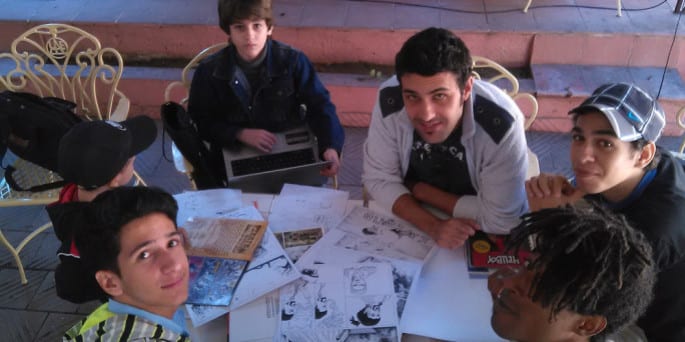 By the time he got there, Osvaldo Pestana had achieved a noteworthy career that, while it didn't begin in academia, gained him experience for years as illustration editor for books and the media in Sancti Spiritus, a province in central Cuba.
"The first thing is to have a minimum of talent," he says, as if his talent were indeed minimal. "The other thing is to know where you're headed, what you want, and what doors to knock on. In my case, the Internet was the first door on which I always knew I should knock. I made a digital portfolio and uploaded it to a site that interested editors might have access to. That's how I got my first job with a low-profile publisher, Graphic Illusions Comics."
Then came a contract with Ape Entertainment, an agency that publishes titles such as Kung-Fu Panda, Penguins of Madagascar, and Strawberry Shortcake, for which Osvaldo drew two series, Donarr the Unyielding and Poison Elves. After these projects were cancelled for administrative reasons, Montos contacted Guardian Knight Comics, a publishing house in San Antonio, Texas.
How do you evaluate your experience with GKC? Do you feel that it enriched you professionally?
Osvaldo Pestana: "At GKC, I worked on a project titled Gears and Bones. Most gratifying to me was the fact that the series that I drew for was the sales leader among the house's titles. That was due in part to the freedom I was given by the performance team. The obligation to work for a monthly series is always very enriching because you create and develop abilities that would not otherwise come to the surface. In the US, comics are seen in terms of industry, because they wage a constant war against time."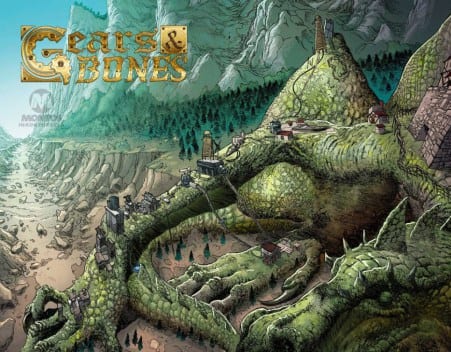 From the Gears and Bones series.
Also from Gears and Bones.
Donarr the Unyielding, from Editorial Ape Entertainment.
Having attended four US comics conventions (Orlando City Mega Con, Alamo City Comic Con and twice the San Diego Comic Con) and with first-hand references to the health of comics in Europe and Japan, Montos laments that the Cuban comics industry isn't even remotely healthy.
"In the 1980s we had several periodical publications committed in various ways to comic books," he explains. "This enabled us to have our own authors and our own stories. With the collapse of the socialist camp came the decline of the comic series as a medium of mass communications. What we have today are some titles displayed at every book fair that are saturated with a political-historical element, so dull that they're not enticing to read, in most cases.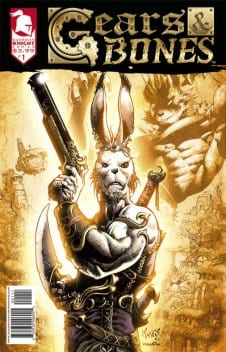 "The fact that the government owns all publishing houses helped promote the genre in that period, but now [government ownership] has become an obstacle to the free publication and circulation of comic series drawn by Cubans. This centralized system has not permitted a better development, because each State publisher has a specific editorial policy and any cultural project that does not adhere to its standards is simply dropped by the wayside."
Montos in his studio. (Photo by Arturo Delgado)
To what do you attribute the decline of comics in Cuba?
OP: "To the fact that production is coerced in one way or another. When only those stories with a certain political tilt are allowed to see the light, a number of other proposals are barred. To make things worse, if there is no alternative way to publish the other kind of comics and be paid for them, the best option of the story creator is to export his/her services to foreign publishing companies. This works for the cartoonist but almost never for the script writer.
"Another key element is that most of us series creators have not been formed in art schools. On occasion, that hinders our intellectual and formal performance, which results in offerings of doubtful quality. It is true that on many occasions we have not been capable of formulating the best stories or drawing them in the best style, so we can't always blame the handling of editorial policies here in Cuba."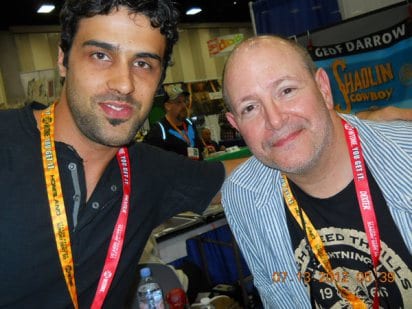 Do you think that, in terms of comic books, the Cuban cultural industry can hold its own against the consolidated U.S. cultural industry, which has invaded us in an underhanded manner?
OP: "We do not have an industry, so that fight has already been lost. But that's not a strictly Cuban phenomenon; throughout Latin America, the general trend has been to allow ourselves to be swallowed by those other characters, by those other stories and cultures. So we must ask ourselves how an industry of that kind has developed in the United States and draw our own conclusions. My first conclusion is that you don't build a cultural industry by centralizing ideas."
After Elpidio Valdés, no other 'made-in-Cuba' character has risen to an iconic level. What features, in your opinion, should a character have to fill that symbolic vacuum?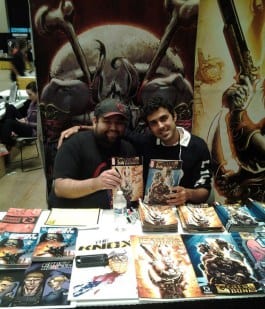 OP: "On the Cuban arena, the indisputable champion in any cultural battle is — and will always be — Elpidio Valdés. How did [cartoonist] Juan Padrón achieve this? By connecting with the soul of this nation. Juan managed to find those autochthonous codes that define us as Cubans and enabled them to interact through his characters.
"Within popular imagination there are elements that belong to us. We have our own paradigms, our particular aspirations and forms to connect with that matrix that we call nationality. A character who embodies those elements will be able to install himself in our hearts in the way Elpidio did."
With Gears and Bones writer, Andrew Anderson.
Montos with Mike Mignola, Hell Boy creator.
What projects are keeping you busy at present?
OP: "I am eager to finish an adaptation of the book Paquelé, by Sancti Spiritus writer Julio M. Llanes, to a graphic novel. It is the story of a teenage slave in Sancti Spiritus in the late 19th Century. I am very hopeful that readers will find a cultural product that they can adopt as their own.
"After that, graphic designer and script writer Mauricio Vega and I are considering a project tentatively called The Apostles of Doublespeak, a saga with characters who'll allow us to dialogue and interact with today's readers. It's something like our own trip into the spirituality of this generation."