Yuliesky Gourriel, the Rookie Champion from Cuba
By José A. Rodríguez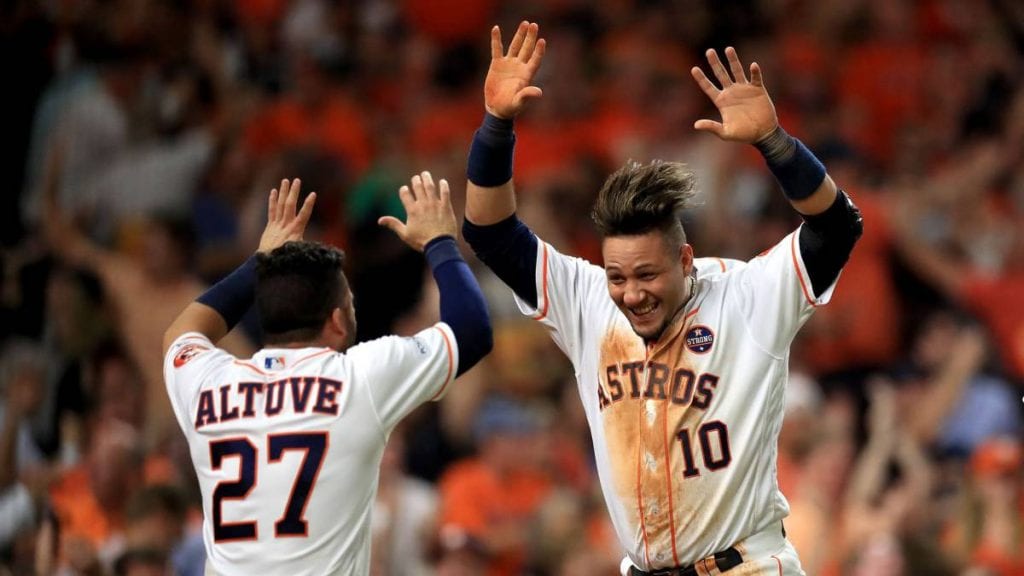 HAVANA TIMES – For 13 seasons, Yuliesky Gourriel was unsuccessfully looking for the crown in Cuba's National Baseball League. However, in his first full season in Major League Baseball, he won the champion ring with the Houston Astros.
To be honest, he almost always played well in Cuba, because in those years he had a lifetime .332 average, with 288 doubles, 62 triples and 258 home runs, 138 stolen bases and more than 1,000 RBIs, OBP .416, Slugging .585 and OPS 1.001. In addition, he was with teams packed with local stars, but for one reason or another, he never raised the crown. However, on US soil the curse seems to have disappeared.
Playing first base, where he never played in Cuba, Yuli Gurriel (as his name is used in the US) had a good season with the Texas team, ending up placed fifth in the batting order for the World Series and he was very important in the Astros reaching the their first championship.  The only other time Houston made it to the Series they were swept by the Chicago White Sox, who had Cuban pitcher Jose Ariel Contreras in their rotation.
Gourriel thus becomes the first Cuban position player who, acting as a starter, takes the most coveted title in the world of baseball in more than three decades, since Barbaro Garbey did it with the Detroit Tigers in 1984.
Last year outfielder Jorge Soler was crowned with the Cubs, but he was a substitute, and when Kendrys Morales won his ring two years ago with the Kansas City Royals, he lined up as a designated hitter, that is, not in all the games.
Yuliesky's performance was remarkable, because after having a good regular season, as we discussed in these pages, he closed the postseason with an offensive average of .304, seven doubles, a triple, two home runs and eight RBIs, with an OBP of .342, Slugging of .522 and OPS of .864.
"It's just amazing what I've experienced, playing my first full year as a professional and having a World Series title, it's a dream," declared Gourriel at the conclusion of the World Series with the Astros 5 x 1 triumph over the Dodgers in game seven.
Yuli acknowledged that his experience with the Cuban national team helped him a lot, but unlike his mission with that team or in the Cuban league, he was not the main protagonist, so he could play with less pressure.
"Within the team is like a family, very similar to what I lived in Cuba, so my happiness is complete," added Gourriel, who shortly after the end of the game came out to celebrate with a flag of his native country.
Yuliesky also faced some embarrassing moments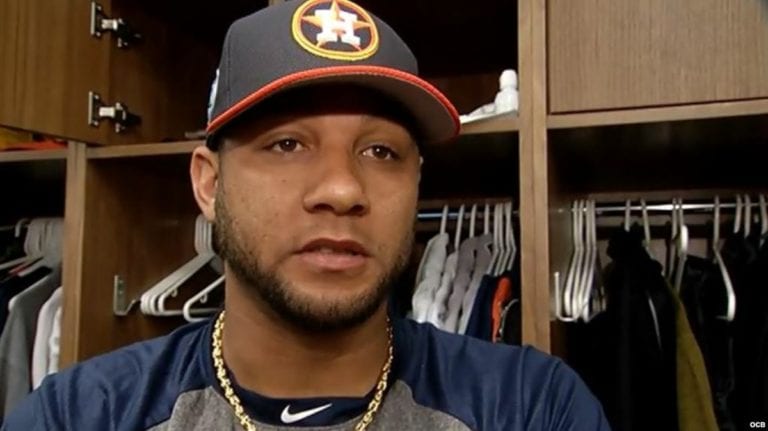 Not everything was happiness for the prodigal son of the legendary Lourdes Gourriel, because in the middle of the World Series he starred in a controversial incident, by inappropriately celebrating a home run against Japanese starter Yu Darvish. The Cuban gestured his eyes to imitate an Asian, and that brought him a penalty for racist behavior.
Fortunately for him, the five suspension games were not fulfilled during the Fall Classic, but he will purge them at the beginning of the next season, without pay, so he will lose the sum of $322,581 dollars, which will be donated to the Astros Foundation and an entity that makes efforts in support of various civic groups.
"I apologized first and foremost to his public and to him so that everything was clarified," said Gourriel in the sixth game at Dodgers' stadium.
His penalty is added to those of other fellow countrymen sanctioned without the right to pay, like Yunel Escobar, who in 2012 missed three games for a homophobic message and was deprived of 30,000 dollars.
Also, pitcher Aroldis Chapman received a 30-game suspension in 2016 for domestic violence losing 1.7 million dollars in wages that were used in donations to organizations that work against domestic abuse. That same year, infielder Hector Olivera was also punished for domestic abuse. In his case he was suspended for 82-games, which made him lose half the four million dollars he had planned to receive that year.
In Yuli's case, Darvish himself did not want to be too drastic. "Nobody's perfect. And everybody's different," he said. "And we're going to have to learn from it. We are all human beings. That's what I'm saying. We'll learn from it and we have to go forward."
On his Twitter account Darvis added: "As we live in such a wonderful world, let's stay positive and move forward instead of focusing on being angry. I love watching him play and I always hope to face him."
Yasiel Puig in the World Series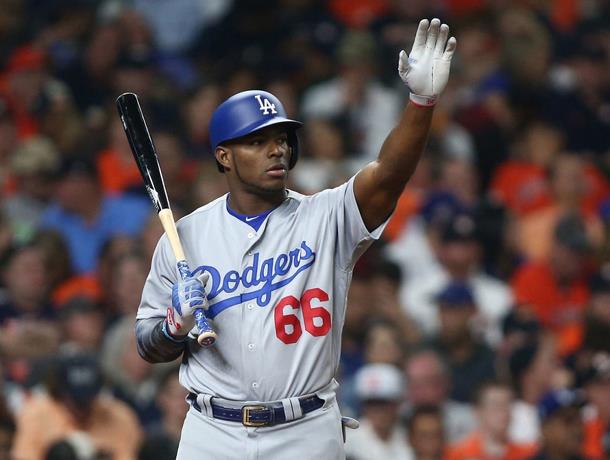 Yuliesky was not the only Cuban in the fight for the throne, since on the other side was Yasiel Puig, famous precisely for his controversial and playful attitudes. However, this time the outfielder remained in his right mind and had decent numbers with the runners-up in the postseason (.286 average, two doubles, a triple and three homers, .365 OBP, .518 of Slugging and .883 OPS, with 10 RBIs).
The fraternal talks held on first base between Yuli and Puig, when the outfielder got on base, were memorable for Cubans, as a sign of camaraderie among compatriots.
Although the games were shown after the fact on Cuban TV, the few hours delay didn't keep Cubans living on the island from enjoying them.  Was it a sign that maybe next year we can see MLB live? Hopefully.