Osmel Almaguer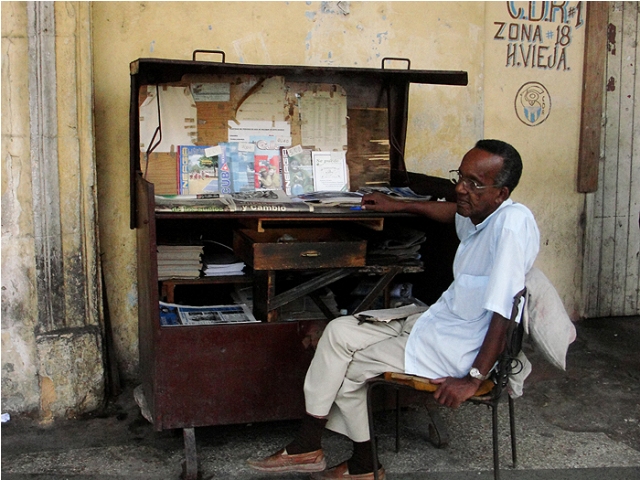 HAVANA TIMES, Dec. 15 — Mauricio Ortega, 57, is a native of Guanabacoa, a municipality of the city of Havana.  With a ninth grade education, among the jobs he's held are street sweeper, security guard and ambulance driver.  Currently he works for AGESP (the Security and Protection Agency), one of the most important security companies in the country.  He lives alone in a one-room apartment with a bathroom.  Mauricio (not his real name) doesn't have any known family members living in Cuba.
Mauricio, what does your job consist of as a security and protection agent?
I stand guard twelve hours a day.  Every three days, I'm on duty for two days and I have the third one off.  The first shift is during the daytime and the second one at night.  You have to remain standing all that time.  You can only sit down when the shift boss puts another agent in your place.  Then you take advantage of that time and eat the lunch (sandwich and soda) they provide, or — if you want to, sell it — and bring a lunch container with your own food.
Who buys the lunches you sell?
They're almost always the bus drivers; I work in a depot.  The drivers make good money, so they can pay us 20 pesos for a lunch.  To me its good business to sell it, because with 20 pesos I can go to the cafeteria in front of my house and I buy several biscuits for one peso each, along with a croquette or something fried.  It's lousy but I have money left for the days when I don't work.  I can use it to buy cigarettes and to get a buche (a shot of cheap rum).
If you figure it out, during the 15 shifts I do each month, I sell 22 snacks for 20 pesos each; that adds up to 440 pesos, which is a lot more than my pay.
And when you're not on guard duty, how do you deal with the issue of lunches and dinner?
I have lunch in the old people's dining rooms, and I can also buy rice and cooked beans there for dinner.  At night I eat that with some of the mincemeat that comes in the cafeteria biscuits.
Do you keep it in the refrigerator and then eat it cold?
No, since I don't have a "frigidaire."
So don't the beans go bad?
They sometimes get a little smelly, but if you're good and hungry you can get by that.
Have you thought about improving your situation?
A heap of times.  Since I separated from my wife, we swapped our old house for this room for me and for an apartment for her and the little girl.  I've thought about improving things little by little, but there's not enough on a guard's income.
I understand that at AGESP they pay $25 CUC a month [about $30 USD] and a wage that's about 250 pesos in domestic currency [about $10 USD].  Couldn't you save a little of that?
That's difficult.  In fact, I hardly ever get paid my full amount of hard currency CUCs.  The agency's incentive system is a little screwed up.  If you miss one day of work — even if you're dying — they'll dock you to the very last cent.  I remember when I missed work because I had an abscess in my molar; no only was I docked, but they went so far as to send me to the disciplinary council.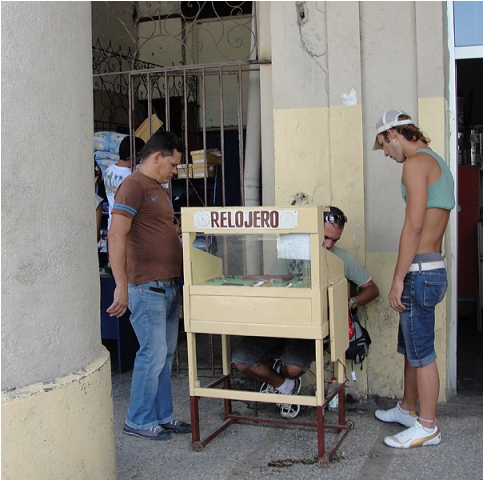 Sometimes the team boss, who's above the shift boss, pressures me to buy him a beer.  And it's better to just buy it, because it's much worse if he has a problem with you.
I like to drink shots of rum from time to time.  So sometimes I show up on my shift with alcohol on my breath.  According to the agency's regulations I should be sent straight home, but since he knows I need it, he lets me go on into the job in exchange for the favors I just mentioned.
In fact, they'll deduct your hard currency pay for any silly little thing.  A smudge in the incident report book means a loss of 5 percent of your hard currency.  This is how they blackmail us all the time.
It's very difficult to be perfect for 12 hours straight.  They know it and they're always keeping their eyes out for a chance to "give you the knife."  Sometimes they make you believe they are your friends.  Then, when you find out that they've reported you, you're forced to admit, for example, that one day you climbed up in a bus to sleep because the cold and the mosquitos had made the night impossible.
Then you have co-workers who aren't comrades or anything else.  They too keep an eye on you to knock you out of position and win brownie points with the bosses.  Well, the truth is that I stay on here because I don't have any alternative left.  If I did, I swear I'd get myself as far away as I could from the agency, with its damned CUCs, its discipline and its extremism.
I think about how I'm stuck here as a guard while there are other people living the sweet life…with air conditioning in their rooms, eating good and with beautiful women.  But what woman is going to look at me if all I have for a home is some little rat trap, or if I don't have any decent clothes or money to invite her out to a nice place?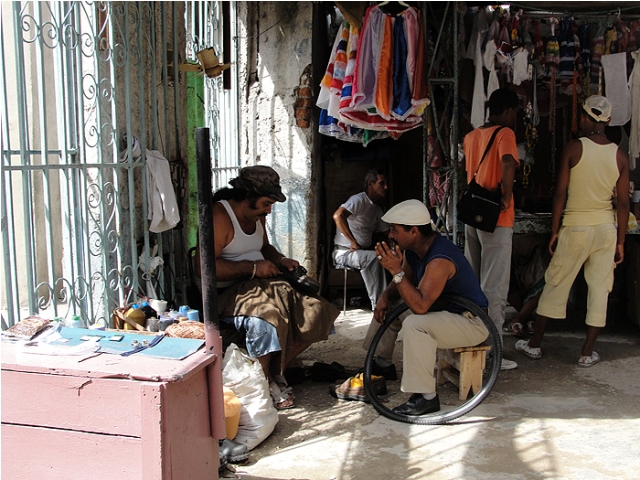 The worst thing is that those people haven't done anything to earn what they have; it dropped down from out of the sky, just like this misfortune dropped on me.
But don't you think that there are people who right now are in worse situations?
That's true.  But if I think like that then I'm screwed.  It's always better to look up.  If you accept what you have, you'll never escape misery.  I know that in Africa there are people living under subhuman conditions, with undernourished children whose noses are full of snot, like they show on television.  I know that in many countries of the Americas it's "the same thing."  And that in China, whose economy is booming, there are millions of Chinese going hungry – at least that's what they say on the news.  But yet and still, no one who's screwed wants to live like us Cubans.  Everybody wants to be live like the Americans, or like the French…  But what do I know?
My very own daughter left with her mother for Venezuela.  She left on an aid mission and she got married there to some guy with money.  She did the right thing.  If I could have, I would have done the very same thing.  Right now I'm trying to get in contact with her to see if they can help me a little from there.
And what do you like to do when you're not working?
I go to the stadium.  Or I play dice with my partners and we have a few shots.  There ain't nothing else.
Now I'm just hoping the years will pass and I'll hit my retirement age.  I'll see if I can stay home.  I figure I can live off the 200 pesos a month [less than $4 USD] that are due me.