A Revolution in Today's Managua, Nicaragua
Gabriel Pérez Setright is an artist, anarchist and anti-capitalist. "My hope for the future is that people will come to have faith in the power they have to change things."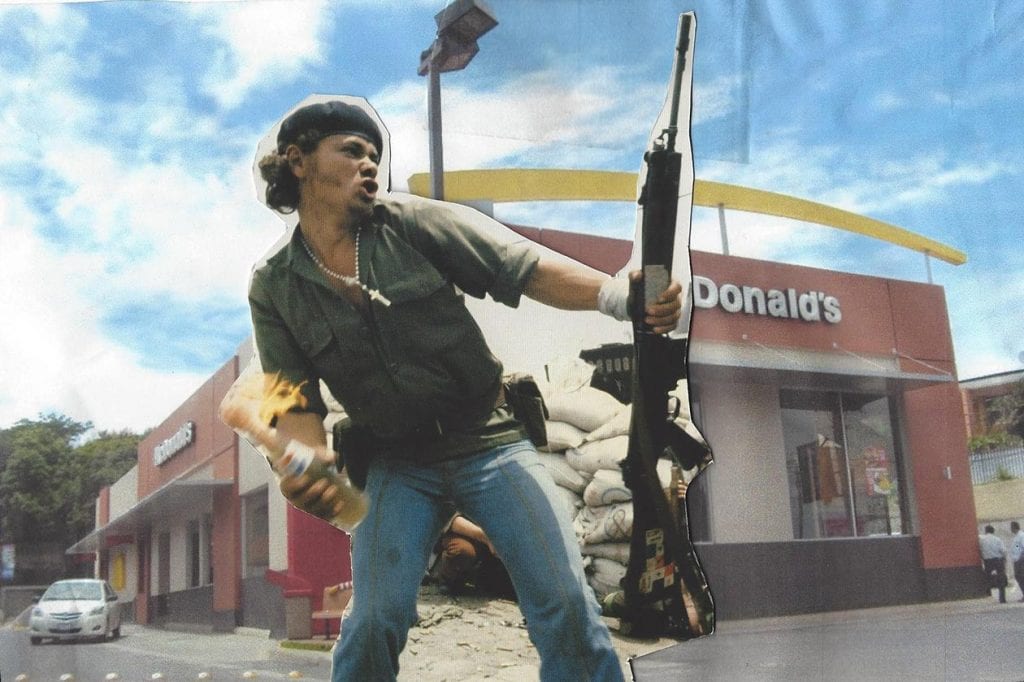 By Danae Vílchez  (Confidencial)

HAVANA TIMES – On a short dead-end street in the Miguel Bonilla neighborhood in Managua, there's a house with a distinctive trait: a huge rainbow flag waves in the entrance.  It contrasts with the intense blue of the walls, one of them marked with letters announcing that you've arrived at La Rizoma, a cultural center founded by Gabriel Perez Setright.
This young man of 24 converted his house into a community center, and describes himself as an anarchist and an anti-capitalist. He's a writer and a visual artist who recently presented his work "Another (end of the) world is possible," in which he contrasts the iconic photographs of the Sandinista Revolution captured by Susan Meiselas with images of modern Managua, with its large buildings and transnational businesses.
His project centers on the thesis of post-memory, a current of historical theory that postulates that memories of an event or specific time emanate from other sources besides the experience itself.  Literature, art, and images are all good tools for understanding an era.  For Gabriel, not having lived the revolution isn't a limitation in offering a deep criticism of what was and still is one of the most important historic events in Nicaragua.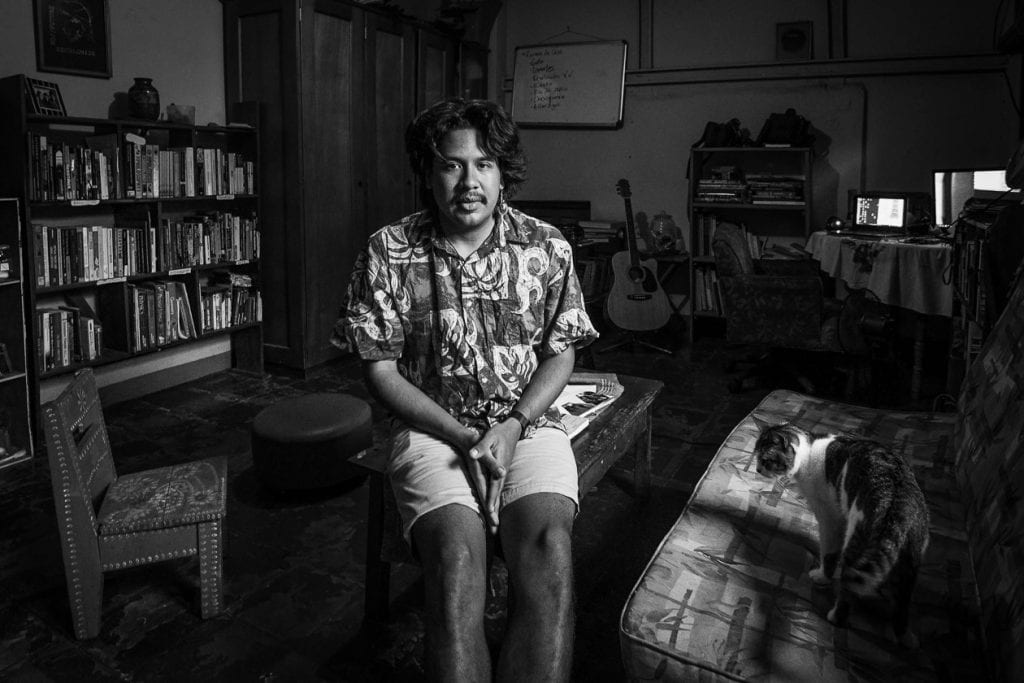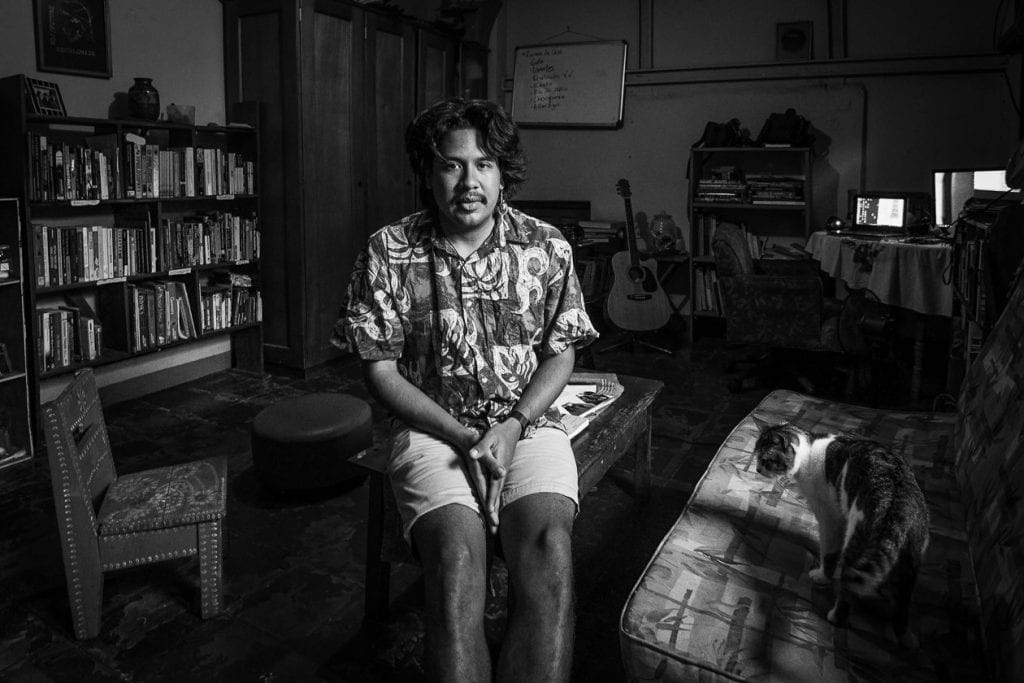 "I introduce a term called generational dissonance.  I know it's highly distasteful to say that the revolution didn't work, and that it didn't generate what it wanted to generate.  However, the era of globalization was a clear example of losing all the values that supposedly were fomented in the 80s, and all of society became incredibly capitalistic and individualistic," the artist explained.
His art consists of several photographic montages that are currently on exhibition at the Nicaraguan and Central American Historical Institute of the Central American University.  There you can see the "Molotov man", his handmade grenade held high in front of a McDonald's, or the guerrillas celebrating the triumph of the revolution in the parking lot of the Santo Domingo shopping mall.
"I looked for icons that were highly recognizable.  I want us to think about the current context of globalization and contrast it with the values that came from the 80s, and on the other hand about how it would look if we took over shopping malls or if there were a revolution in today's Managua.  I also want us to realize that things have changed radically; to question the Managua that we're currently living in," Gabriel indicated.
"The cultural centers operate with a lot of bureaucracy."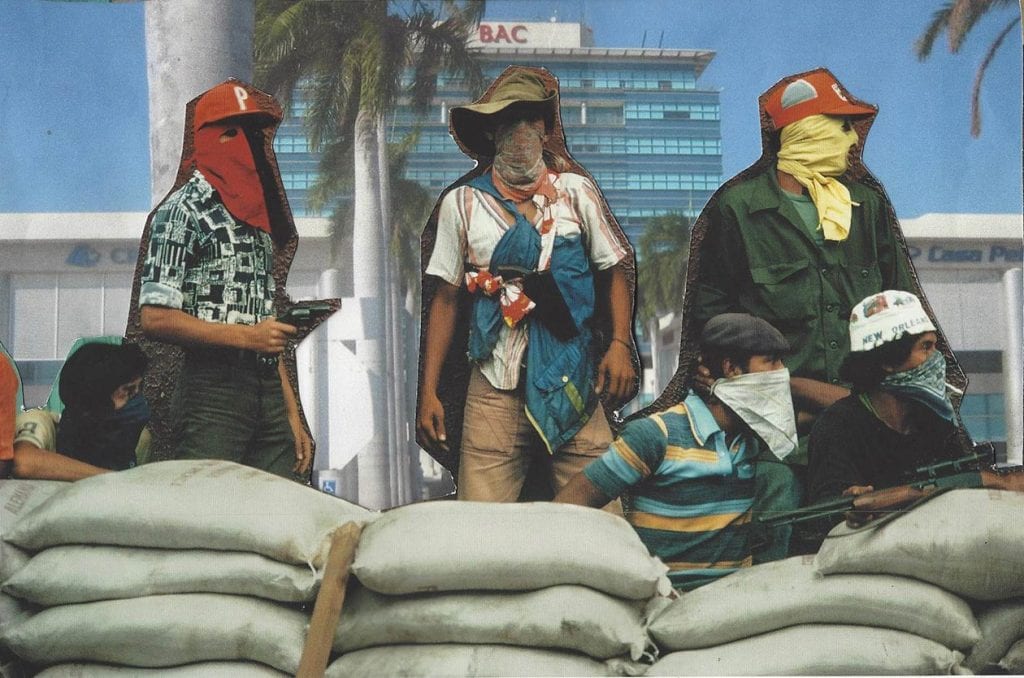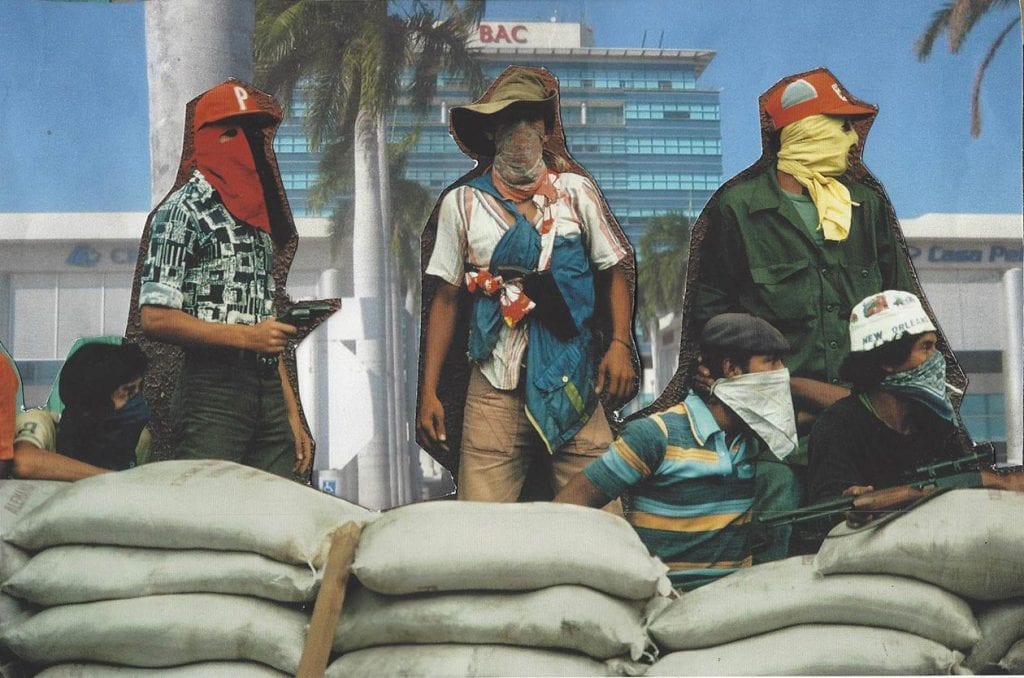 Gabriel holds a degree in psychology and philosophy from Warren Wilson University in North Carolina.  His official job consists in coordinating and attending university delegations from that country, and organizing academic excursions to Matagalpa, the Caribbean coast, and Cuba.  His father is Nicaraguan and his mother from the United States.
His other daily work, however, revolves around three main focal points: three principal projects that each enriches and complements the others, though functioning  separately.  The first is the Cultural Center called La Rizoma. Gabriel converted the house he grew up in into a space open to the public. He runs the center with two other partners – Kenia Castaldo and Aparecida Argüello,  Together, they organize concerts, artistic exhibitions and spaces for reflection.  In addition, they offer a place to stay for foreign researchers who are visiting Nicaragua for their projects.
The name La Rizoma stems from a theory created by philosophers Gilles Deleuze and Félix Guattari, conceptualized in a model or diagram without a center – subterranean, fluid, active and in constant movement.  In botany, a rhizome is a system of roots that grows horizontally.  According to Gabriel, the concept is applicable to the emblematic values of his collective: horizontal structure, experimentation and interconnection.
"We want to create safe spaces.  We don't want to charge for events or do things to generate money; that's not the type of community that we want to create.  We want to create a community based on respect, on horizontal structures that are open to all the public. Here, the cultural centers operate in a very bureaucratic way; they're elitist up to a point and very inaccessible.  We're working to decentralize the power of the NGOs and these centers that have a lot of money," said Gabriel.
"We need more small spaces located all around the city, and in this way to be able to hold events without the need of going through the State or to the well-known and well-endowed cultural centers.  It's not that their events are bad, it's that they have the power and the decision to say which project goes forward and which project doesn't.  If you create a network of people outside of there, then you can realize your own culture," the young man added.
The other two projects are the blog Dissensus Nicaragua and the artistic group "Collective Experiment".
Dissent in the current system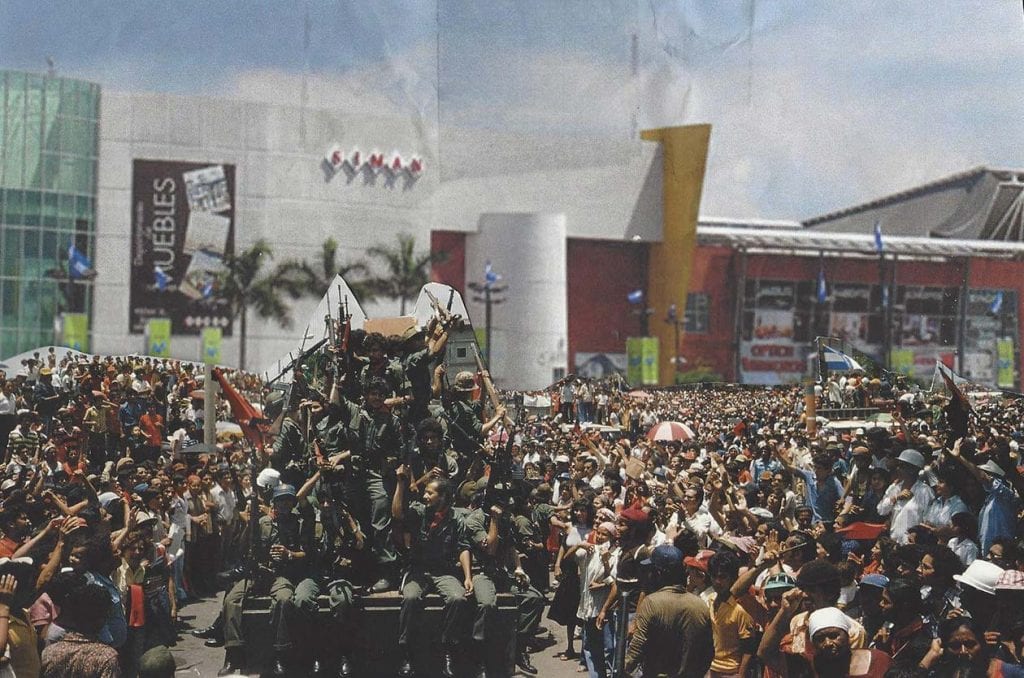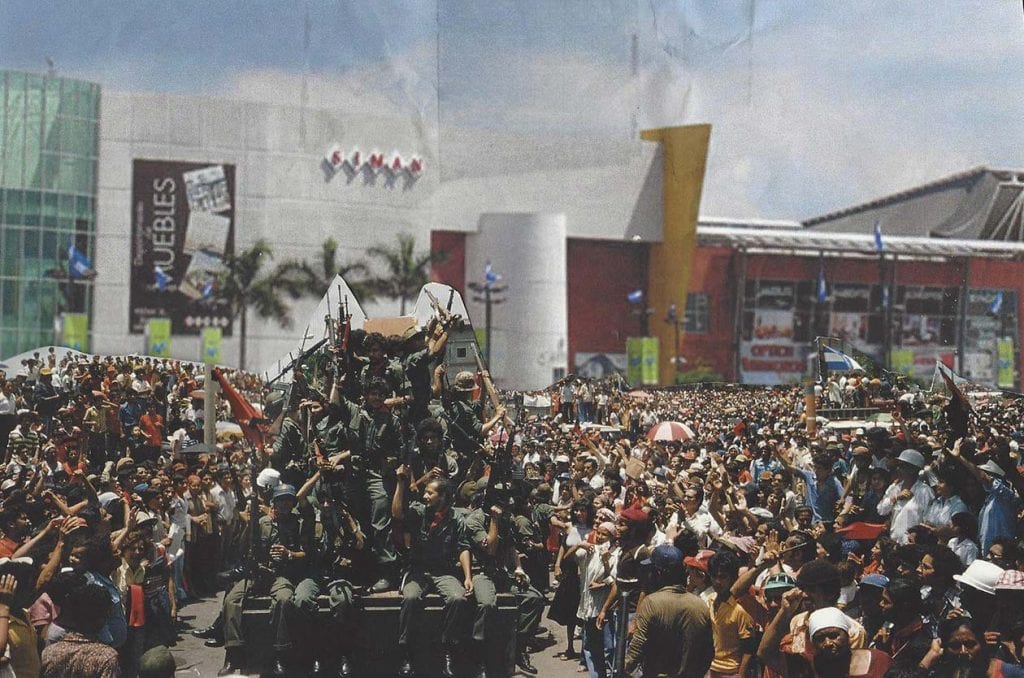 Gabriel believes that each of the actions that we realize has an eminently political context.  For him, the basis of his theory as a writer and as an artist is to question what is happening in the country, and in doing so to reconsider ideological currents such as anarchism, feminism and anti-globalization.
In his blog Dissensus Nicaragua he reflects on things such as fashion and the use of cultural elements to support capitalism and large companies.  In addition, he analyzes current discourse and offers other perspectives and meaning to political practice.
"My position is one of communal work and of relationship within a small place, with subjects who know each other and share a history. We're not interested in the solutions that come through elections.  Anarchism is against centralization, of everything through the State. For me, needs get met through communal organizations.  My hope for the future is that people will come to have faith in the power they have to change things," the artist revealed.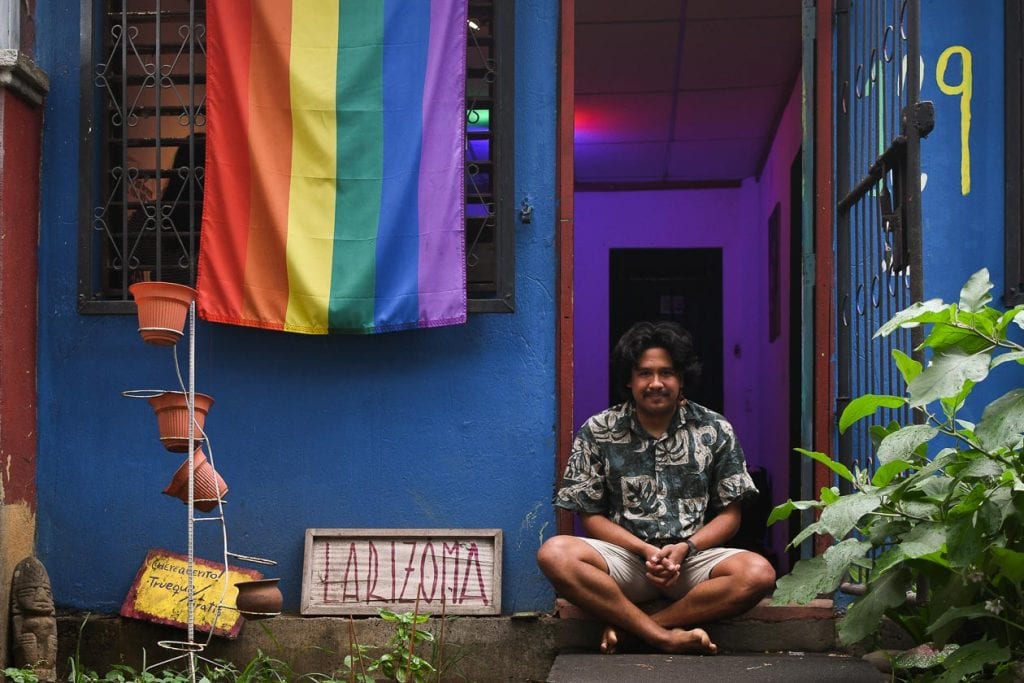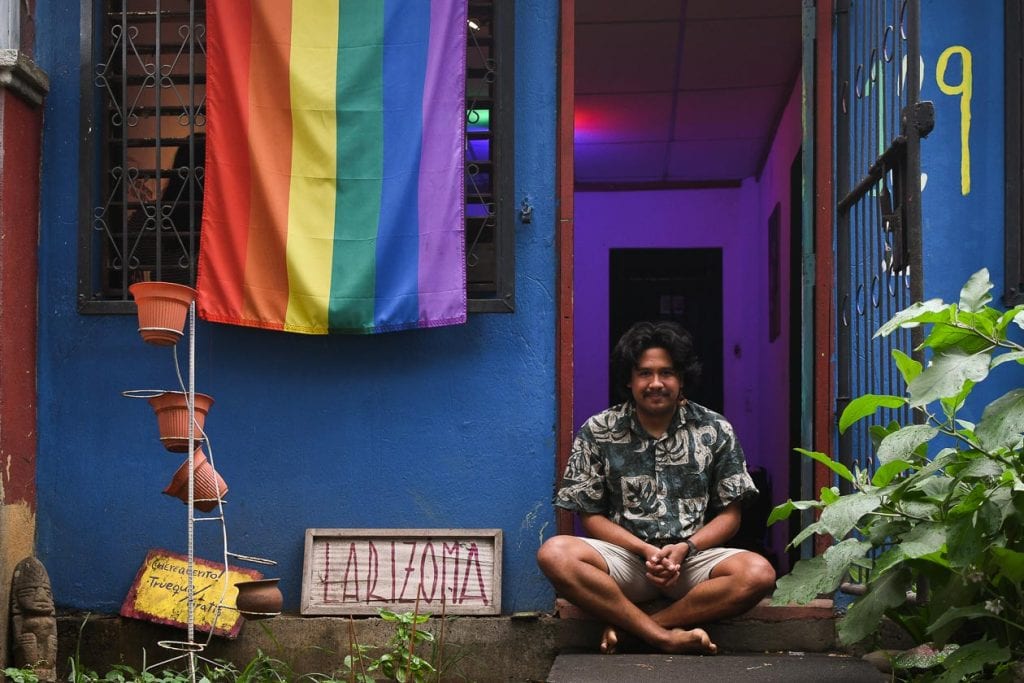 Anarchism is a current of thought whose principal exponents were the Russian philosopher  Mikhail Bakunin and the British thinker William Goldwin.  Their political and social philosophy aims at the disappearance of the State, with all its organisms and representative institutions.  It defends individual freedom above all authority.
But what does it mean to be an anarchist in modern society?  According to Gabriel, it implies being aware of the system we live in and confronting it through our daily acts. In a world that is focused around the concept of the State as the center and rector of life, and within an economy based principally on the production of wealth for large capital interests, anarchists like Gabriel find their power in knowing which contradictions they can confront, and rethinking the traditional ways of participating in the politics of the country.
"They've given us young people a number of tools, and they tell us "take these tools and change the world."  What we do is question the tools themselves that they're giving us to save the world.  When the political game is played through the State and the young people are seeing that it's not working, then it's time to look for new ways of making policy, be it through art, stories, dance, music," the artist expressed.
"I speak of new ways of imagining.  One clear example is to question the acceptance of Globalization as a system that's here to stay, and the rhetoric around it that you should start a business, have a family, make money, buy something…  That's what we're trying to question," Gabriel added.