A Shoe Shiner in 21st Century Cuba
By Ivett de las Mercedes
HAVANA TIMES — Up until a few years ago, it was normal to see shoe shiners with their chairs on corners, in doorways and in parks here in Cuba. Many have left this profession, one of the reasons being that new shoes today don't need shoe polish or dye. Jorge Luis Torres (42 years old) is the only shoe shiner in the Candelaria municipality and he has been working ever since he was 14 years old.
HT: When did you start working as a shoe shiner?
Jorge Luis: A friend taught me in 1990. It's a job I enjoy and people are happy with what I do. I have always said that it doesn't matter how hard a job is as long as it is done with love. I like attention to detail, to see the shine on shoes. I have the chair in my backyard. During Carnival or on holidays, I go to the park because I make really good money there. It's mostly men who come, especially bus drivers and some children who still use school shoes.
HT: Are the materials you need hard to get a hold of?
JL: It's really hard to get shoe polish, black, Carmelite and neutral color dyes. I have to go and buy these products in Havana, at a very famous fair that is in La Cuevita (San Miguel del Padron), because they don't have it at the store most of the time.
These used to be products that were never in shortage, you could even get them at local industry stores. Shoe polish is easy to make, with wax, black or Carmelite paint and mineral oil. I have invented ways to make dye but the quality isn't the same, I run the risk of losing clients.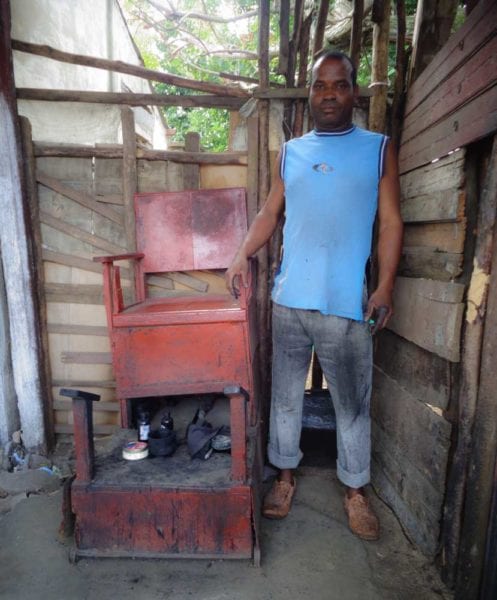 Most people are already wearing fabric or synthetic sneakers, sandals, flip flops which only need a bit of water to look new again. I still have some good brushes that I inherited from my grandfather. I made the chair years ago and it's still in good condition. I have made my own adjustments, for example, I put wheels on the chair so I can move it elsewhere, I made a division on the side of the entrance hall so as to have independence and not bother my family.
HT: You are the only people who works here shining shoes, do you have many customers?
JL: Being the only one doing this job doesn't really benefit me. I work from 8 AM until 5 PM. I relax in the afternoon and some Sundays. I charge 5 pesos (CUP), my clients leave me a tip most of the time. The money I receive isn't enough for me to buy everything I want but it at least covers the basics, especially food. Some years ago, I thought about going to work in Havana, but I have nowhere to stay there, although I know that they pay very well there for my work. Here in the town, everyone knows me and we love each other as if we were family.
HT: Did you take out a self-employed license?
JL: Yes, I pay 20 pesos per month for the quota, I don't have to pay the 10%, I have to pay very little tax. I always try to do a little extra work, I sweep, I throw out garbage and anything else that might pop up. It isn't easy living with so little, but you get used to it, even though we need more things every day. I'm lucky I don't smoke or drink, two things that never tempted me in spite of everyone in my family and my friends liking it.
HT: What did you study?
JL: I studied until fifth grade, I didn't like school. My family needed money so I preferred to work. I was linked to a services company for a while, it was hard to do two jobs at the same time, so I ended up shoe shining. We are from humble beginnings. I have a problem with my left leg, ever since I was child and I got polio, and even though I had several operations I didn't recover completely. I think that a person can do any job: clean out ditches, collect garbage or, like me, get other people's shoes shining again, the important thing is to feel good about yourself.
HT: You belong to the ACLIFIM (Cuban Association for the Physically Impaired)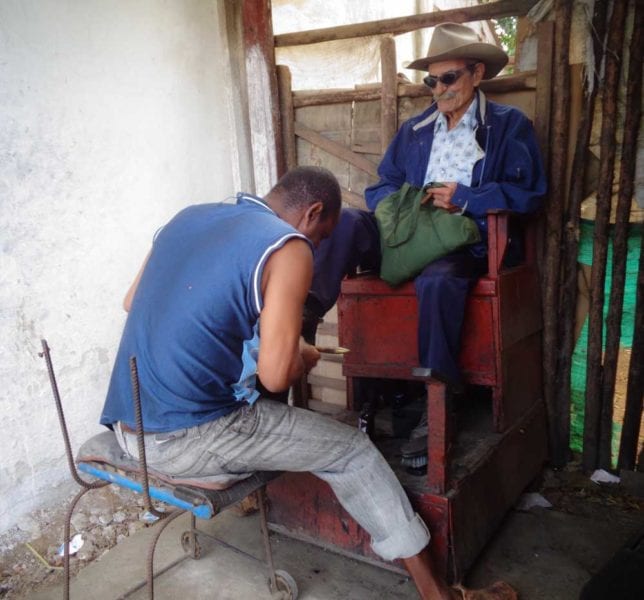 JL: Of course, I am physically impaired. I pay a percentage per year like all the members do. They care for me there, give me clothes, shoes and I also go to some activities although I don't have a lot of time. I don't feel any different because of my disability, I have learned to live with it and I can do anything. I know that in other places, someone with my physical condition would be the subject of mocking, I hear people talk about that at association meetings, but I feel safe here.
HT: What are your weekends like?
JL: I go out to the club, I listen to music, I go to the movie theater and the park to talk to my friends. I am a dreamer, I like to imagine what my life would have been if I had been able to study and not had anything holding me back. I love children, animals and I'm happy when I am with them. I don't have a partner but I know that there is someone out there for me.