Alejandro Calzadilla: A Young and Innovative Cuban Clarinetist
Helson Hernandez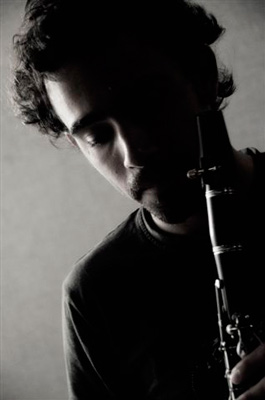 HAVANA TIMES— A clarinetist and great improviser, Alejandro Calzadilla is a talented musician who can take on anything from the conventional to the most artistically free expressions. "Creating music in a spontaneous fashion is something marvelous for me," he said during his interview for Havana Times.
HT: How old are you and how long have you been a musician for?
Alejandro Calzadilla: I'm 25 and I've been a clarinetist for 15 years.
HT: Why the clarinet?
AC: Originally, it was a kind of visual connection I made with the instrument as a kid. I had seen it on occasion on television and the shape of the instrument and movement of the performers caught my eye – I thought it was very funny, that they were playing a game. After I started my music studies, it was the sound, the music, which gradually captured me, the way I could share the experience with other players and see everything they could do with the clarinet pulled me in.
HT: Is this the only wind instrument you play?
AC: No, the saxophone is also an important part of my life as a musician. I started playing it when I decided to try my luck in the world of popular music, following the visit of Winston Marsalis and the Lincoln Center Jazz band to Cuba three years ago. The wish to explore other styles and other sounds led me to take up the soprano and tenor saxophones. I've been flirting with the flute for some time now, but I haven't managed to master it yet – it's a very difficult instrument and I don't have all the time I need to practice.
HT: You've had some notable experiences in your career as a young musician.
AC: Luckily, I've had the opportunity to share the stage at concerts and master classes with some of my favorite artists, both in Cuba and abroad. I've participated in a number of prestigious competitions, in Cuba and internationally, such as the Jazz Plaza, the Contemporary Music Festival, the Chamber Music Festival and Caracas' Young Clarinetists Festival, where I had the privilege of learning from such great masters as Luis Rossi, Jonathan Colher, Valdemar Rodriguez and others. I've also learned from young and fabulous musicians who are also my friends. I want to stress how important artists such as Karla Martinez, Patricia Perez Brito, Daiana Garcia, Dianelys Castillo and Aristides Porto, to name only a few, have been for me.
HT: Tell us about the Nueva Camerata.
AC: The Nueva Camerata is a project launched by my friend, the excellent clarinetist Haskell Armenteros. It is a rather unusual wind instrument quintet, hence the name. It combines some of the instruments of the classic quintet (the flute, oboe and clarinet), and others typical of a clarinet quartet, bass and high clarinets. Occasionally, it also includes an English horn, a saxophone and even a trumpet. We always have a good time because we're always recreating all sorts of pieces, from baroque works to a "swing" piece by Glen Miller or a son.
HT: You're both a conventional concert performer and a good improviser.
AC: Improvisation is one of the most beautiful and challenging things in the music world for me. Creating music in a spontaneous fashion is something marvelous for me. It is one of my great passions and I sincerely hope I will continue to evolve and follow many of the great music improvisers in our country, those I've had the opportunity to meet and who have become a point of reference for me, such as Aldito Lopez-Gavilan, Ernesto Camilo Vega, Josue Borges, Alejandro Meroño, and many others who inspire me and keep me focused on improving as an artist.
HT: What's life like for a young clarinetist in Cuba?
AC: It's fairly helter-skelter, for the most part. One often has many commitments and there's a fair degree of contrast in terms of style and format. I could be playing at a chamber music concert and, once I'm done, go out and play popular music, or go from recording a symphony to doing Jazz. It's always fun, though.
HT: What are your most immediate interests right now?
AC: To continue learning, for the time being. There are some very important concerts coming up, where I'll have the privilege of sharing the stage with great artists. The important thing is to keep focused on what I love: doing music.