Angel Valodia Matos: I Still Regret Kicking the Referee
By Jose A. Rodriguez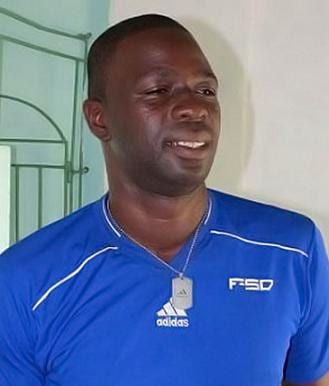 HAVANA TIMES — Angel Valodia Matos is the only ever Cuban Taekwondo Olympic Champion. With an interesting CV, he's had a more than a commendable sports career, however, he is unfortunately remembered more for having kicked a referee in the face during the 2008 Beijing Olympic Games.
If you were to look him up on the internet right now, the first images and videos that appear of the Cuban are precisely those that were taken on August 22, 2008, when he took out his frustration of feeling he had been cheated on the third man on the mat.
"It's something I still regret until this very day because I didn't want my sports career to end this way," the slim athlete from the eastern province of Holguin told us.
"We had trained really well for Beijing 2008, not like we had for Sydney 2000, but it was still quite good," he says. "I felt good physically and mentally. My trainer gave me all the confidence in the world. I won the first fight, then I lost 0-1 against South Korea's Dongmin Cha, but I got to have a chance in the loser's bracket until I was fighting for the bronze medal against Kazachstan's Arman Chilmanov. They tried to buy me off that day so that I would lose the fight, my trainer and I were both offered money and we refused.
"That's why I still say that they bought the referee off (Swede Chakir Chelbat), because ever since the match began, he bothered me. Anyway, I was still in the fight because I had already beaten this rival and was confident I would win again, but in reality I didn't have a chance to, the referee disqualified me. I was ahead 3-2 and I received a 4 stitch injury on my right foot. The Kazach realized that I was bleeding, told the referee and the latter called for the doctor.
"When I was being bandaged up, I looked over at the main table and saw a federation official giving a sign to the referee for him to lift the rival's hand because bandaging up my wound was apparently taking too long. That's why I was disqualified, but in hindsight, I remember that in my fight against Slovenia's Marcel More in Sydney, I fractured my hand and it took a minute and a half to get bandaged up, then we continued the fight as if nothing had happened.
Then came what everyone has seen, it was really hard because it was my last Olympics, four years that were really tough for me because of my age, and it's something I still regret until this very day because I didn't want my sports career to end this way. I felt really bad because of all the sacrifice I had made and because I even wanted to go on and fight another year to reach the World Championships, but I was banned."
In that moment, a shadow fell over the dark-skinned, almost 2-meters-tall man's face and it's clear that his attitude back then still pains him, even though Fidel Castro himself publicly defended him at first.
We then began to go over his life from the beginning and we started off by talking about his name, as everyone called him Volodia initially.
"My mother always told me that it was Valodia because that's how people called Lenin, and that's how the Russians pronounce it."
"Before taekwondo, I played basketball, hockey, baseball, practiced judo and I ended up sticking with taekwondo by chance really. I ended up doing taekwondo when I was 13 years old because of friends from the block who used to go to the Feliu Leyva gym, my brother included, to practice with teacher Jorge Apestegui. When I was 15, I was already in the national ESPA (Superior School of Athletic Perfection), after I won a bronze model in a national youth tournament in September 1993. I was already quite familiar with the sport even then because when I got to the ESPA, some trainers even told me that I wouldn't be any good because I had flat feet. I was young anyway and didn't pay much attention to those comments, I carried on training normally and starting achieving things. In 1994, I won the silver medal among the adults and, shortly afterwards, I was the best in my weight category in Cuba.
"After winning gold medals in continental tournaments in 1996 and 1998, I went to the Central American Games in Maracaibo in 1998, which I consider to be my first real international competition, and I got 24 points without receiving a single point against me.
"The following year, I got the silver medal at the Pan American Games in Winnipeg. The Mexican Victor Estrada beat me. He was very good, with more experience than me because his record already included four gold medals from the world championships. It was a good fight, but he got gold. In 2000, I won the World Cup in France and went to Sydney with a lot of confidence."
However, Valodia's face goes dark again because he has to remember his harshest setback:
"A few days before competing in Sydney, my mother died. I left for Australia knowing that my mother was ill, but I never thought she would pass away during that time. You never completely recover from a loss like that, but my trainer Pedro Lay and doctor helped me a lot, just as my brother did, who I could speak to from there because I was worried about he was taking it. Seeing him focused gave me the strength to keep myself in check and go on to compete properly. I got 18 points and only received 3 against me, two of which came during my first fight. I was really nervous because they were the Olympic Games too, but my prior training and tournaments had made me confident.
"The second fight was against Estrada, but I managed to beat him 2-0 and when I won that match, I knew nobody could take gold away from me. In the final, I was up against Moroccan-German Faisal Ebnoutalib, who nearly always wins medal in European tournaments and the World Cups, and it was my first fight with him, but I beat him 3-1."
"We didn't really train well for the next Olympics (2004) because at the tournaments we went to in the meantime, I didn't find anyone who could be a real rival and I could have beaten them all. In the draw, four of us previous medal-winners ended up in the same eliminatory group and I lost to Estrada."
How would you describe your fighting style?
"Counter-attack is my preferred style, but I nearly always struck first because distance would work in my favor. I would keep quite a way away from the rival, where he couldn't reach me but I could reach him because of my long limbs and that led me to attack because I was always the one at the right distance to hit my opponent. Over time, I learned how to provoke my opponent so they would be the one to attack, but it normally depended on who was in front of me."
This is how he behaved during our interview, sparing when he talked, waiting for my "attack". Before saying goodbye, he told me that he is currently working as a trainer in a gym in the capital with children aged 9-10 and 10-11, that he lives proud of his three children (two girls and a boy) and that he watches a lot of TV in his spare time. Luckily, when pictures of him appear on TV here in Cuba, they never put the ones that marked him, that still hurt him.