Artist Yasser Castellanos Defends the Cuba He Needs to Live
By Vicente Morin Aguado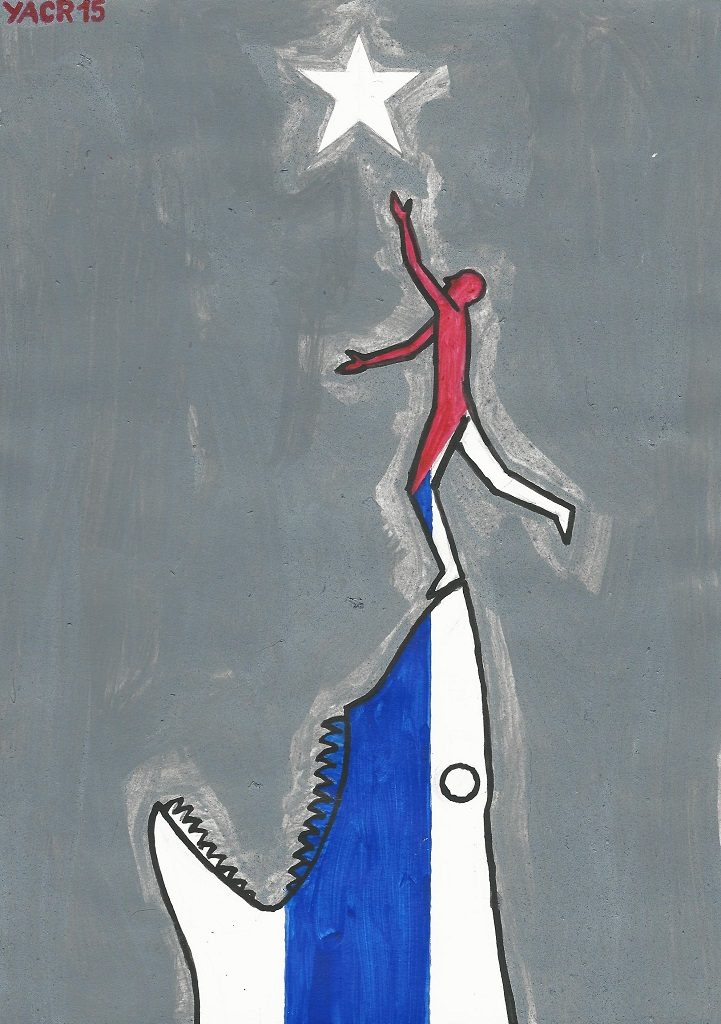 HAVANA TIMES – Irreverent, dissident, opposition political posters are, with difficulty, blooming in the Cuba we live in and where repression is growing every day. Yasser Castellanos is one of its gardeners, Havana Times one of his few gardens out there where it can grow. Short of breath almost, he answered some of our questions.
HT: How did you start out? What were your primary sources of inspiration?
Yasser Castellanos: "It all started when I went to see the two first Cuban Rap Festivals. They were expressionism of some kind, an attempt to rap with images which included philosophical texts. I was also marked by the work of Jean-Michel Basquiat. Discovering the existence of the divine was another eye-opener which made me seek out new elements to express myself in aboriginal art from all over the world."
HT: How did you move towards the world of society and politics?
YC: "Around 2009, I began to dabble with social or political matters. I would capture the aesthetic of printed materials in the past, the contrast in block colors that I used to see in comic strips, on T-shirts, on political billboards and movie posters, when I was a child."
HT: It seems that even though your message is anti-establishment when it comes to art, or pseudo-official art, these expressions that are under State control dominate your surroundings. What do you think about artists who are connected to the ruling political and ideological system in Cuba?
YC: "They contribute with their knowledge of how to be creative and efficient in communicating a message, however, their talent is limited because it is only used to transmit an overly simple message of reality, where the undeniable complexity is censored before the creative process even begins."
HT: You decided to take on this dilemma, even risking your freedom. What is your take on the relationship between a message and aesthetics?
YC: "I need a lot of time to draw up the formal point of a cartoon, it's a luxury I can't afford most of the time. I try and use the essential in most of my work, I choose from my "archive of images" so that I can do them as quickly as I can, although I tend to complicate the process, I can't help it."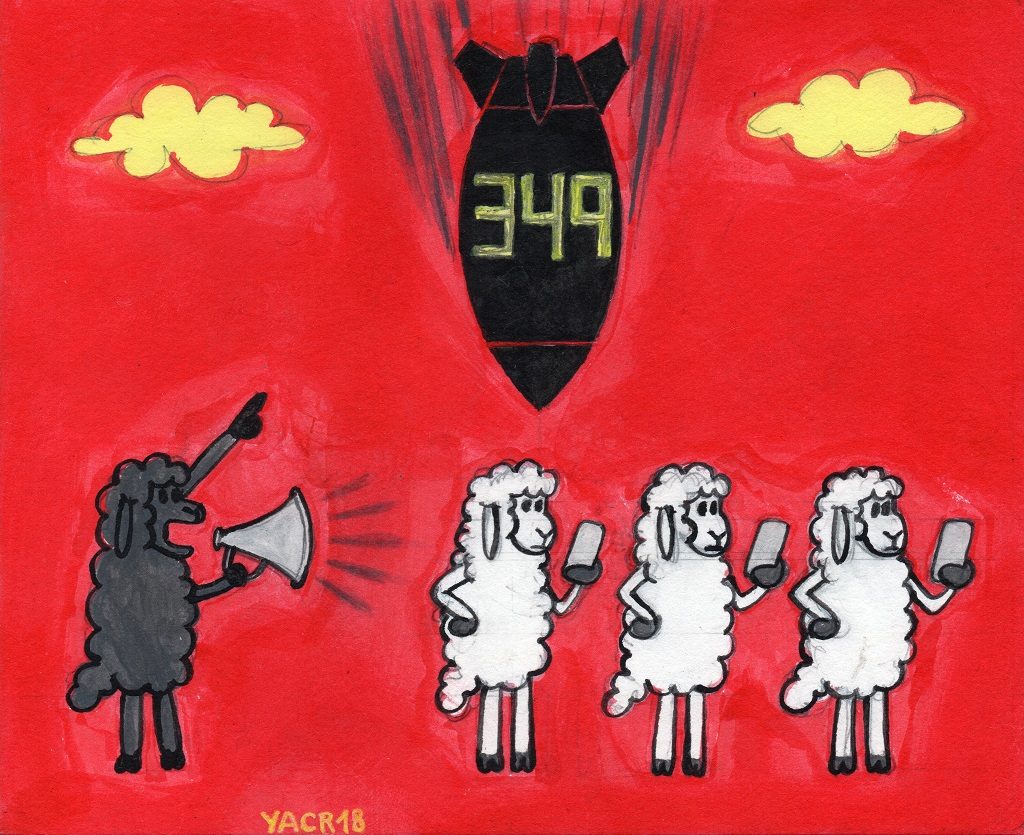 HT: One of the problems you face is finding a place to exhibit your work, as the totalitarian system owns all of the legal galleries in our country. Where can you express yourself and exhibit your work?
YC: "Painting for tourists didn't work out for me. Havana Times has been publishing my work for years, there are encounters with friends, it hasn't been easy. However, over time, I have managed to find digital platforms and galleries, accepted by daring people who are interested in supporting alternative art, although these options are short-lived because of this. People running these places have had doors shut in their faces."
"The #00 Havana Biennial was an exceptional opportunity. Alternative art which had been buried, came to life and new grounds were laid out for independent art. It was at this event that I had the opportunity to exhibit a selection of these cartoons that had been piling up for years."
HT: The Biennial suffered multiple sanctions from the Government for the simple reason that it was called for and organized outside of government organizations. Then, they came with the so-called Decree-Law 349 that was drafted so as to regulate, control and decide what artists can and cannot create.
YC: "Decree-Law 349 was the government's reaction to this Biennial, and the San Isidro Movement was our response to this Decree, a more organized form of activism. We are the result of the government's poor decisions. Decree-Law 349 went much further than government institutions dedicated to supporting art disregarding you, it also wanted to stop independent artists existing in their own homes. It's unacceptable. I'm not only defending the Cuba I long for, but the Cuba I need to live."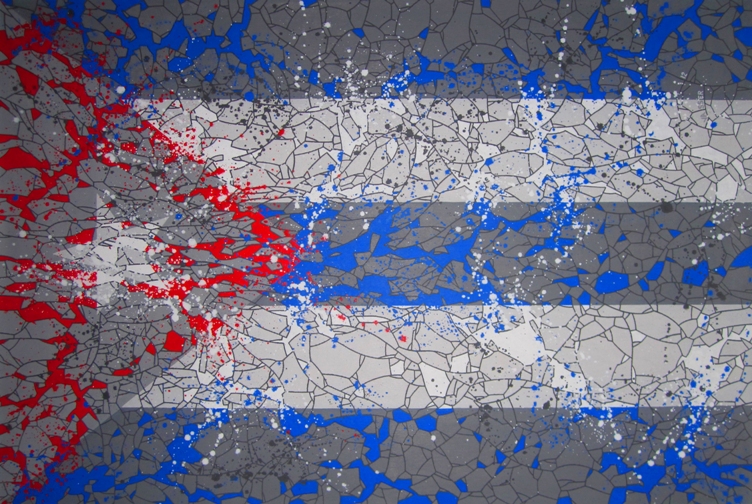 HT: The San Isidro neighborhood in Old Havana went down in history books a century ago for a famous pimp, Yarini; now this place is back in the spotlight because of your constant presence: Yanelys, Luis Manuel, as well as many renowned or anonymous people, who are against the prostitution of art in the broadest sense of the word. What is your contribution?
YC: "Art is inevitably marked by our experiences. I look for a way to express these new experiences so as to contribute to a general awareness of who we are as a nation. It's a process in which Art plays a huge role, in my opinion.
The current #LaBanderaEsDeTodos campaign has been an excellent pretext for us to show this work again, using social media. It's another way for us to interact with the public via their reactions to this work, and it is very interesting."
HT: Your work isn't defined by the presence of words, much less long written pieces. Why is this?
YC: "It was partly due to a request from the editor of Havana Times, he preferred the images didn't have any text as most of the site's readers don't speak Spanish. On the other hand, I always liked the idea that an image can speak for itself. While I haven't completely ruled out text in my cartoons, I do use words in my graffiti work from time to time."
HT: You have been locked up, suffered abuse and marginalization above all else, discrimination as the "legal" rule. Who are your enemies? What are your obsessions?
YC: "I try not to fight individuals, but attitudes. It seems a lot less destructive to me and I think there are more chances of being understood and accepted.
—–
Yasser Castellanos, Havana, 1974. Visual and Spoken Word artist. Graduated from the Enrique Jose Varona Superior Institute of Education. Member of Grupo UNO, who organized the Cuban Rap Festivals. Member of the San Isidro Movement (MSI).
Vicente Morin Aguado: [email protected]
(Click on an image to display the gallery.)
[edge_gallery id="158960″]