Bagpipes in Cuba: An Afternoon with a Different Sound
By Ivett de las Mercedes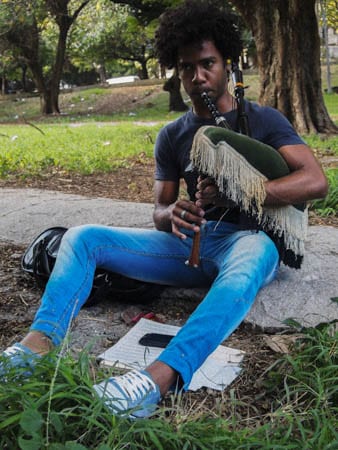 HAVANA TIMES — Every Friday, on my way to the National Bus Station from my workplace, I usually wait for something to surprise me, as the journey is always monotonous and boring.
In the surroundings of the Ramon Font Sports Center, it's quite common to find musicians spread out on the grass or sitting on top of a wall and practicing their instrument.
Today I could hear a different sound from a distance, which my ear couldn't make out: it was less powerful than a clarinet and sweeter. A young man sat on the grass playing a bagpipe. As I listened to the song, it became more beautiful. The young man's face expressed passion, his eyes closed revealing extasy and joy. In one of his pauses, I asked whether I could take some pictures and he accepted.  It's the first time that I have been able to study this instrument up close.
Gelmis Morilla Echevarria, 24, is studying saxophone and is in his 4th year at the National Art School (ENA).
HT: Do they teach you how to play the bagpipe at the ENA?
Gelmis Morilla: No, they don't teach me that.  I study the saxophone and I really like it, I've been studying it since 8th grade.
HT: Where did you learn how to play the bagpipe?
GM: I began at Havana's Asturian Center; there is a gaitas pipe band there. My teacher was Arturo Miguel Perez Quintana.
HT: What do you know about the history of this instrument?
GM: It caught my attention when I was very young. It's a popular instrument which has been introduced into social environments, such as parties, celebrations, funerals and church mass. Bagpipes can be found in many countries. Nobody knows when it first appeared but there are paintings and records of it from Ancient Egypt where musicians are seen playing something similar to a bagpipe.
HT: What is the format the Havana Gaitas band uses?
GM: We use a traditional typical format which comes from African regional music, it can be one or two bagpipes and they are accompanied by drums, bass drums, tambourines and people dance in traditional costumes. The band's director created a fusion piece for bagpipe, piano and bass guitar; a type of modern music.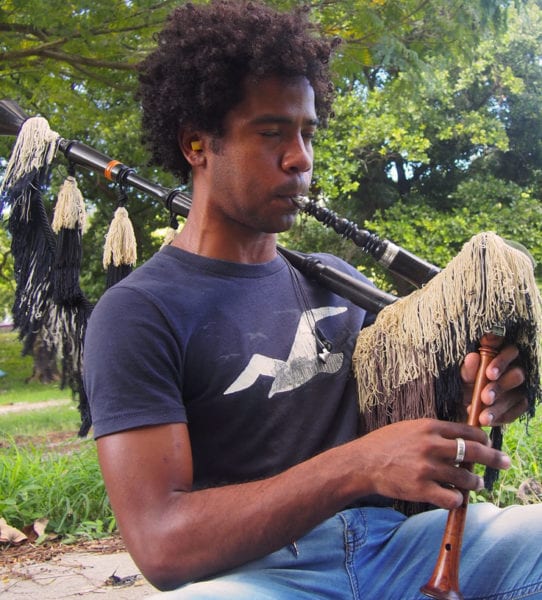 HT: Where can we listen to you play?
GM: It's been a long time since we've performed somewhere; we used to play at the Spanish Society, in the Mella Theater, at the Spanish La Huella Festival. I'm invited every year to Christmas concerts with the cathedral's organ player called Moises. We play a Christmas carol there accompanied by a soprano singer. It's a very beautiful experience.
HT: When you talk about fusion, jazz comes to mind. Are you thinking about playing around with this genre with the bagpipe in the future?
GM: Jazz is a very attractive and well-established music here, although there are people who don't understand it.  The identity of jazz is very complex and shouldn't be isolated or separated by skill.  There's a lot of very good jazz being made here in Cuba with its own language and a mix with contemporary music. I think it has been maturing in terms of quality and performance of young jazz amateurs and in fusing it with other music styles. Who knows what I'll be able to do in this respect.
Gelmis, without knowing it, brightened up my afternoon. Now my journey towards Candelaria will always be a little more enjoyable because the sound of the bagpipe has been imprinted on my memory; it'll be very difficult to forget.