Black Cuban Female Blogger
By Patricia Grogg
HAVANA TIMES, March 23 (IPS) – Sandra Alvarez remembers. Her mother, a dressmaker, and her five siblings lived in the modest Havana neighborhood of Lawton. Her mother used to tell them, "You have to study because you're black; your classes are twice as important for you."
"Always, ever since I was little, I've known that I'm black, and I've fought being discriminated against as a black woman," pointed out the young psychologist, who has won recognition on the island for her blog Negra cubana tenía que ser (The Black Cuban woman has to be) – http://negracubana.nireblog.com .
The website is a meeting place for people interested in issues such as gender studies, sexual diversity and racial discrimination. Alvarez, who works as a publisher and journalist for Cubaliteraria (http://www.cubaliteraria.com ), collaborates with the National Center for Sexual Education (Cenesex) and with the Center for the Prevention of STDs/HIV/AIDS, from where she also gathers information for publishing on her personal webpage.
Alvarez spoke with Culture and Society magazine of IPS earlier this year. More than a formal interview, the encounter soon became a rich dialogue. We present them some of the highlights of the discussion below:
THE BLOG
"I believe that, in some way, my blog does the country good. I approach issues that the country is addressing. There has been an opening to sexual diversity, the racial issue is being discussed, and there are advances. My blog can serve to collect those things that don't usually come out in the press.
"I don't believe that it's saying anything so out of the ordinary, but in Cuba we are not used to discussing these issues.
"I've received testimonies from women who have identified with the blog and have accepted it as a space for them as well. It has helped me to communicate with other people, and especially to express myself.
"As poet Dulce María Loynaz once said, 'In each grain of sand there's a landslide.' My desire is not that this be a super blog. Nevertheless, that which doesn't exist is an accomplice to what's not said, and what is not discussed doesn't exist. I try to say things, even if only three people read them."
WOMAN, FEMINIST
"I realize that my position of being on the fringe allows me to be aware of other things. The fact that I'm a feminist makes me flexible on many issues.
"For me, being a woman has never been a problem, but being black has. Being a woman has not entailed the challenge of having to brace myself before any difficulty, or to prepare myself more.
"Ever since I was a girl, I was different from my sisters. I'm strong. I can build a brick wall, for example. That has to do with the education that I was given. Any limit comes from not having the ability; it's not the fact that I am a woman.
"I realized that abilities are human – not female or male. Society tells you that women have to be sensitive, and men valiant. However, both courage and sensitivity are human.
"Being a different kind of woman has narrowed my opportunities. It has cost me more than other people, because I say what people don't want to hear. Sometimes people tell me I'm a loud-mouthed woman, opinionated, controversial…"
THE BLACK CUBAN WOMAN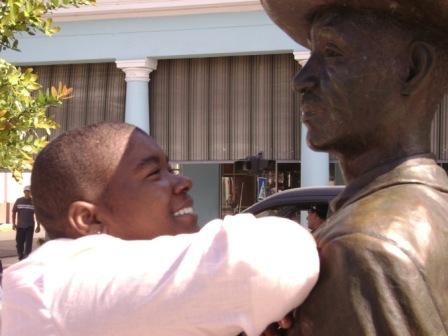 "The black woman in Cuba has the same rights and opportunities as other women. However, what I've clearly noted is that it's possible to build racial identity from the fact that they don't take us into account. This can be appreciated in things as banal as the shampoo sold in stores; until just recently, products did not exist specifically for black women.
"When I was 16 years old, the nicest thing you could say to me was 'black girl, you are white' or 'the only thing keeping you from being perfect is that you're not white.' It's very difficult to build your identity as a person -including racial identity- when you're trying to be what you're not.
"This situation of being black and wanting to be white is unjust. Moreover, what does it mean to be white? That has to do with the question of power, which doesn't have anything to do with a socialist revolution. I'm especially interested in the psychological question. How can you be a true black woman if at 15 you're given hair straightener so you can be like a white girl?
"When we think of human beings, we don't think of just any human being. We probably think of a man, and of a white person. The human condition is closely bound to being white.
"I know that race as a biological concept doesn't exist, but socially and psychologically it does. People in Cuba continue to say, "They had to be black" [referring to anyone possibly involved in a negative occurrence].
"I have to prepare a great deal, doubly, but I'm not trying to be white. Since I'm black, I study a lot because I have to demonstrate how much I'm able to do. I know that because I'm a different kind of black woman, people ask themselves if I'm a woman or not, or if I'm feminine or not.
"The starting line for the black women is much further behind. You can't ask them to get to the same place if you don't keep that difference in mind.
"Community-based universities in Cuba are full of young black men and woman. I imagine that they're the ones who got left behind on the track of going to standard universities.
"That doesn't have to do with the fifty years of the Cuban Revolution, but rather with the fact that they're starting from further behind. The impact of slavery is still here. Black people were slaves; therefore, neither the starting point nor the finish line can be the same.
"It's difficult to be a black woman that doesn't fit the stereotypes. I assume my negritude as it affects me. It's difficult to navigate all the obstacles; you have to have guts. That's the sense of my blog."