Black & White: Interview with Cuban Artist Abeth
Irina Pino
HAVANA TIMES — The paintings of Carlos Barrera Portas (Havana, 1976), a Cuban visual artist also known as Abeth, depict the symbiosis of human beings with their surroundings, the constant exchange that takes place between the individual and society. All of his works are in black and white.
HT: Tell us about your first steps in the art world.
CB: I had an inclination for art since I was a kid. When I was 8, I participated in a writing workshop held in the cultural center in Plaza, Havana. I entered the competition and won awards. I also took part in the television program Que siempre brille el sol ("May The Sun Shine Forever"), where I also got a number of awards.
HT: How did painting come into your life?
CB: When I was 14, my interest in the visual arts led me to study painting. I didn't pass the entrance exams at Havana's San Alejandro Arts Academy. I have a diploma in crafts. I acquired my knowledge of drawing, painting and other techniques through a number of additional courses and lessons I did on my own, as a means of completing my training as a painter.
HT: Why do you sign your pieces as "Abeth"?
CB: It's a metaphor about creation in general and artistic creation in particular. A and B are the first letters of the alphabet, they suggest the beginning, inspiration, genesis and creation, that is. The second half is "Beth", which has a lot to do with music, many genres of which I like. I chose it because of Beethoven, because I consider him a universal symbol of music.
HT: What techniques do you use?
CB: I have been painting a series of pieces using acrylics and ink (mixed media) since 2010. They are monochromatic, in black and white.
HT: What are the visual components of your paintings?
CB: My paintings show animals and imaginary objects, rendered in the style of fantasy or pop art. They are high-contrast, highly symbolic black and white pieces that are simple, conceptual and minimalist, showing a certain stasis and solemnity.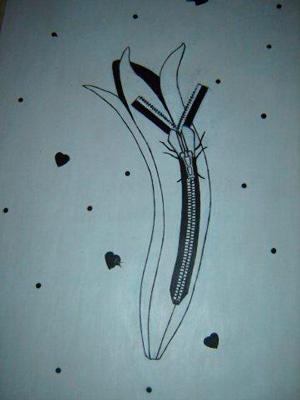 HT: What are your influences and tastes?
CB: I have many, and they are quite diverse. From pop art, Andy Wharhol, Roy Lichtenstein and Claes Oldenburg. From surrealism, Salvador Dali and Rene Magritte. From abstractionism, Pier Mondrian. Among Cuban artists, there is Franco, Fremez (who was a designer) and Pedro Pablo Astorga.
HT: What messages do your paintings convey?
CB: They basically speak of individual existence at the universal level, across time. They focus on contemporary society particularly.
HT: What other artistic work have you done?
CB: I've worked as a craftsman and a projectionist at movie theaters at different points in my life. I also designed the posters for the rock concerts held in the Roberto Branly cultural center, from 2001 to 2003.
HT: Have you had exhibitions of your works?
CB: Not yet. I would of course like to organize an exhibition. The reason I haven't been able to is financial: setting up the pieces costs a fair amount. I am also waiting to have a larger number of works that are thematically related in order to fill the space of a gallery.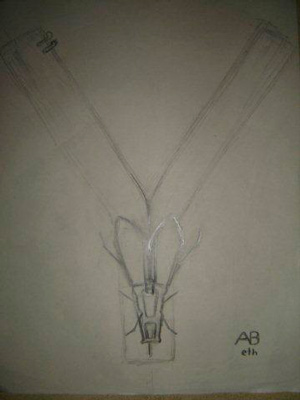 HT: Why black and white?
CB: I initially planned on using all colors, and it is something I would like to do later on. The idea of using only black and white struck me as far more interesting, odd and less conventional. There are also the expressive qualities of black and white, known by anyone who's studied art history or knows something about art: black and white photography, retro cinema, engravings (which exist since the Renaissance), poster techniques which had an influence on pop artists.
HT: I see that one of your recurrent motifs is an insect. Explain the meaning behind this to me.
CB: It has to do with the name "Abeth". It's one of my symbols, half bee, half blowfly. It symbolizes industriousness, virtue. I got my inspiration by those guilds of craftspeople and artists that existed throughout Europe during the Renaissance, who formed a kind of creative beehive. In a general sense, the insect represents movement, vibration, an idea that invokes music.
HT: What are your immediate plans?
CB: To continue developing as an artist.