Con-Trastes: Two Women and Their Guitars
Helson Hernandez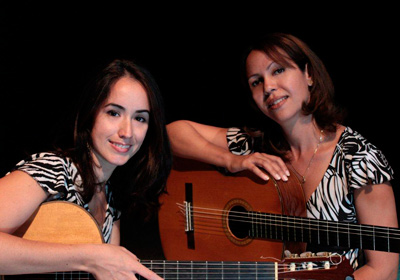 HAVANA TIMES — The novel and interesting performances of Zuleida Suarez and Susana Frade – two soloists who have come together as a music duo – have already earned them renown on the island. "Sacrifice is part of the life of any musician," one of them tells me during their interview for Havana Times.
HT: How did the duo come about?
Zuleida Suárez: In 2009, Susana told me she was interested in forming a duo with me. The two of us belong to the Sonatas Habaneras guitar orchestra. We began putting together our repertoire, rehearsing a lot and staging concerts. We've been working almost without a break ever since and our duo, Con-Trastes, carries on. Incidentally, this is only female guitar duo that exists in Cuba today.
HT: Are you the director?
ZS: Yes, I'm the director of the duo. I created the project in 2002 with guitarist Galy Martin, when we were still studying music at Havana's Higher Institute for the Arts (ISA). I began to develop an interest in chamber music at that point and started to delve into it. I started staging small performances. As our repertoire grew, we became more and more interested in staging larger concerts. I was always interested in the possibility of taking part in other projects simultaneously, to gain in versatility. We've done live performances for stage plays, performed next to the Sexteto Con-Cuerdas ("String Sextet") and the Cuarteto Guitarras de la Habana ("Havana Guitars Quartet"), worked with lyrical singers and done solo performances on some occasions.
HT: Susana is from a younger generation.
Susana Frade: My generation experienced the rebirth of the guitar, or at least an attempt at bringing back the guitar as a concert and solo instrument. I've had the fortune of participating in and seeing the reemergence of the Isaac Nicola National Guitar Contest (reestablished in 2010) and Havana's International Guitar Contest more recently. These are competitions that existed in the past and people looked forward to – spaces for the study of music, for guitarists to come together. Though it may take a few years to see a true and large movement of guitarists in Cuba, I think the steps are already being taken. As a young performer, I've also relied on the support of the Hermanos Saiz Association (AHS) and the Association of Cuban Writers and Artists (UNEAC). I am moved by a commitment to expand Cuba's guitar world and to divulge the best of its repertoire.
HT: Tell us about Sonatas Habaneras.
ZS: Sonatas Habaneras has been an opportunity to learn about chamber music and repertoires from different periods and of different styles. Maestro Jesus Ortega invited me to join his orchestra in 2000, when I was still in first year at ISA. I've played different stringed instruments over the years and I'm currently the orchestra's assistant director. With Maestro Jesus Ortega, I've learned everything a music professional ought to know from the moment he/she steps onto the stage to the time he/she walks away. I've also learned to stand in front of an orchestra and direct it, a fairly difficult task. It is a huge responsibility, as all of the musicians under your direction follow your openings and closures.
SF: As for me, I've been in the orchestra since my third year of schooling – so it's already been 9 years. I've had my share of experiences and learning. I believe it is a very important stage in one's career and that it helps you overcame many fears and professional hurdles.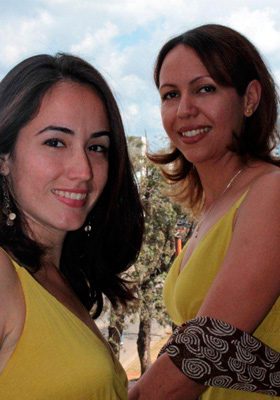 HT: Tell us about the duo's name, Con-Trastes.
ZS: The name Con-Trastes refers to the frets of a guitar ("trastes", in Spanish), those small metal bars on the neck of the instrument. It also refers to the contrasts that you always come across in our repertoire and ourselves as musicians.
HT: Do you perform a specific repertoire?
ZS: We have a highly varied repertoire that includes songs of great technical and musical complexity. Let's say there's a lot of contrast in our repertoire, to do justice to the duo's name. We play renaissance, baroque, classical and romantic music, as well as Latin American and Cuban pieces. In October and November each year, we perform at Havana's Contemporary Music Festival. There, we stage numbers by more recent composers, what is known as contemporary music. We've premiered the works of different composers, including very talented young Cubans.
HT: Zuleida, you face quite a number of challenges in your life, and not all of them are music-related.
ZS: Yes, I have my fair share of challenges, most people don't know I have two daughters – one is 10 and is studying the violin and the other is 6. They take up a fair deal of my time, and I have to manage it very well, so that, after I've finished all of the chores that a mother and wife usually has every day, I still have a moment to practice the guitar at night and prepare the duo's repertoire. It's often exhausting, but sacrifice is part of the life of any musician.
HT: What can you tell us about Cuban women in the guitar concert world?
ZS: Cuba has seen some outstanding female musicians – and guitar players, particularly – in recent times. I believe this is becoming a trend. Women have come to occupy important positions in the sphere of culture in our country, and I dare say there are more women with an active guitar playing career than men. In our case, we try to offer the public an interesting repertoire, put together an agreeable image that complements the music we do.
SF: There have always been good female guitarists in Cuba. Elvira Skourtis, Yalit Gonzalez and Rosa Matos are some female guitarists with an established career, not only in Cuba, but also abroad. This, however, is the first Cuban duo made up of two women with established careers. It is a point of pride for me, as a woman, to be able to perform in what many still consider to be a man's world, and I will always imbue my music with the sensitivity and sweetness that characterizes us, without losing the energy and strength required by certain pieces.
HT: Does this type of music get any attention from record labels on the island?
ZS: Concert music, particularly new and practically unknown projects such as ours, is not among the most publicized in our country. We applied for a production fellowship offered by the AHS. We submitted an album and a proposal to record part of the repertoire written or adapted by Cuban composers in a two guitar format, and we got the scholarship. The AHS financed the recording, editing and mixing at Havana's EGREM studio, and the Embassy of Norway in Cuba is financing the mastering and duplication of the album, which we haven't completed yet. You could say we've been fortunate to have received the support of these institutions to produce our first album, which will see the light of day soon.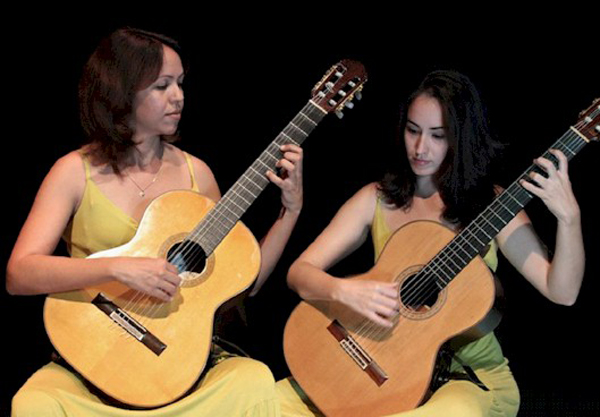 SF: Several albums were recorded in the 90s by the duo Confluencias, most of them live. The duo was made up of Eduardo Martin and Walfrido Dominguez. No other album by a duo had been recorded since, to a large extent because chamber music wasn't being done in Cuba. Very few guitar albums have been produced. Though, generally speaking, classical music albums are being recorded, but they aren't distributed properly and they end up collecting dust at stores.
HT: What piece would you say best captures this moment in your lives emotionally?
SF: Llamarada ("Sudden Blaze"), by Spanish composer Tomas Marco. There isn't a moment of rest or respite from start to finish. It is made up of quick notes, semiquavers, that leave you with a sense of joy when the piece is over. It has a happy ending, of course.
ZS: The piece that best captures this moment in our lives and careers for me is Cuban composer Carlos Fariñas' Musica para dos Guitarras ("Music for Two Guitars"). The piece has been a part of our repertoire since we first started. It is a beautiful piece that's both powerful and complex – it tangles up and untangles as it progresses. It has passionate moments, moments of tension, and ends with a powerful note. Its title also alludes to everything we've done over these years: music for two guitars.