Cuba: Making Art among Friends
Dariela Aquique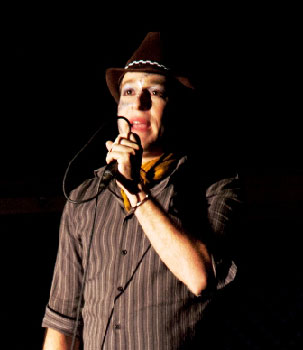 HAVANA TIMES – The Variety Show companies draw upon many of the artistic possibilities (theater, dance, circus art, mime, visual art, audiovisual presentation). However, their basis is purely musical, sampling from a variety of sources and thus escaping formal definition.  The script doesn't necessarily have a single unifying theme and the performance is totally eclectic.
Such is precisely the case with the Katharsis Company of Santiago de Cuba under the direction of my interview subject, Guillermo Chany Ventura.
HT: Why create a Variety Show Company?
CH.V: Firstly it was out of economic necessity.  After three years of working professionally in a theater group from the city here, the staff was downsized and I was left without a job. I had to find alternative employment based on what I knew and wanted to do.
So I began to get my friends together, because Katharsis is just that – a group of friends that began to create artistically, without any intention of looking towards the world of professional performance.  When we began, there was no authorized State entity to represent the type of group we were were founding.  Hence, to some degree we were working just to pass the time.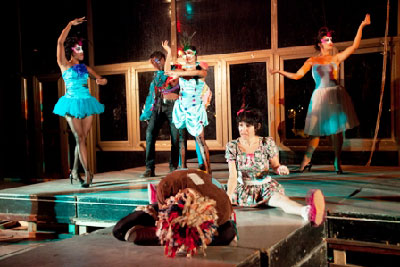 At first I aimed for a musical theater company, but that's a utopia here, because of the expenses involved. So I opted for a variety show, and I tried to do a lot of different things while economizing on expenses.  I believe that at the moment in our city we're the company of this type that offers the greatest variety of acts: we have singing, several kinds of dance, mime, and circus acts.
HT: How long since the group's creation?
CH.V.: A little over two years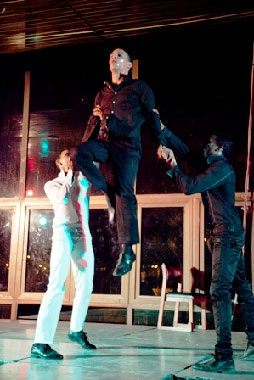 HT: Why the name "Katharsis"?
CH.V.: Given our characteristics, we needed to find a name that was short and commercially viable, and would also have something to do with what we are trying to accomplish with our performances. We spent nearly two months looking for the exact name, and one fine day came up with "Catharsis". Its meaning was ideal: that feeling of liberation and purification that the audience enjoys, thanks to the emotions imparted by the artistic presentations.  Writing it with a K and putting an h in the middle is just a tendency of the times. Hence – it's Katharsis.
HT: How do you select the members?
CH.V.: The principal characteristic that we look for in a member of the Company is versatility.  We aren't interested in those singers who only sing, or dancers who only dance.  We look for multi-talented artists who can double in different performance genres.  Ah, and we also give great importance to stage presence; we are very interested in their image, a good image accompanied by talent.
HT: Given the variety of performance genres that you offer, how do you prepare the shows?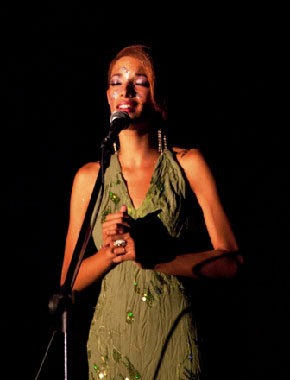 CH.V.: Despite being very young, we have a team with a great deal of professionalism.  We have a musical director, Elena, who belongs to the Eastern Symphony. She plays the oboe, but in the Company she sings, dances and acts.  Yunier Casanella is the director of "Juggling with fire", and there's an assistant director and myself as the artistic director.  The dramatic thread of the performances are collectively created and we always try to make sure that it's not just a show made up of random numbers.  We all pitch in, according to the type of genre in every segment, and those of us who are more expert help out more.  After putting it all together, the most difficult thing is dressing the performance: finding the costumes, the makeup, or in other words producing it.
HT: How many artists make up the group?
CH.V.: At the moment, there are thirteen of us.
HT: Where do you normally present?
CH.V.: We usually present every Saturday at the Niagara, the Café Cantante of the Heredia Theater.  But we also do tours of the municipalities, and we've worked in other night spots such as Ciroa or Villa San Juan. But our regular site is the Café Cantante.
HT: Talk a little about the Artistic Agency that you belong to.  What are its characteristics and how could other groups get into this grouping?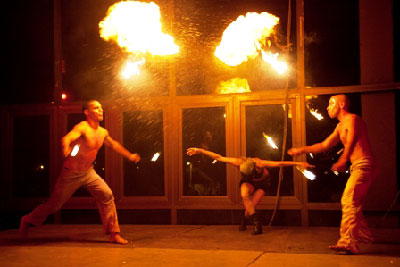 CH.V.: Coincidentally, a few months after this group was created, the EPRA (Provincial Enterprise for Artistic Representation) appeared.  This was nothing more than an Artistic Agency that was affiliated with the province's Performing Arts Council and which has become a separate entity.  Upon receiving autonomous status it has begun to embrace various projects of different types and specialties.  It brings in theater groups, dance troupes or variety companies.  They audition the projects, and if they are interested and take them on they charge 20% of earnings to represent them on an institutional level.
HT: How do you charge for your work and what kind of salaries do you receive?
CH.V.: We charge by the presentation or by the show: that is, according to what we do.  For example, when we market a show to a certain municipal agency, for example those responsible for Culture, we've been able to negotiate up to twelve thousand pesos (600 usd).  If we manage to sell more than one show a month, or the same show to two or three municipalities or to another province, we can earn up to two thousand pesos each.  The Café Cantante is our regular spot, and there we have a cover charge, but the house charges us 30%, the EPRA 20%. The rest, which is generally a small amount, is ours.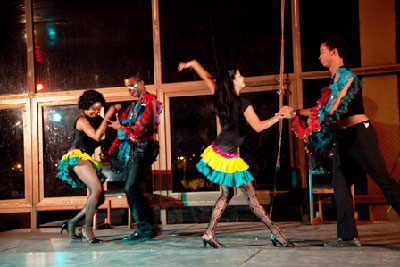 HT: What new stage projects are you planning?
CH.V.: Right at this moment we're immersed in staging a children's theater production, one that will include magic, juggling, choreographies, etc. One of our members, who came to us from the Santiago Variety Company and has had a lot of experience with this genre, is directing.  But we're in the initial creation phase and don't have a title yet.
HT: Do you feel satisfied with the work you're doing?
CH.V.:  Yes, I feel very fulfilled.  I'm doing something that I like very much.  We work in harmony.  It's making art among friends.