Cuba: Old Photography at its Best
Yusimi Rodriguez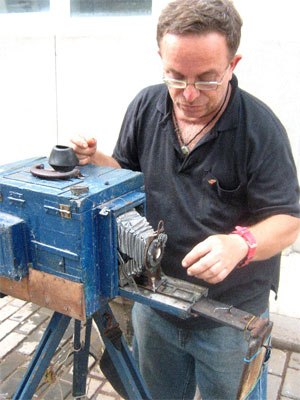 HAVANA TIMES — Yesterday, he mistook me for a tourist and offered to take a snapshot of me using his "old technique." He was the first of his type of photographer I'd seen in a while.
I used to see them all the time on the steps of the Capitolio Building (now under repair) offering to take shots of tourists.
I'd always been curious about those cameras, not sure if they were truly old gadgets or just modern imitations.
It wasn't easy to get Alberto de la Torre to let me come back the next day to interview him. He can't waste time talking. He only agreed when I promised not to ask questions while he was actually working.
But it was a long time before I had to stop talking with him. It wasn't a very prosperous day for him, not a single tourist stopped to have a photo taken.
HT: How long have you worked in photography using this type of camera.
Alberto: Thirty-eight years.
HT: How did you acquire the camera? Is it an original?
Alberto: My father, my grandfather… both of them were photographers. Everyone in my family was Spanish, except me; I was born here. They made photography artistic, and this was the system I adopted. The camera is original; it's a 150 years old.
Those who used to do this work at the Capitolio disappeared due to government neglect, by not providing protection… Many of them have died, while others don't work because there aren't enough materials and supplies. Just imagine having a cart for selling bananas and beans; you can go to the countryside and get those things. But these materials are found outside the country – the chemicals and the developing paper.
"Cuba was first in the world in terms of the number of this type of cameras that existed in the country."
To work, I have to make the paper myself, with bromide and silver nitrate, in a dark room, with a roller. That system is called "coloyon." You have to let the paper dry without exposing it to the light. Then when it dries you have to seal it in boxes. I have a special slicing device for cutting it. For the negative, I generally use ones from the factory, but for the positives I use paper that I make. The problem is that there's no paper.
HT: How is it possible to keep a camera working that's a 150 years old?
Alberto: With nuts and bolts, finding screws, fixing the bellows. This is the oldest one. I have seven other cameras that are new, right out of the box. They're also 150 years old. All of the old lens cameras are that old.
HT: What do you call that method?
Alberto: They call it "minutera." Just recently there was a pretty long article about it in the newspaper. But it so happens that the minutera system has disappeared in Cuba. The problem is that the government doesn't protect Cuba's historic patrimony. This requires old-style chemistry: methyl, sulfite, hydroquinone, carbonate and other chemicals. These are things that are available in the School of Chemistry, but if you go there they won't help you.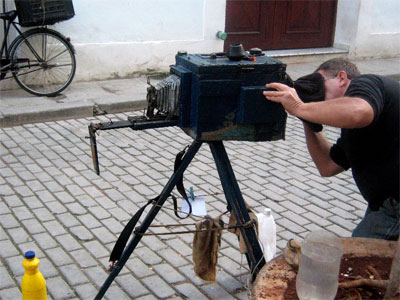 HT: Yesterday you told me that you color the photos.
Alberto: I'm the only one who knows how to do it in Cuba. I charge the tourists a lot for it since they can afford it. I don't charge Cubans so much because they don't have the money. But I don't always color the shots, not unless you call me at my house and ask for a picture to be colored or put in a hand-carved frame. The people who used to color photos in Segovia and Madrid were friends of mine, but they died twenty-five years ago. It was a couple, the man took the photos and the woman colored them. They were good.
HT: How many people are there left in the world who do this kind of photography?
Alberto: There used to be 70 or 80 in Latin America. Right now there must be only three or four. A Greek guy came here, a specialist in old cameras, who had a huge directory of photographers who used this technique, and he listed me as the best one of all times. That was because I knew how to color photos. But it's a form of photography that's poorly understood and is gradually becoming lost. It's like the culture of coloring, which at that time was called 'illuminating." This was done by hand, with some crayons that existed at that time. Several of my aunts used to do it.
His assistant, Lourdes Alvarez, urges him to get back to work. He didn't wait two hours at the bus stop to come here to listen to Alberto talk. His work is to get tourists to have their photos taken. Occasionally, he'll also crop the photos.
"But all of this is going to disappear. In this part of Old Havana I think I'm the only one left. Before 1959, there were nearly seventy cameras."
HT: You're not interested in learning the art and taking pictures?

Lourdes: I don't no. Up until now I haven't been. Mine job is to hawk them, to explain the prices to the tourists. That's what I'm good at.
Alberto: My family had several private photography studios, but with the coming of the revolution those studios were nationalized. I learned to take pictures in my childhood, by watching. But this is a street art. I still have four cameras from my grandparents: one Linhof, two Leikas, which are very expensive abroad; and another daguerreotype one, which if I were to take to Vienna the auctions would start off at half a million dollars. I'd have to try out the new possibility of travel to go to Vienna.
Cuba was first in the world in terms of the number of this type of cameras that existed in the country. Behind it was Vietnam. But forty-five years ago a lot of cameras were confiscated and are rotting in a warehouse. The only things that might still work are their lens.
HT: Have you ever taken pictures with other cameras?
Alberto: I know all cameras and all the techniques… I'm an architect. I'm a college graduate. I'm not just anybody. The thing is that I had an accident at work. I'm a clerk, a library specialist, and I'm also stenographer. I've had several jobs, but I broke two vertebrae and was hospitalized for two years. They don't pay me any pension because I wasn't able to see the minister to get them to compensate me. I'll have to take the whole case to court.
HT: When was the accident?
Alberto: Almost twenty five years ago. By now they should give me a huge amount in compensation. I had my accident when I was filling water pumps.
HT: Yesterday you told me that you were going to start writing a book.
Alberto: Yes, a five-hundred-page book about how to do early photography. These techniques aren't easily learned. A foreigner is going to give me $3,000 if I finish it. I want to do it so I can set up four or five cameras in Mexico and make some money. There aren't any there. If the government set up four or five cameras of these at the Varadero beach resort, it would make more money than from the bars.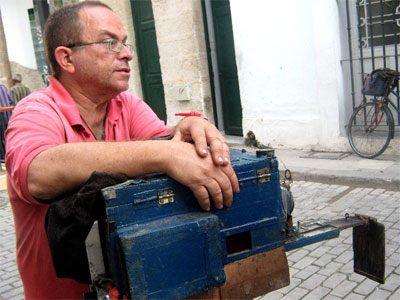 A few Cuban girls walked by and asked how much the photos cost. He told them 3 CUCs each or two for 5 CUCs. He explained that he can't lower the price any more than that.
Alberto: There aren't any there. Plus, I use holy water, which takes away all the spells cast by witchcraft. After shooting the picture, I put it in water for a few seconds and it's ready.
I make three types of pictures: small, medium and larger. But right now I'm only doing the medium and small ones. Why should I do the large ones if nobody's going to pay for them? Not even the tourists are going to pay for them.
Did you see the look on her face when I told the girl they cost 3 CUC for one or two for 5 CUCs? Imagine a large one or a colored photo. No one is ever going to pay that again. Those photographers in Segovia used to charge $25 for each colored photo. They pulled in over $40 a day. But in Spain there are more tourists than here. Now in Spain people are living off of tourism because there's almost no other work. You have to be ready to make it on the street.
Varadero is where more money is, but you need a special permit. Here they've known me for 18 years. In Santa Marta they pay well too, but you have to rent a place there and the rents are through the roof. There used to be photographers with these types of cameras at the zoo on 26th street. I used to take pictures there myself, but that was 30 years ago and there was much better transportation. Now, taking the number 27 bus has become nearly impossible. You have to have a bike or a car.
But all of this is going to disappear. In this part of Old Havana I think I'm the only one left. Before 1959, there were nearly seventy cameras.
I realized that he needed to go take care of his business. His health doesn't allow him to come out more than twice a week, which doesn't permit him to make a lot of money. He hopes his luck improves when the high tourist season begins. In the meanwhile, he'll join in with his assistant and cry "Old photos in a minute, come and get your portrait…"

Click on the thumbnails below to view all the photos in this gallery. On your PC or laptop, you can use the directional arrows on the keyboard to move within the gallery. On cell phones use the keys on the screen.