Cuba Seen by Tourists (II): Christian Returns
Yusimi Rodriguez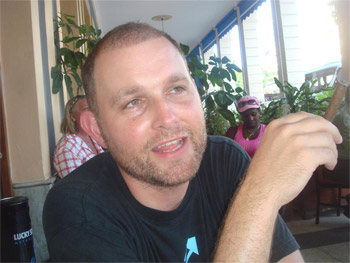 HAVANA TIMES, Oct.  9 — Christian was one of the people I interviewed for the article "Cuba as Seen by Tourists."   On his last trip he said he wasn't going to return to my country, but a few weeks ago he wrote saying that he was coming back to Havana for ten days.
After lunch, we chatted at the Cafe Francia, next to the Hotel Inglaterra, another one of his favorite places in the city.  As usual, he ordered a Bucanero-brand beer and non-carbonated water, then he lit up a cigar.  This time he hadn't been able to bring his Ecuadorian cigars.
Christian:  This is a Cuban cigar, but it wasn't made in a factory.  I bought it from an individual, so it's much cheaper than those sold in stores.  It's the first one I've smoked and it seems good.
HT: Christian, what made you return to Havana?

Christian: Basically for three people who I wanted to see again.  Juan Carlos, for example.  I met him before, in Switzerland, but there he acted very differently from how he usually does here.  In my country people are very serious, so he didn't crack so many jokes.  He's a good friend so that makes it worth coming back here.  The others were you and Javier.
HT: So is there no future for your relationship with Javier?

Christian:  As friends, yes, but not as a romantic relationship.
HT: How can you be so sure?

Christian: Because he lives in a world completely different from mine.  Also, I don't have feelings of love for him right now.  I like him a lot, he's cute, interesting, but I'm not in love like I was with my previous Cuban boyfriend.  In any case, I'll help Javier leave the country.  He wants to go to Canada.
HT:  You just visited Viñales and other regions in the west of the country.  What did you think of that experience?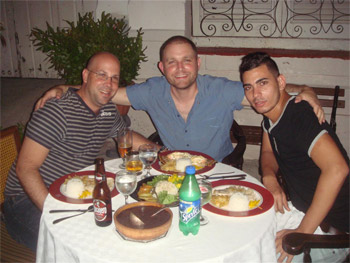 Christian:  Las Terrazas is a very beautiful place, but the hotel was too expensive and the room did not match the price…the service either.  The staff didn't give the proper attention.  It didn't seem important to them to do their jobs well.  They didn't keep people well informed of the activities and schedules.  
Viñales is very, very beautiful.  The service was much better and we spent the night at a nice place.  The breakfast was good, the service was good.  It's expensive too, but very nice.
HT: A while ago you said that Cubans take advantage of you.

Christian: From all tourists, in general.  Actually, I don't think it's wrong to obtain some kind of benefit if you offer me a service that I agree to pay for, that's fine.  For example, at the La Moca Hotel, they charged me 1 CUC (about $1 USD) for leaving my car in the parking lot half an hour.  But you really don't have to pay, because the fact is that the place has limited access, but Havana is a whole different story.
Leaving a car outside overnight in the capital can be dangerous.  The next day you'll find a broken window and discover something missing.  Here I pay two dollars so that my car is taken care of from dusk to dawn, which is OK.  The problem is when I feel I'm being taken advantage of.
HT: But how do you know when someone is trying to take advantage of you?  For example, Victor is a professional with a good salary.  His standard of living is higher than that of many Cubans.  Why do you think he took advantage of you?

Christian: Because when we went out to eat, he always took me to the most expensive places in Havana.  Things were twice as expensive as where we had lunch today.
HT: Maybe he didn't have any idea of ??prices at those places?

Christian: Yes, he knew.  In fact he doesn't usually go there because they are too expensive for him, even though he lives better than the average Cuban.  When I came, he knew that I was going to pay, that's why he took advantage.
HT: And Javier, do you think he's profiting from you?

Christian: He benefits, but he doesn't take advantage.  I realize it when some people are taking advantage.  For example, if I give you 10 CUCs to buy something and what you bring back only cost six but you don't give back the change.  Javier always gives me back the money that's left.
Here it's very common for an item here to cost 5 CUCs, for example, and you pay with a 10 CUC bill but the salesperson only gives you back four instead of five, forcing you to have to complain.  They'll say, "Sorry, my mistake," but the truth is they do this trying to get away with it.  It happens here every day.  Every time they give you change you have to check what you get back – every time.  That doesn't happen in Switzerland.
Here there exits the idea that you can take advantage of tourists.  I'll give you another example:  When we were traveling to Viñales, there was a cave on the way that Javier wanted to visit.  Inside was a show with Santeria and that kind of stuff, which all seemed pretty bad to me.
At the end, the artists asked us for money even though we had already paid the admission price.  What? – was I supposed to pay again?  Anyway, I gave them 1 CUC but they acted like it wasn't enough.  Those kinds of things bother me.  When I want to buy something, I pay for it, but this was a show that I didn't even want to see and that I had to wait for it to end.
HT: Is it different in Ecuador and Colombia, the two other Latin American countries you've visited?

Christian: Yes, it's different.  People also expect to get something from you, but there's more respect for the people who pay.
HT:  But Ecuador is a poor country like Cuba.  Why are things different there?

Christian: I have a feeling that most Cubans believe tourists have money and that they're poor because of others, the government for example.  That's their mentality, always blaming someone else.
But in reality the Cubans themselves are the ones to blame.  They're the ones who supported Fidel Castro when it seemed like he was a good president.  Many still think the system is good, but many others don't, so they should do something to change things.
Switzerland is democratic because people have the freedom to decide for themselves.  There's freedom of opinion, expression and freedom of the press.  Everyone says and writes what they think.  If people disagree with something, they have 18 months to gather 100,000 signatures and force a vote.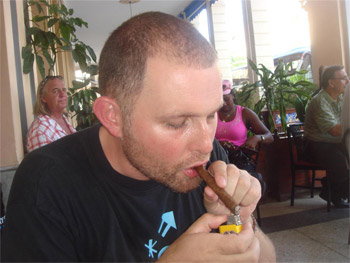 The Swiss have always stood up to object about those things that have bothered them.  Cubans need to realize that they have to protest when they feel something's wrong.  They shouldn't expect that the solution will come from abroad.  Each country has its own autonomy.  It's important for people to be able to make their own decisions.
I've met many Cubans who are accustomed to the government deciding everything.  I think that Cuba needed the revolution and that it brought many good things back then.  But it's time for Cuba to develop.  I hope that the new measures will succeed and that soon there will be private property so that people can buy and sell cars [the new law allowing car sales came shortly after the interview].
I should tell you that Zurich was a very poor city, there wasn't anything to eat.  There weren't the numbers of nice houses that you see in Cuba, nor was there a cemetery built out of marble.  Many people had to emigrate.  My grandfather lived in the United States for years because there weren't any jobs in Switzerland.
HT: How did things change in Switzerland, how did they achieve so much development?

Christian: With hard work, with industry.
HT: So you think Cubans don't work hard enough?

Christian:  That's what I think.  Cubans work much less than people in Switzerland and the rest of Europe, though I know some people who work hard, Juan Carlos for example.  But most don't.
HT: But Cubans earn less than people in other countries.


Christian: Not less than in many other countries.  There are other countries where people earn very little, like China for example, where many people work for a dollar a day.
HT: I haven't been to China, but many people here work very hard for low wages, even less than a dollar a day.  Right now many people are unemployed, trying to work for themselves, but that's not so simple; you have to make a financial investment.  So you think that if the Cubans worked harder we could develop the country?


Christian: Yes and no.  Now, with the new reforms, it's possible that many will obtain wealth, but there will also be many of them without jobs.  People have to figure out how to use their skills to survive and prosper.  It's difficult because they are not used to doing this.
The problem here is that people need to work less than they do in Switzerland for shelter and the basic necessities of life.  The weather is always good, while in Switzerland you have to work and plan everything to get through the coldest months of winter.  The problem is that modern life brings with it other needs, material things, and these require development.
HT: But you said that people in Switzerland work hard, have a high quality of life and yet they're not happy.

Christian: It's true, they're not happy.
HT: Why?  They have everything, good salaries, they can travel …

Christian:  Because everything revolves around material things, trips…  When you have no real relationships and you don't have your family — even if you have a lot of money — you're not happy.  A millionaire is not happier than someone who has no money.  They live in fear of losing it all one day. They have huge houses with lots of things in them but they live in fear of being robbed.  That isn't the case with you or me.  When you have a lot of money, you also have other problems.
If you work in a large firm and maybe you're a supervisor, you have lots of difficulties.  There are many people who want your job.  The company can also fire you at any time because it wants to earn more.  Many people work six or seven days a week, ten hours a day to protect their position.  So, although I know there would be more development in the country, I wonder if Cubans would be better off if they worked more.
HT: So what do people need to be happy, in your opinion?

Christian:  Friends, a partner, good relationships with people around them, doing work that they like, and the freedom to have new experiences, learn new things, regularly – for example traveling.  But not having too much money.
HT: So for Cubans to be happy it's very difficult because we can't travel.

Christian: But that's just one point.  I think you're happier than many people in the world.  You live with your families, you have friends, live in a beautiful country, where not everything works but many things do.  For example, here neighbors help each other out.  In Switzerland it's very different.
HT: You think the fact of living with our families is a reason to be happy.  But in reality, many people live with their families out of necessity, due to housing problems in the country.  Most people can't be independent, so they have to live with their parents forever.

Christian: That's true, but the point is that your family is there when you have a problem.  For example, when Javier had tonsil surgery, his mother was there at the hospital with him.  When I had surgery on a fistula, I went to the hospital by myself.  My mother wasn't there with me.
I always go to the hospital alone.  The family visits after the operation.
Now if it's a dangerous operation, maybe with less than a fifty percent chance of surviving, the whole family will be there with you, but not for a normal operation.  I think many Cubans living abroad miss that family closeness, that's why people seem so cold to them.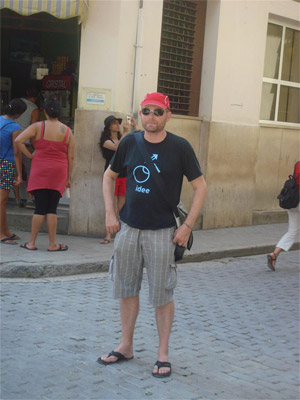 HT: Would you be happy in Cuba, if you lived here just like any other Cuban?

Christian: No, because there's no freedom, and that's an important part of being happy.
HT:  How is your life in Switzerland as a homosexual?  Are you free?

Christian: Yes, in fact Switzerland was the first country where the people said yes when the issue of gay marriage was raised.  Fifty-eight percent of the people approved it.  It wasn't like in Holland, France or Germany, for example, where the decision was made in parliament.
HT: Would you like to marry a man in the future?

Christian: Yes, I would love to…  but not with Xavier, though he wanted to.
HT:  Do you think he loves you?

Christian:  No.  I think that to him I'm a door to the world in which he wants to live, a world he can only imagine.  He thinks that in Switzerland everything would be like when I come here.  Here it's me who pays all the time.  He also thinks that there's nothing but money for spending there, and that I would be able to take care of everything for him.  This is only my vacation and I've spent more than Juan Carlos earns in ten years.
There, one has to work hard and everything's expensive.  You can't go to the movies or eat out every day, for example.  The idea that he has of Switzerland isn't real.  There, he would have to work and study to become better prepared.
It takes about two hours to get to the job, where you have to work eight to eight and a half hours.  You have an hour for lunch and then you spend four hours at school.  On the weekend you might have another job.  Plus you have to be punctual at school and at work; you might be late once, but not regularly.  And you can't ever get sick.
HT: Most people here think that life abroad is easy.

Christian: That's why I say that Cubans don't work very much.  Here people work five or six hours a day, but they might have a customer waiting for them while they're chatting with a co-worker.  An hour of work there is equal to five here.  Also, you can't make personal phone calls or write personal emails while you're working.
HT: What are your plans now?  

Christian: I don't know.  For now I'll return to Ecuador, then I'll travel to Peru.  As for the future, who knows?
HT: But at least you know that you'd like to get married.  Do you think it will be with a Cuban, an Ecuadorian or someone from your country?  

Christian: It will be the right one.
HT: In the relationships that you've had in Ecuador, do people also look at you like just another European, like someone from the First World?
Christian: Some yes, others less so.  But it's different here.  Here 90 to 95 percent of the men and women want a relationship with a foreigner so they can leave the country.  In Ecuador it's less, although some of them also seek contact with foreigners as an opportunity to emigrate to the United States or Europe.  To get into Switzerland they need a visa, but I don't.
HT: Lastly, is this your last trip to Cuba? 

Christian: Absolutely … until the next one.