Cuban Jazz Pianist Jorge Aragon
Helson Hernandez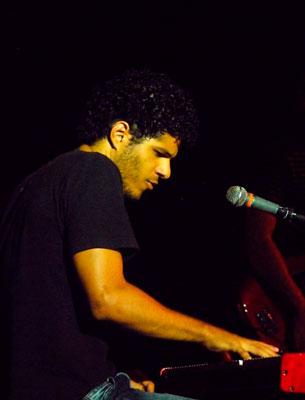 HAVANA TIMES — Jorge Aragon is a virtuoso of the instrument, a young musician with a very contemporary vision of Cuban Jazz. "My father was the inspiration that got me into piano," he said in his interview with HT.
HT: How would you describe your Jazz?

Jorge Aragon: I use elements of my creation, a very Cuban Jazz, "Free Jazz."
HT: ¿El Free Jazz?

JA: Getting a little outside the ordinary, a contemporary Jazz , always incorporating different elements of music. There is already a small group of jazz musicians being classified within this denomination.
HT: In addition to being a pianist do you have  your own own project?

JA: My musical project is the Jorge Aragon Trio. It's a format with bass, drums and piano.
HT: Where can we hear you in Havana ?

JA: We have two presentations a month at 11 pm at the well-known La Zorra y el Cuervo, on 23rd Street in the Vedado district.
HT: In a space of time?

JA: Is a song composed by me with which I won the award in the category of composition in the international Jojazz event that takes place in Cuba dedicated to the young jazz artists, at the 2008 edition. I defended the composition with my trio.
HT: How far back were your beginnings in music?

JA: Since I was six years old. I began to study music at that age, a little advanced.
HT: Any name stick out in your educational background?

JA: I am a pianist today thanks to a great teacher. Her name is Mayra Torres. She worked with me for 7 years. She taught me absolutely everything, including the sacrifice involved.
HT: By the time you graduated people critics were already praising you. 
JA: Right after graduating in 2006, I participated in the Amadeo Roldán classical piano contest, and got the first prize. I remember played a sonata by Sergey Prokofiev. It was an award that surprised me, and also gave me great satisfaction.
HT: You began with classical composers and now Jazz. 
JA: I never thought about leaving the classics, it is extremely important for any musician to keep studying them, even though one's interests are changing.
HT: Your preferred among the classics?

JA: Rachmaninov, for many years I listened to all his concerts, especially Concerto No. 2 op. 18 and No.3. Somehow he influenced me and enriched my sound field, stimulating my creative level, helping to awaken the composer in me .
HT: The Aragons are a family of musicians.

JA: My father was the inspiration that led me to the piano. He gave me a gift that he had, the taste and sensitive way of taking on the instrument. A way of playing a little simply, you could say, but at the same time comes very close to people, and that's something that schools do not teach.
He was an arranger for important Cuban artists. He worked for 8 years with Pablo Milanes being his arranger and pianist. He also worked with Silvio Rodríguez, Beatriz Márquez, Omara Portuondo, and in different orchestras.