Cuban Singer Ivette Cepeda
By Helson Hernandez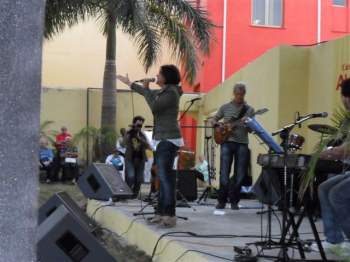 HAVANA TIMES, April 24 — Cuban singer Ivette Cepeda believes that her music is not an imitation but issues from the influences of great musical interpreters.  "I would say that I don't consider myself a bolero singer, and I don't consider myself a salsa singer… I feel that my musical world is a little more mixed and so that's why other ways are born in me for projecting previously known works."
HT: You are an "Espirituana," meaning you're a native of Santi Spiritus Province.
Ivette Cepeda: Yes, I was born there in the land of Espirituana trova music.  My father's family still lives there.  On the other hand, my maternal side is from Santiago de Cuba, which also had a major musical influence on me.
HT: We can see that your origins are from two places of importance in the musical history of our country.  But looking at your family in particular, what would you say were the musical elements that influenced you most?
IC: Well, my paternal grandmother sang beautifully.  She was an incredible soprano.  My grandfather played the trumpet and my father still sings.  In my family on my father's side, I had a wealth of musical influences.  They linked their lives with music through the church.  Now on my mother's side there are also plenty of musicians.  Among them I believe the most distinguished is Electo Silva, my grandmother's cousin.  Almost all of them play the piano, and I think the only one who doesn't know anything about music — from an academic point of view — is me (laughter).
HT: We notice that in your repertoire there's an interesting variety of composers from diverse generations and styles.  In fact, I consider this to have been your trump card, adding of course your fine quality as a performer.  Are you the one who makes these selections that we're discussing?
IC: Yes I do.  But though I decide on this part of my work, I want people to know that the public has a great deal of importance in it.  Many people will come up to me to make suggestions.   "This song would suit you perfectly," or "This writer composes brilliantly," they'll say, and I use this in making my selections.  Also, for example, the cinema producer Lester Hamlet always keeps me up-to-date on what he's listening to.  Likewise, my musicians have tastes that I respect greatly, so they guide me as well.  I believe that's how it happens. I choose my own repertoire in the end, but people give me lots of guidance, and I believe that this's the key to success.  Independently of the fact that there's a great part of the music that I don't include, it all serves as information about the current epoch as well as those of the past.
HT: In your career as a singer, people have always pointed out the lack of original songs in your repertoire, noting that what you sing are versions composed or originally sung by others.
IC: True, there is so much music that I want to sing with a certain variety, but on the one hand ultimately everything has to do with how I stylize it, though on the other hand the songs give me a level of information that enriches me greatly, because it gives me the possibility to recreate myself in the styles of other performers who were icons in several epochs of our music.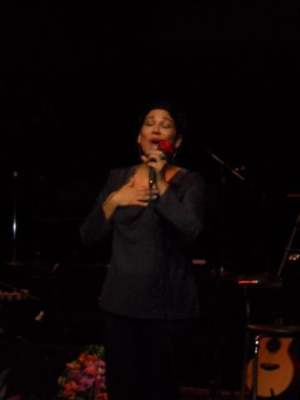 In addition, these versions go through 25,000 filters in my mind.  There are pieces that don't motivate me on a first reading; just like what happens when they go through the hands of the arranger, then changes are made and it makes me perform it differently too.
HT: Can we take it then that the changes you make to each work are what determine the success of your versions?
IC: Thinking to myself, I would say that I don't consider myself, for example, a bolero singer, and I don't consider myself a salsa singer… I feel that my musical world is a little more mixed and so that's why other ways are born in me for projecting previously known works.
HT: What importance has the Cuban actor and composer Alberto Pujols been to your work as a singer, speaking in terms of repertoire?
IC: Just think – he is the author of the first original song that I was able to have and sing, "De cuando en cuando."  It was a luxury for me to have his work on my first CD, Estaciones.
HT: You said something interesting, it's true that you are not defined by a specific genre – you pick up on several styles as a singer.  In any case, Ivette Cepeda, how do you see yourself now?  And what other singers have influenced you so that you look at yourself in the way you do, now having become a true performer?
IC: At the personal level, I'm a very serene person.  All my excitement comes out when I sing, sincerely.  That's my rebirth.  It's the moment when I pull out of me what's not seen at any other time.  All strong emotions I experience through songs.  Though I find that with all singers it's necessary to recapture other styles, though I wouldn't use the word "classics."
For example, I was once told in a competition: "You can't sing that song the way you want, you have to sing it like the author wrote it."  That's why I don't participate in competitions, because the author might have conceived of the work one way, but now it's in the hands of another artist and each one has their own experience, their own voice.
Now I can say that certainly there's a legacy, that this is most marked in certain styles, and that this inevitably comes out.  When I'm singing something done by Elena Burque, there's a lot of her form of singing in mine as well, because there's an acceptance in me of the force that she imprinted on it, or that feeling that she expresses in it.  I'm convinced that there's a big difference — a big difference — when I put one of Elena's recordings on and when I hear myself, but there's something inside me that assimilates much of her, and that's where you find the influence.
I also get other opinions.  The music critic Fran Padron on one occasion compared me to the Brazilian singer Elis Regina, though when I listen to her I don't recognize myself in her music.  It could be that there's a certain similarity in the timbre, and even more so when I sing in Portuguese, since it's necessary to situate your voice in another language.  But if there is something that you can feel with Regina is her giving her all in each song, I too am a singer who experiences that in each piece I sing.  Finally and in short, No; I don't believe there is any imitation in what I do, if anything there's an influence.
HT: What does it represent to you in having been invited as a singer to participate in the well-received dance-musical "Vida" alongside the Lizt Alfonso Company, and replacing the renowned Cuban singer Omara Portuondo?
IC: Coming into contact with Lizt Alfonso has been very important for me as an artist and as a person.  We know that Lizt is a person of great courage and integrity, as a woman and as a human being.  She's tireless, meticulous, and passionate; likewise she instills many things in others by force of her great personal sacrifice.  To me she is one of the greatest artistic directors we're going to have in this country.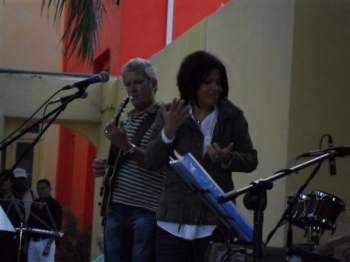 I had to put in a lot of effort to adapt to the discipline and rigor of the Lizt Alfonso Company.  She as the director didn't exactly give me the freedom I was used to and which I usually deliver as an artist, singing a song in a different way each time I do it, but this was because the dancers have to dance to the beat of your interpretation.  There is already an established theatrical element that mustn't be violated, the stage movement.  In short, for me all of this was a great experience.
In terms of the role I was cast in, I think Omara is irreplaceable, and if there is someone who influenced me tremendously in my career it was Omara Portuondo – her musicality, that freedom that she also takes as interpreter.  Those are features that equally marked my career.  She is a veritable icon of song, and for the whole company it was a challenge to pull off a performance like "Vida" without Omara.  Though in the beginning people asked about me saying "who's she," I felt very pleased when later they were surprised by my work and received me well.  Undoubtedly that opportunity has opened doors, and I'll continue collaborating with Lizt Alfonso anytime she needs me.
HT: And how is it that List Alfonso learned about you to bring you into "Vida" and to work with the company?
IC: Well, many people said that she should call me, and she did.  I think that in her decision an important role was played by my CD, which was circulating somewhere around.  It had some of my live performances from back when I sang at the El Gato Tuerto cabaret.  I think that when she heard those, she decided that I was the singer who could replace Omara.
HT: These days in Havana you've become an entire event on Saturdays at the Café Teatro Bertolt Brecht, the place where you're presented with the group that has now become the backup for your professional work as a singer, even as a recording artist.
IC: I'm extremely happy because generally when one talks about a singer they only appreciate their work as a soloist, while the musicians are sometimes relegated to a second plane.  But in this case, fifty percent of what I've achieved is owed to Grupo Reflexion.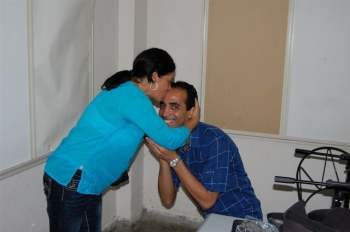 I take advantage of opportunities to let them know my gratefulness, my desire to continue working with them, even though we began under rough conditions: without a piano, renting instruments, without an audio system – well, without anything.  But gradually we've been able to get support.  I'm thankful for pianist Frank Fernandez, for all the effort that influenced Orlando Vistel of the Cuban Music Institute…  But best of all is that the musicians from Grupo Reflexion accompany me, and because of that trust we have made it to where we are today.
HT: You had your first disk, titled "Estaciones," recorded live at your first concert at the Havana Fine Arts Center.  We know that you've just completed a second project with the same recording company, Colibri, but this time you're accompanied by the musical group you just mentioned.  What can you say about that new project in the way of a preview?
IC: Yes, the CD will be called Una ventana entre dos (A window between two), because the group, though I accompany it, is a project of the Adolfo Guzman Music Company, while I as singer am another project.  Notice how funny it is how one has to call themselves a "project."  In short, these words that people use so much today, I'd prefer to throw them out, or to make new ones up (laughter)… Well, that's who we are, two different projects that were brought together for working, and that's what the new disk is about: their musical concerns and mine.  Out of this union came several songs by Joaquin Sabina, others by the Uruguayan artist Jorge Drexler and some well-known Cuban songs reworked by us.  This was really a disk that we made to study ourselves, to listen to ourselves and to decipher the sonority of the group.
HT: If you had to choose some singer to perform with as a duo, who would that be?
IC: If they were from Cuba it would be Pablo Milanes, and if from another country it would undoubtedly be the Brazilian singer Caetano Veloso.