Cuban Storyteller Mayra Navarro
By Helson Hernandez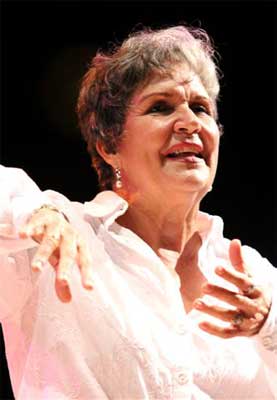 HAVANA TIMES – Mayra Navarro, Cuba's best known storyteller is celebrating the 50th anniversary of her storytelling.
"I was a student of music at the Amadeo Roldán Conservatory, in my fourth year studying piano, with some great teachers, and one day I came home and told my family to sell the piano because I wasn't going to continue studying music, I wanted to be a great storyteller," Navarro told us.
HT: How did you get started?

MN: It was by mere chance, as a child I always had an affinity towards art… I remember in my dining room was a large mirror, and when I sat down to eat I would look at myself in the mirror and hold conversations…so my mother always told me I was Gina Cabrera.
But I never went for the theater or anything like that… my inclinations were towards literature and teaching, although when I was a girl I studied music, ballet and Spanish dancing which were the sort of things that were popular then, especially with parents, so without realizing it what they were instilling in me was a vocation for art.
HT: And did you discover the storyteller in you?

MN: I went to the José Martí National Library when I was about to turn fifteen since one of my teachers suggested I attend the little department of music they had there, it was part of the young people's section, and the aim was to introduce children and young people to music.
When I was there I got to know "Story Time", and I loved it and whenever I could I would go and listen to the stories the woman who ran it told to her audience. Since I am pretty lucky, it turned out this woman was unable to continue the work and that's when they asked me. And that's how I got started as a storyteller.
Looking back, the first thing I did seems awful… but everything turned out fine because at the time they were setting up the philological department of children's literature and storytelling.
Eliseo Diego the poet, was in charge… Dr. Freire de Andrade, who was the Director of the National Library at the time introduced storytelling for children and "Story Time" as well as Dr. Ma Carmen Garcil, together with Eliseo Diego…all these things were happening at the same time when I first started professionally and all contributed to my formation as an oral narrator.
HT: Eliseo Diego is cultural icon, what did he mean to you?

MN: I will never be able to thank him enough for teaching me and guiding me when I was a teenager and he was a leading literary figure in Cuba. The way he introduced me to the art of storytelling forever determined my career path. They were the masters and I was a sort of model, since storytelling was not yet recognized as an art form. Over the years of course it gained recognition as we explored different directions till it became what it is today, 50 years later for me.
HT: And Story Time?

MN: When I started telling stories I couldn't imagine I was going to do it all my life, it simply amazes me… I was a student of music at the Amadeo Roldán Conservatory, in my fourth year studying piano, with some great teachers, and one day I came home and told my family to sell the piano because I wasn't going to continue studying music, I wanted to be a great storyteller…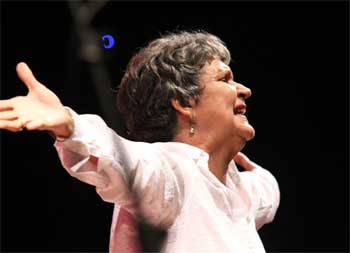 The thing is, the story became my instrument for everything, for introducing a class, for training today's storytellers… who now have a defined space and can continue to pass on their knowledge to other generations. I have always attached great importance to teaching to train storytellers…the fact that I'm able to pass on all the knowledge I've built up and refined during years of experience, passing on to others what it took me years to acquire… so it becomes a solid point of departure for them to continue developing their art and building on it…
HT: How do storytellers promote themselves to the public here?
MN: I spent many years working with young children and I can tell you they're my favorite audience… I have a weekly anthology space in the National Library, "Story time"… I work on projects with Eusebio Leal, taking children to museums and other Historic Center institutions where stories are also narrated.
For me it's marvelous to arrive knowing the children are waiting for you… in fact the teachers tell me the children spend all week waiting for Thursday to come,,, so when I see their little faces it gives me great satisfaction. But to be realistic, I only got public recognition when I started to work for an adult audience.
These were adults who came to the workshops…they'd come up to me and asked me to show them the techniques, the theory of the art of storytelling… but I never thought of them as a real audience.
Another influence was my fortunate meeting with Francisco Garzón Céspedes…he'd been working for years to bring the story to the adult public, and from there I went on to participate in International Festivals as well as shows here in Cuba…by working with adults you create new perspectives.
I did my first show for adults in 1989…it lasted an hour during which I linked up several stories… and it's by broadening the narrative discourse in this way that you develop and your work gets better known… and so does that of all the rest of the Cuba's storytellers.
HT: Does a literary work undergo transformation in narration?

MN: Yes, it is transformed. Written literature is one thing and oral literature is another, each has its codes and standards. Oral narration is repetitive, reinventive and colloquial. It gets to the stage, the narrator becomes a co-creator of the text selected for narration… since these tend to be long, you have to make an extract so we can tell the story.
For example one of the stories in my repertory is "Journey to the Source" by Alejo Carpentier. Obviously, because of the length of the original, I can't tell the whole story, so what I do is I take only the main storyline, the trip back to the womb by the man in the story. In other cases when there's dialogue in the text, you might have to move from direct to indirect speech or vice versa.
A number of things make the narrative more alive, more orally communicative, even if you change the story a little, it still remains the same as the original…only enriched with the gestures you use, your tone of voice and the interrelationship established between the public and the narrator. All the non-verbal aspects of communication are present.
HT: Is there any theme that specifically defines your narrative use?
MN: It's not something I consciously aim at, although women are always present in some way in my stories. I have a show, not at all feminist by any means, which I've presented a lot in Cuba and abroad, it's called "Women's Stories"… here the woman is the protagonist. It's associated with life, sex, fantasy and death… I generally do not work with themes, I only select a particular story because it affects me, motivates me, because I like it, or I think it's a story worth sharing… but again, it just happens that in the readings I do for adults… the focus is always on women… which is not the case with the work I do for children.
HT: What place has the Gran Teatro de La Habana in your life?

MN: It's my home base. I came to this institution in 1990, co-directing the Festivals of the Itinerant Iberoamerican Narrative, directed at the time by Francisco Céspedes Garzón, which operates out of this theater… and when Francisco was absent I took over and we split the work. So for me it has great significance since I hold my workshops in the Gran Teatro… spaces for telling stories to children and adults… and it's also the home of my Spring Festival of Tales and Stories, which I started in 2006. It's the institution that supports me and has given me the chance to have a place of my own.
HT: What is Narrarte?

MN: It arose at an opportune moment in 1995…as a project I set up under the auspices of the Havana Thester Center, but it's more than just a project, it's an established entity of which I am the director. Narrarte (Telling You) has projects on lots of things and also has a presence in the Gran Teatro de La Habana. Within this we operate as a group of storytellers, training, setting up shows and festivals. Narrate is the driving force behind a number of activities I undertake every month, and a space that gives rise to many other projects.
HT: Has a specific date been set for your 50th anniversary this year?

MN: There is no specific day… various activities will take place throughout the year… many have taken place since January… and events and other tributes will continue to mark the period I have been working. I started telling stories in September 62 and this September there will be a show at the Museum of Fine Arts, something big but even I don't know the details, since I am not being told in advance about how it is being organized.
HT: And how would you define Oral Narrative as a profession?

MN: A communicative art that works on the basis of oral traditions going back to the earliest times and used by people to portray the hopes and fears of mankind in the societies they lived in.