Cuba's Mariem Valdes: "My Soul on Stage"
Principal ballerina Mariem Valdes interviewed by Helson Hernandez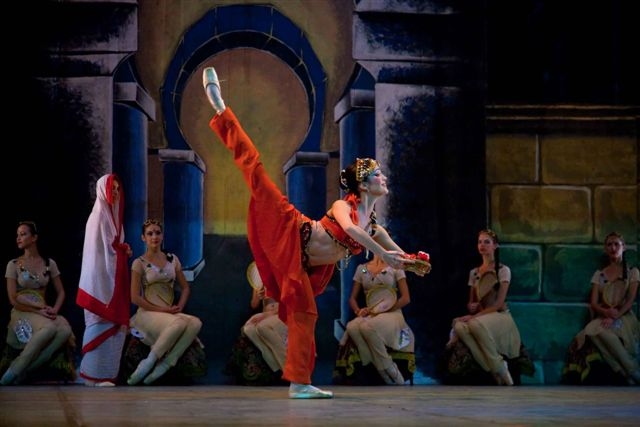 HAVANA TIMES, Dec. 22 — Mariem Valdes Martinez, the principal dancer of the Ballet Laura Alonso of the Centro Prodanza de Cuba, has participated in international events representing her country.  Despite her youth, she has already led a brilliant career performing the main roles of classic productions such as "Swan Lake," "Bayadere" and others.  She will soon achieve her dream when her company premieres the production of "Romeo and Juliet" in mid-2011.
HT: In what year did you graduate from the National School of Ballet?
Mariem Valdes Martinez:  I completed my studies in 2008 with the titles of "Golden Diploma" [honors], "most integral student" and "best graduate."
HT: When you were studying at the intermediate level, was it among your professional objectives to join Prodanza once you concluded those studies?
MVM: Yes, this is the number two classical ballet company in Havana, so clearly it was one of my aims to dance within it.
HT: Now that you are one of the leading figures of the Ballet Laura Alonso, how would you describe your experience with this institution, and how do you see Prodanza in comparison to other Cuban companies?
MVM: What distinguishes the Centro Prodanza, among other things, is the opportunity it gives to young dancers to take on the challenge of performing soloist roles in internationally important ballets such as "Swan Lake," "Don Quijote," "Paquita," "Bayadere," "Coppelia," etc.  In addition, it has to its credit choreographies that in my opinion are notable; ones like "Dracula," "Yarini" and "Chevalier de Saint-George," among others.  I have experienced seeing my dream realized of being a soloist in those ballets and I've acquired experience in producing, rehearsing and staging.
HT: Let's talk about the roles you've interpreted and that at the same time have been monumental in your relatively brief career with Prodanza.
MVM: Chronologically speaking, 2010 has been very fruitful for my career as a soloist in the company.  In March I realized my premiere as Nikiya in "The Bayadere," a beautiful ballet which had the great challenge of not having been staged in Cuba for more than six years and only the Prodanza company was doing it.
In May I made my premiere in "Swan Lake," the ballet that in Cuba and in the Garcia Lorca Gran Teatro has been interpreted by dancers of the greatest world acclaim.  I don't have to say what a challenge it was for me to dance in "Swan Lake." It meant hours and hours of study, of observing various companies as well as different dancers and styles.  Even so, everything seemed so little.  It was my big dream come true…one of the greatest experiences of my life.
In August I debuted as Kitri in "Don Quijote," which is a ballet that in my personal experience has the most energy on the stage and a special coloring that makes it so cheerful and unique when being interpreted.  I'm also concluding the year dancing in the role of Clarita in "The Nutcracker," a ballet that the company traditionally presents as a way of celebrating the New Year's festivities from the stage.
HT: You've participated in international events since you entered the ranks of the Ballet Laura Alonso.  Tell us about the competition in Spain and other experiences of that type.
MVM: Yes, in March 2009 I participated in the fourth edition of the International Roseta Mauri Dance Competition in Spain along with dancers from all parts of the world.  It was there that I won the Audience's Award.  Among other things it was unforgettable to take classes with Cynthia Harvey (the principal dancer of the ABT), and to participate in a function with great guest artists such as Alicia Amatriain (the principal dancer of the Stuttgart Ballet), ballerinas from the Netherlands Dance Company, among others.  Recently, in November of this year, I participated as a guest ballerina at the end of the year gala of the Ballet Paula Castro, in Sao Paulo, Brazil.
HT: If you had your choice, what work would you chose and with whom would you decide to dance with on stage that evening, and what would be the basis of your decisions in both cases?
MVM: Without a doubt I would choose to dance "Giselle."  For me it's the work with the most histrionic complexity and because of that it's my dream to dance it.  On the stage what I'm most attracted to in a role is its story, especially when it entails a high degree of interpretation, bringing your soul to the theater so that the public — especially for the neophyte — feels what you're trying to say.  Now in choosing a dancer, it would be really wonderful to share the stage with great dancers like Carlos Acosta, Jose Manuel Carreño, Ethan Stiefel, Marcelo Gomez or David Hellberg, and I'm only mentioning a few of the major figures in current dance with whom it seems it would be more than an honor to dance with.
HT: Speaking of desires that have yet to be realized, is there any work in the repertoire of Prodanza that you haven't interpreted and that you'd be interested in tackling in the future?
MVM: Well sure.  I would love to dance "Yarini" as a soloist, or "Coppelia," "Romeo and Juliet," "Corsaire" and many others.  The Centro Prodanza has many of its own choreographies that haven't been staged for some time, and I would love to be a part of those.
HT: As the artist that you are, in addition to dance, have you ever had an interest in another artistic expression to the point of wanting to explore it?
MVM: Well, music to some degree.  I adore hearing all types of rhythms, exploring them, and clearly I almost always end up rehearsing in my mind what it would be like to dance to them.  Within dance I would love to be introduced to the fascinating world of choreography, though it's very difficult.  It's something I would like very much to experience.
HT: You commented to me earlier that you found the last International Ballet Festival in Havana extremely enriching.   For a dance professional such as yourself, what did it mean to attend as a spectator at that event?
MVM: As in each festival, since I've been in the world of dance, I've attended almost all functions at ballet festivals here in Havana.  I will watch one function and then leave to go see another one.  First of all this is because with everything that's exhibited on stage or in a class, I always learn something, and that's why I try to go to each one.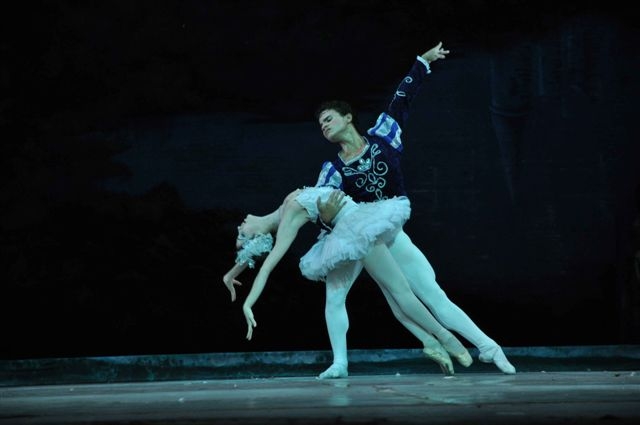 It's truly comforting to see the idols of other international companies that come to present us with their artistry in events of these types.  I'm speaking of stagings by the ABT, the Royal Ballet of London, the New York City Ballet, our own National Ballet of Cuba and guest artists from famous international companies.  Each choreography, each style, each dancer has something new to exhibit and something new for me to learn.
HT: How would you describe it, in your particular case, when you come out on stage to do what you love most – dancing?
MVM: Realized.  I give the best of myself in each staging.  In addition to sweat and effort, I give my soul in each staging.
HT: And 2011, what are your expectations for next year?
MVM: Next year, specifically as a part of "Cuballet" (International Practical Course of the Cuban Ballet School), the company foresees the premiere of the ballet "Romeo and Juliet."  It's a great ballet in which I will participate in a leading role, and once again I'll try to offer the public the best of myself.