Cuba's New Sugar Harvest Begins, What's to Expect?
Emilio Morales explains the Cuban sugar industry's slow death.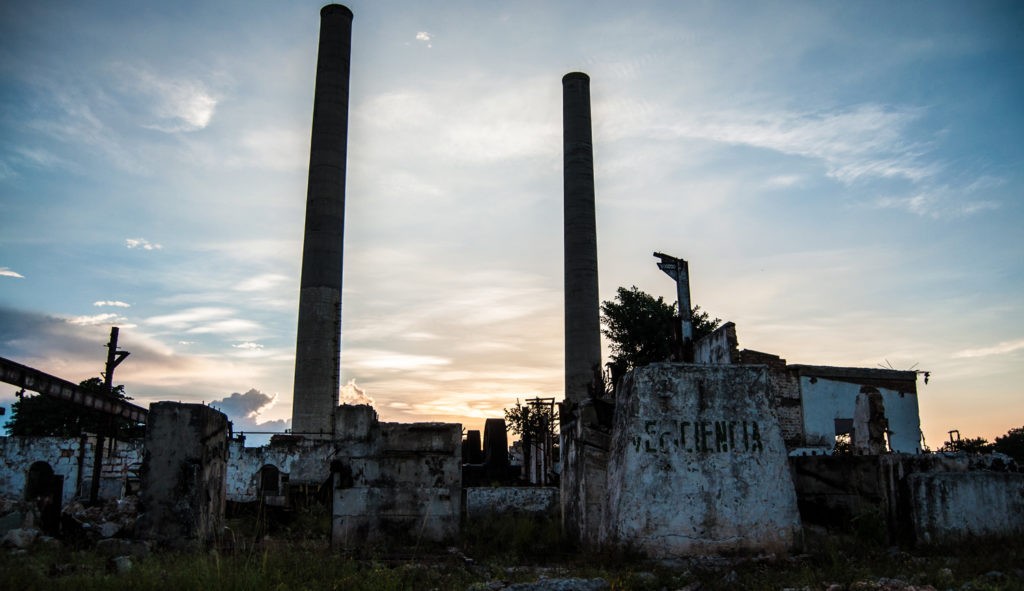 By Vicente Morin Aguado
HAVANA TIMES – The Sugar Harvest has just begun in Cuba. An essential piece of the vitality lost by a terminally sick patient, the government's media are talking about the matter with indifference. Years ago, it was making headlines until the following spring. What has happened?
Economist Emilio Morales returns to our digital daily at the right time, to explain to us with expert precision, what he calls the "slow death of an industry that was once the country's pride and joy."
HT: Ever since the Republic was founded in 1902, Cuba went from producing one to seven million tons of sugar, this last figure was exceeded slightly in 1951/52. Fidel Castro's Revolution returned to volumes of the previous century, producing just 1.1 million last year. How are things looking today?
EM: Today, only 55 sugar mills can grind sugar cane; most of them are extremely inefficient, with out-of-date technology, serious maintenance problems and problems with machinery, supplies, a lack of spare parts and more importantly: the absence of capital to be able to fix all of these problems. Foreign investment is practically zero, unlike 1959 when the presence of foreign capital was very strong, just as Cuba's private sector was. It was a completely decentralized industry back then.
HT: Even though you have written long articles about the subject, could you please give our regular readers a summary of the causes of such a disaster?
EM: One of the key reasons has been the steady decline in land cultivated with sugar cane in recent decades. In 2015, only a third of the land cultivated in 1982 was sowed.
HT: Figures aren't enough to explain the disaster completely because, when Ulises Rosales, a General Hero of the Cuban Republic, was appointed to be the head of the now disappeared Ministry of Sugar (MINAZ), he explained that, logically, production would be focused on the best lands and the most efficient mills. Of the at least seven million tons or more produced in the past, we should be able to produce three million, and we barely reached a million.
EM: During the period I mentioned above, over 100 sugar mills were closed down. The most dramatic change came in 2002 when President Fidel Castro gave the order to close 71 (46%) of the 156 active sugar mills in the country at that time, and assigning another 14 of these to produce sugar cane derivatives instead of sugar. Agricultural yields got worse, instead of improving.
The following graph, where Cuba is reflected by a red line, speaks for itself: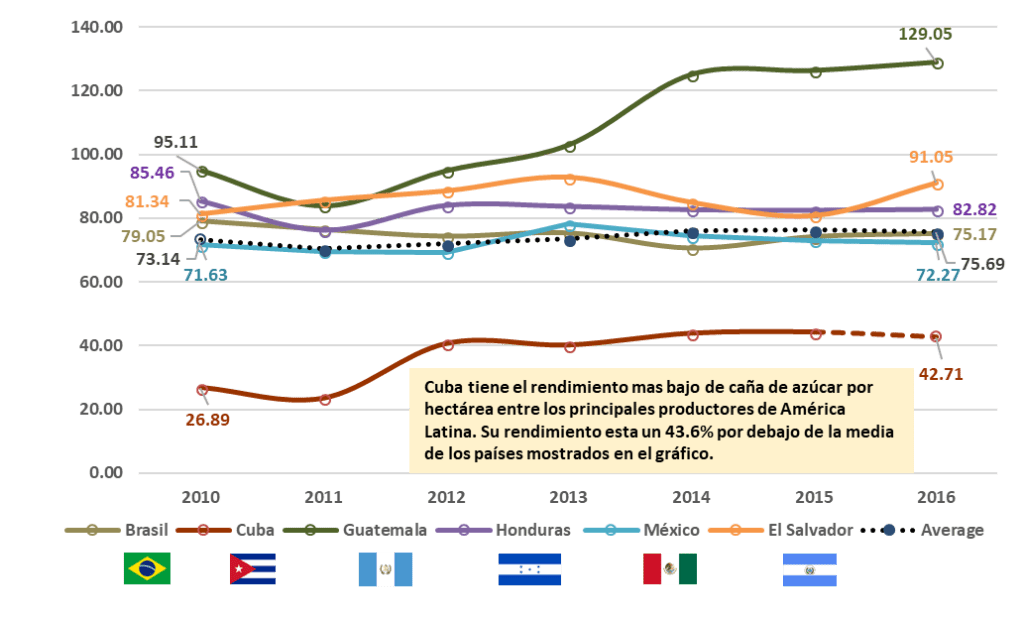 HT: That is to say, agriculture became a lot more inefficient. Let's remember that in 2011, the government (with Raul Castro already at the head) took another step towards killing the sugar industry when it got rid of MINAZ and created a company, something like a Holding of the sector called AZCUBA. Were there any real reforms?
EM: Reforms implemented haven't fixed the problem of a shortage of sugar cane, poor industrial performance, outdated technology, scarce foreign capital investments in the industry, and a lack of new mills opening and integrating the network of 54 mills that the country has today. It hasn't managed to achieve a yield per hectare that reaches the regional average either.
HT: Sixty-three years ago, Cuba was the greatest exporter of sugar in the world, is it condemned to live the death of its historic agro-industry?
EM: No, it could rise from the ashes, just like the economists I recommend you read propose: Perez-Lopez, Jorge and Jose Alvarez. "Reinventing the Cuban Sugar Agroindustry". Lanham, Maryland: Lexington Books, 2005. Quoting their recommendations:
"Making systemic structural changes such as private property, foreign investment, flexible and independent decision-making by production units, really independent sugar cane cooperatives, reduced state intervention (limited to a regulatory role, not management), and free labor and supply markets[i]. That is to say, a framework that is similar to the standard production model in the Central American and Caribbean region, which has been successful. However, reforms adopted by the Cuban government have been very far from these suggestions."
HT: Such proposals would mean dismantling the current socialist model we have in force. Considering your previous roles high up in the Cuban business system, do we really need to do this?
EM: Ideological obstacles have been gagging the industry for many years, and they still are. They need to be overcome without a second thought. At the end of the day, their creator no longer exists. The country needs to find its feet. Transforming the sugar industry in this way would be one of the kindest hurricanes the Cuban economy might suffer, and it would bring prosperity, jobs, wealth and wellbeing to the Cuban people.
NOTE: Emilio Morales was the head of Strategic Planning in the Marketing department at CIMEX, Cuba's largest company, as well as a consultant at other top bodies, including Tecnoazucar. Today, he is the President and CEO of The Havana Consulting Group, an institution that anyone studying the Cuban economy needs to refer to.
Vicente Morin Aguado: [email protected]