Cuba's Yulieski Gourriel Off to Conquer Japan
Julio Batista (Progreso Semanal)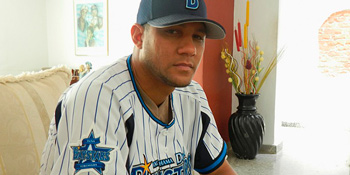 HAVANA TIMES — The preparations for the trip at the Gourriel home in Havana are almost over. Friends of the family come over a while, converse, say goodbye and let them get on with it, for Yulieski, a regular third-baser for Cuba's Industriales baseball team, is about to leave to join the Japanese Baseball League (NPB).
Less than a month ago, the most successful of Lourdes Gourriel's children signed contract with Japan's Yokohama Dena BayStars, a discrete team that currently ranks last in Japan's Central Baseball League. Yulieski will play on a full-time basis, wearing his habitual number-10 uniform.
Following Frederich Cepeda, who joined the Yomiuri Giants, Yulieski is the second active Cuban league baseball player to sign with a Japanese team, availing himself of new regulations that allow for contracts with professional teams during the off season on the island. We spoke with him about his expectations.
"I know it's going to be a complicated challenge. It's the first time I'll play on a professional team, and I'll be doing it in Japan, which has the world's second-best baseball league. It's a huge challenge and I'm sure it's going to be very difficult at first, as I've never been in a similar situation before, much less in such a high-ranked league."
Yulieski will no doubt face significant changes, such as a new game philosophy and the intense training sessions that characterize Asian baseball. What worries Yulieski the most today, however, is his ability to adapt to the pitching style, one of the highlights of their play over the past few years. "They have an exquisite way of pitching, with a great variety of strategies that you don't see often in Cuba. I think it will take some time to adapt," Yulieski said.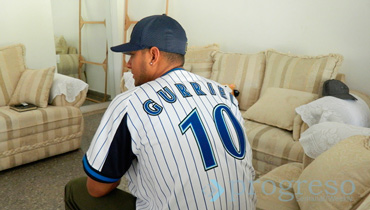 Far away from home, Yulieski, born in Cuba's province of Sancti Spiritus, will have to deal with other obstacles, such as the language and cultural barrier. When we arrived, we found the baseball player rifling insistently through a brand-new Japanese-Spanish dictionary. When asked how difficult this one aspect of his experience would be, he showed us the dictionary before answering. "The language? I'm trying to make it as easy for me as possible. The food there will also be tough on me."
"I've had some bitter experiences there, because I don't really like Japanese food and I lost a lot of weight during the international sporting events in Japan I've participated in. At the last World Tournament, I lost five kilograms in only 15 days, so I'm worried about that."
"When we began our talks with the president of the club, I told him of my troubles with Japanese food, because losing so much weight could affect my offensive performance. They offered me several alternatives. They told me that there are four other foreigners in the team – all of them from Latin America – and that they could show me where to find Latin American food and the nearby restaurants where these are prepared."
Do you think these Latin American teammates could make your adaptation process easier?
Yulieski Gourriel: I hope so. Of course, it's not the same. It would be much better to have a Cuban teammate, but the fact they are Latin American makes things easier, because they have a similar culture and that's going to help me.
Nothing concrete has been announced regarding the position Yulieski is to occupy in his new team. "Initially, they told me I would playing second base, though they haven't discarded the possibility of having me play third base also," the player told us.
"There's a Venezuelan playing that position, but, as the season progresses, I may be placed there. In the last message I received, a few days ago, they also told me I could be a shortstop if I wanted to. I replied I would have no problem with that, that, even though I haven't played that position in a long time, I would do it gladly."
The Yokohama BayStars aren't one of the top teams in the NPB today, even though all teams in that league are highly ranked. What do you think playing with them will be like?
YG: They've been improving. It was last year that they no longer finished last. They have great expectations for this year, though they haven't been faring too well since the beginning of the season.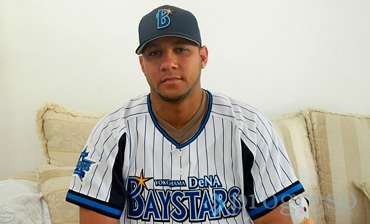 I've received a lot of information about the team and have read up on it a fair bit. I know they have young players and that they have the ambitious plan of taking the team to the top, and I am happy to be a part of that plan.
When do you leave for Japan?
YG: My flight is scheduled for Thursday, May 29. I'll be going alone, but my family is supposed to join me there next month, except for my brothers, who are also still playing in Cuba's Baseball League.
Close to his family, which he considers an indispensable part of his life, Yulieski leaves no room for doubt: if he is to face radical changes, at least he won't be alone in his new home.
Cepeda and you are taking important first steps. Do you believe Japan could become the market that Cuban players are denied in the US Major Leagues?
YG: This is just the beginning. We're very happy and grateful for the opportunity to be pioneers of this new project Cuba has undertaken, I am sure there will be many more Cubans playing in the Japanese NPB next season – I've seen how team managers have been approaching Cuba since the implementation of the new sports policy.
"Perhaps the delay in its implementation kept other teams from signing more Cuban players, but I think things will be different next year."
Photos: Julio Batista