Cuba's Yuliet Reina, Determination Plus
By Helson Hernandez
HAVANA TIMES, April 28 — Yuliet Reina is a young Cuban ballet dancer who, despite the problems she's had to face, will let nothing stand in the way of her desire to become the best dancer she potentially can.
HT: When did you join Pro-danza?
Yuliet Reina: I began at Pro-danza in October 2006, after graduating from ENB (the National School of Ballet).
HT: What images come to your mind when we talk about your formal training phase, before graduating from the National School of Ballet?
YR: I remember a countless number of things.  From the Alejo Carpentier School I will always remember how fascinating it was to learn something new every day.  I discovered then, for the first time, dance as a profession and not only as an expression of my feelings when hearing some melody that motivated me to dance.
However from the National School of Ballet, where I spent the last three years of my training, I recall some difficult moments, when I almost had to start over from scratch when beginning my sixth year of ballet.
It turned out that after five years at the elementary level I had to get operations on both of my knees, and then I had to spend two long summer months in bed with casts on both legs.  Nevertheless I was sure that nothing would put brakes on my desire to become the best dancer that my potential offered.  In addition to that, I had the unconditional and constant support of my mother, who never placed a ceiling on my dreams.
HT: Could you define for us, based on your personal experience, what the relationship is between the words "sacrifice" and "ballet."
YR: It's well known to almost everyone that the ballet dancer's career begins at a very early age, when they're still just a child.  We go into this world of ballet like a casino, where we bet on realizing our dreams and where only after eight long years of training will we be able to confirm if we've become good professionals.  So when you think about it, it's a leap into darkness.  It's just that it's not looked at that way by those who are hopelessly in love with ballet, and who like me don't care how much we could be putting ourselves at risk.  For me, ballet is the best way I have to project who I am and how I feel; it's my best platform for communicating — through movement — an idea, a history, a feeling.
HT: But that sacrifice not only commits the dancer, it also includes the rest of one's family, especially the parents?
YR: I have the good fortune of having a very large family that's worth its weight in gold, but my mother and father are of course the ones who have given the most support.  They've always come to my functions, ever since I was little, and without caring what role I was playing.
HT: When you assume the status of a dancer, what transformation do you experience as a person, when becoming a being atop ballet shoes or simply a body that responds to movement?
YR: Through those ballet shoes and ballet itself I find the most sublime form of movement, with the beautiful lines that are achieved through the technical steps of ballet and their combination in choreographed routines.  When I get to the stage I become the character that I'll interpret.  It's not a process that is noted, it just happens and there it is.
HT: With the Pro-danza Center and its company of classical ballet, you've participated in almost all of their representations of complete works and concert programs.  Recall for us which ones you consider to have been the most interesting performances for you.
YR: I should recognize that all of them have always been interesting to a greater or lesser extent, though recently with La Sylphide I had one of those unforgettable experiences when discovering a character whose fragility captured me to the point of it becoming my favorite – at least for the time being.
HT: The role of La Sylphide, in the ballet of the same name, seems to have been important in your career because the interpretation of this role allowed you to demonstrate your great mastery of this type of romantic work, perhaps because of its physical and artistic requirements.
YR: As for my career, I can't assure I'll be successful in it, and I'll only be certain of that after many years, but I can assure you that its importance in my heart will always be unquestionable, because it was a real opportunity that the grand maître Laura Alonso gave me to play this role.
It was an especially wonderful experience, because with its rehearsals not only did we become centered on technical development but also in what I still consider the most decisive: artistic projection.  This is only achieved when one thoroughly studies a character until it feels like a part of you, as well as the other important ingredient of having a maestro rehearsal director like Laura.  She knows how to show you the path, so that this feeling does not stay bottled up inside you but springs out and reaches as far as the last row of seats in the audience.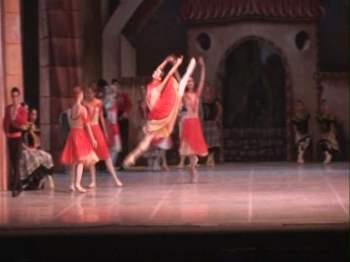 HT: And at this time what montages occupy your time in dance?
YR: Right now I'm rehearsing the pas de deux in the third act of Sleeping Beauty.  It will be my second pas de deux.  It's very technically demanding, but I have big expectations with this next concert that the company will give.
HT: If you ceased doing the classics, would you have other interests in your development as an artist?
YR: I adore any expression of dance, and I also enjoy the neoclassicists a lot, but I always want to be able to do both.  Choreographies like "Cruel World," by James Kudelka; and "The Leaves Are Fading" by Antony Tudor would undoubtedly be two pieces that I would love to interpret.
HT: What are your preferred authors, music that helps you in your free time, or other likes that you have beyond ballet?
YR: Hemingway, Isabel Allende, Michael Connelly, Danielle Steel, Mariam Keyes, Anne Rice.  There are many, and each work has marked me.  Their books have always taken me far.  In terms of music I have very varied tastes.  My favorite is Joan Manuel Serrat, but I also listen to music by John Mayer, Jack Johnson, Alanis Morissette, the Beatles, the Corrs and the classics of Debussy, who's my favorite.
HT: And is there any special aspiration or desire in you professional future that you would like to share with us?
YR: I would love to act in the cinema, with the functions of ballet undoubtedly always on the scene, but going more into in the world of acting would be a dream that I would like to realize.