By ERASMO CALZADILLA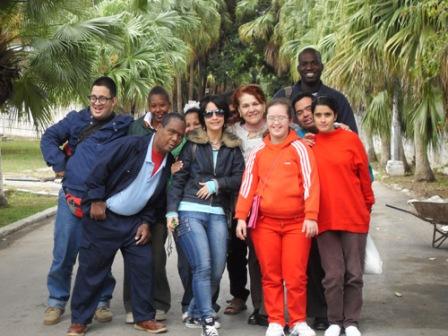 HAVANA TIMES, February 25 – My neighborhood on the outskirts of Havana is called Barrio Electrico. This is the name given to a bunch of identical buildings that someone, whose name I wouldn't really want to recall, decided to build to the south of the capital. Fortunately, we that live there are not as alike as the buildings.
With the enthusiasm for the community that was born in me a short while ago, I am gathering strength to leave my computer and books and go out to meet those neighbors whose lives and activities could prove as attractive and interesting to me as to readers of this site. The interview that follows is my first attempt to make contact with some delightful Electiqueños, as the residents of this complex are known.
For a few years now, I have frequently seen a young girl walking down my street, a girl beautiful enough to stop traffic on a busy avenue. As a person who is not immune to female seduction but who lacks the nerve to launch a complimentary remark, I had been pondering some way to approach her.
Things got easier for me when I discovered that Tania, like my friend Onel (who I've mentioned several times in my HT diary), is an Art Instructor.  An Art Instructor, as the name indicates, is a teacher specialized in the artistic sphere. The school for Art Instructors was created less than 10 years ago and Onel and Tania were members of the first graduating class.
But in addition to practicing this most interesting career, Tania has a digital camera, an artifact that is still not so common among my friends. So with the dual intention of asking her to take some pictures to liven up my contributions to this blog and of getting to know Tania better, I asked Onel to introduce us.
The plan was executed and in much less time than I had thought there I was sitting in my room with Tania and a group of other neighborhood buddies, conversing and working. As soon as we began to talk, I understood that Tania's singular occupation and her personal qualities made her the perfect candidate for one of my planned interviews of people in the neighborhood. I asked to interview her and without much thought she accepted.
It happens that this young girl, who is only 21, has been working since her graduation three springs ago in a center that serves people with mental disabilities: those with Down's syndrome and mental retardation. Since recent graduates are commonly sent out to work wherever they are needed, regardless of whether they would like to work there, I asked how she had come to work in the center.
Tania tells me that she herself took a firm stand, argued and fought to work in this peculiar center. I began to understand the reasons when she told me, "When you enter there, you're in a completely different world. These people may not be pretty or intelligent or have money, but they are given to feel and show a tremendous amount of love, to each other as well as to their teachers. Such a pure love is very difficult to find on the street."
Tania's words left me thinking about how the universe would be if insensitivity instead of a low IQ, were considered cause for enrollment in a school for people with disabilities.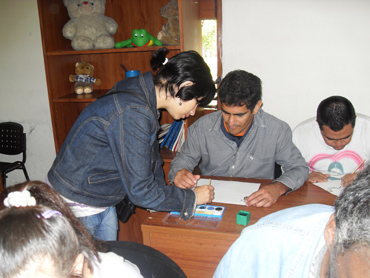 At the same time, I thought that it's not every day that you hear a young woman speak in these terms, since the norm at that age -at least where I live- is to use a stark and pragmatic language when love is the topic.
At any rate, since I'm a little older I suspected that behind these beautiful words might lurk a juvenile idealization not yet put to the test of reality, or simply that Tania was doing everything possible to project a positive image of herself. So I tried to pry a little deeper with my questions.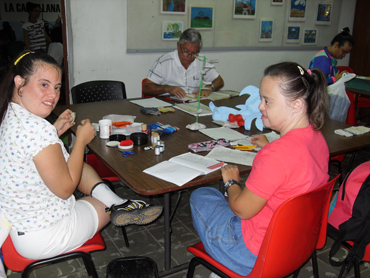 It would be easy to express yourself this way if everything else in your life were resolved, but what are your working conditions like? "The 350 pesos that they pay me isn't enough for anyone to live on, even though I don't yet have even a dog or a cat to care for. Furthermore, the professional development plan that the Institution is offering me is the possibility of studying in the Municipal University. It doesn't seem to me to be a good option, since I feel that I'm not going to learn anything there," Tania responded.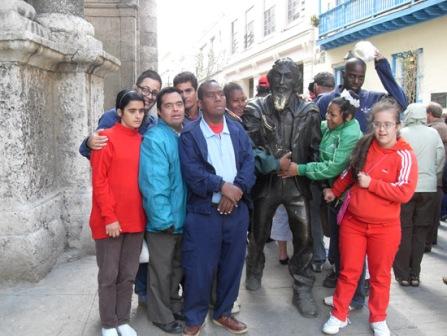 "But if you don't study anything, in 30 years you'll still be in the same situation. Do you see yourself at 50 with the same job and the same salary?" First she said no, and later yes. She told me about other places in other parts of Cuba, Latin America and the world where there are schools like this one, and I felt that such matters are not very clear for Tania, or even for me, so I couldn't blame her.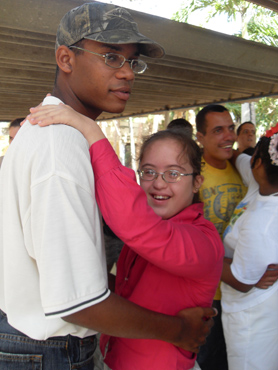 By then, Tania discovered that my questions were aimed at clarifying her deeper motivations, and she explained: "I don't pity them and I don't treat them with pity, I approach them as a teacher of human beings with special characteristics."
The result of such an approach is that many fall in love with Tania (and I believe that the same would happen to me if I were in their place), some with intentions of becoming her boyfriend, but many others show her a kind of affection based on other motives. Tania says that one of them refers to her as "my sister", and she in turn calls the rest "my children" although some of "her children" could easily be her father or her mother.
Asked about a particular event that stands out for her, Tania said: "A few days ago we went with a large group of students from the center to the Fine Arts Museum using public transportation. [The trip takes more than an hour on the buses].  Everything went well, but on the way back I had a sudden drop in blood pressure and was feeling quite weak. Then it was the "kids" who carried me and brought me back to the school, since the rest of the teachers were women. But the real surprise came the next day; none of them had forgotten and I had barely entered when they ran up to me with tremendous and sincere interest, worried about me.
Did you cry? "No, I didn't, but I often cry when I watch them dance," said Tania.
Do they dance badly? "No, not at all. They dance very well," she added.
After that my curiosity led me to ask about the trip on public transportation to a place so far away and with so many dangerous streets involved, with so many possibilities of someone getting lost, etc.
I asked Tania if they take a team of nurses, helpers, and guardians with them. "We choose participants that we know won't cause problems on these trips, in general they are very sociable and disciplined.  In the street and on the bus people come up to them by chance, and they respond to people with a lot of humor, and even initiate contacts. They love to needle people and they have a great time laughing about everything that they see on the way."
In addition to teaching her students to appreciate and practice the arts, Tania teaches them to be useful to themselves and to society. The most skilled and willing of the adults from this school work making handicrafts and receive a salary.
So, that's where the interview with Tania stops.  She promised to help me with the pictures, so I suppose that some of my next articles will be illustrated with the help of this likeable teacher.