Haskell Armenteros: A "Classical" Musician who Plays Popular Music
Helson Hernandez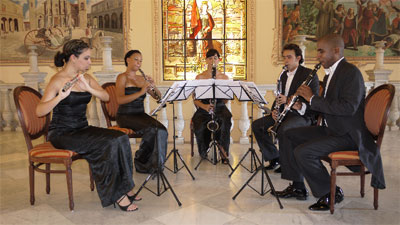 HAVANA TIMES — Clarinet player Haskell Armenteros directs the Vientos Nueva Camerata chamber music group and at the same time performs with the popular Grupo Compay Segundo band. Nonetheless, we found out that the clarinet wasn't exactly the instrument that first captured his interest in music.
HT: Is there any particular reason that led you to choose the clarinet as your professional instrument?
Haskell Armenteros:  Well, in all honesty, it wasn't the instrument I selected when I decided to study music. In fact, I wasn't even familiar with the clarinet. Actually my choice was the saxophone; it was what struck me when I saw it being played in jazz groups when my mother took me to her rehearsals as a singer for the shows she would do in the major cabarets in Havana back then.
I applied for the conservatory at the last stage of the entrance exams, but all the slots for studying the saxophone had already been filled by then due to the high demand for it. Because of my demonstrated abilities, and so as not be left out of the process, the clarinet was suggested to me. With it I'd also have the possibility of switching to the saxophone later on. Nevertheless, I discovered so much charm in the clarinet that "later on" never came. I've stayed with it up until today, though I'll always admire the saxophone as the first instrument that attracted me to music.
HT: What do you think is the most significant quality for a performer of wind instruments?
HA: First of all, excellent technical mastery of their instrument; and second, a great sense of musicality and culture.
HT: Cuban art education has graduated a distinguished list of artists of that instrument, from Vicente Monterrey to Lester Chio, who's now in France.
HA:  Yes, we can say that over time the leading interpreters of our country have done more than our share to see to it that this instrument shines.
But first I want to mention the ones who laid the foundation for the Cuban school of clarinet. The essential names are Theodore Rojas, Angel Benitez, Juan Jorge Junco, Enrique Pardo, and Roberto Sanchez Lopez. These eminent teachers had the merit of having established a school at a time when they practically had to teach themselves and to expand that school on their own. In the early years after the revolution, they trained a pool of talented students who were sent to the most prestigious conservatories in Europe.
Maestros such as Alfredo Valdes-Brito, Juan de Armas Pissani, Alberto Rodriguez, Jesus Recurrell, Jorge Serrano and Vicente Monterrey provided our country a refined taste for musical performance and a purified technique in the execution of the instrument, giving it a greater level and enhancing the already-consolidated Cuban school of the clarinet.
The information provided by these impeccable maestros affected a major shift in the teaching of the instrument in Cuba. What came out of this was a new generation, among which I include myself.
I shared experiences with Jesus Fuentes (second-place winner in the Karold Kurpinsky competition in Poland), Antonio Dorta (who graduated as a soloist in Germany and who was with the Berlin Comic Opera and is currently a soloist with of our National Symphony Orchestra), and Lester Chio, who today is a soloist with the Rouen Opera Orchestra of Upper Normandy and is a student of the previously referred to Vicente Monterrey and prior to that was a student of the renowned Richard Vieille, who was also a teacher of Monterrey at the Conservatory of Music in Paris, where both graduated.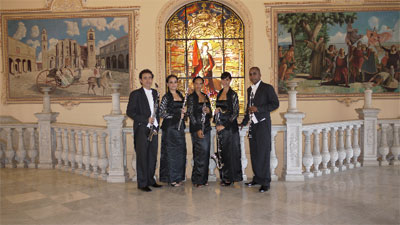 This range of talented performers influenced the experiences and lessons taught to the current generation of clarinetists and have given continuity to what has been achieved both in Cuba and around the world.
HT: Before you began directing your own group, you joined several musical groups. Did this broaden your ideas for creating your current group?
HA: Somehow we can say yes. I never stopped feeling myself to be devoted to music made specifically for small groups, for so-called chamber music groups. When I was a student, I was influenced by the maestros of the Quinteto de Viento de la Habana (directed by Professor Alberto Rodriguez), and at this same stage also by the very early formation of major award-winning projects. These allowed me to realize the idea that now flows through the Vientos Nueva Camerata ensemble.
HT:  Tell us about the Ensamble de Vientos Nueva Camerata and its conceptual peculiarities.
HA: The Ensamble de Vientos Nueva Camerata (the New Winds Chamber Ensemble) is a group that is totally atypical in terms of its instrumental lineup. It genesis was out of a classical wind quintet but it organically developed its own original composition in order to approach music with a timbre that was much more attractive. The group also has the peculiarity of enlarging or reducing its size depending on the musical needs we have for a certain piece. That's where the name of the ensemble came from, so as not to pigeonhole ourselves instrumentally into a specific number. We're able to flow freely and fluidly among all genres of music.
HT: You have experimented with everything from esoteric European "classical" work to popular Cuban music, for example your work with the renowned Compay Segundo.
HA: Having known the great "Compay Segundo" facilitated not only the possibility of my approaching popular music, but also allowing me to become familiar with the roots of our traditional Cuban music from the hands of this man, Francisco Repilado, who revealed to me anecdotes, experiences and secrets that have helped my ability to play that style. This added to my knowledge and experience in so-called "cultured" music, where I actually feel more comfortable. So I consider myself a "classical" musician who plays popular music.
HT: Among your many international performances, which has had the greatest impact on you as a person?
HA: I can't say. Being able to play in theaters around the world — like at the Olympia in Paris, the Royal Festival Hall in London, Tom Hall in New York, the Palau de la Musica in Barcelona or the Nervis Hall at the Vatican, to name a few — make each of these performances very special.
The opportunities to play Cuban music on each of these stages, always to packed houses and to unimaginable success, have in themselves impacts and importance that's the greatest and most unforgettable thing an artist can feel.
HT: Say something about chamber music on the island and the motivation of its creators right now.
HA: Well, I think chamber music in our country is in very good health. Right now there are a number of excellent groups that are doing very commendable work. What pleases me most is the pool of young talent that is adopting this style of music with admirable quality and seriousness. This is something that motivates those of us with more experience.
It's true that we need much more attention and places for expressing ourselves, including the attention of mass media. There's also a need to come together with other groups across our country through festivals, concerts and meetings in order to exchange our experiences. In this way we would have a better measure of where chamber music is in Cuba.
HT: What's the best place in Cuba for performances by Haskell and his Camerata.
HA: We're not so selective about things like that. We think that wherever people like this type of music — or rather, this way of making music — that makes us feel good and grateful. Since our founding five years ago we've been developing a series of educational concerts, not meaning to say that they're the vast majority of them. These are held in different places and institutions in our country, not only in concert halls but also in everyday places. This has been a trump card for us.
We've managed to attract new people to this material and today they're faithful followers of what we do. An example of this is the number of people who attend our usual program at the Casa del ALBA Cultural on the first Sunday of each month.
But personally, if I had to choose a specific place, regardless of everything I've mentioned before, I'd say that music schools have the best or the most demanding audience of critics. If you can manage to convince music students about what you're doing, then your success is guaranteed wherever you perform.