Havana's New Handmade Soap Store
By Yusimi Rodríguez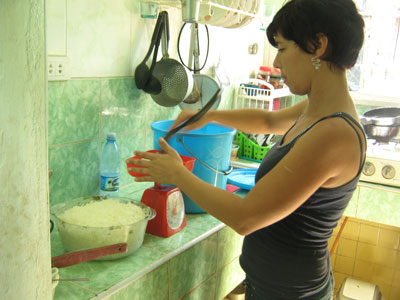 HAVANA TIMES — Leading to Havana's renowned cathedral, Empedrado Street is one of the busiest thoroughfares in the old town. On the block beset by Cuba and San Ignacio streets, one comes across such interesting places as the Alejo Carpentier Center and the world-famous bar and restaurant La Bodeguita del Medio.
Since the 8th of September, Empedrado has also been home to a private business that attests to the inventiveness of Cubans. D'Brujas ("Witchcraft") – so called because its products are made out of herbal concoctions – is a shop that sells handmade soaps, produced with natural materials and without chemicals. The owner, Sandra Aldama Suarez, one of the makers of the soap, has a degree in special education.
HT: Tell us about the transition from special education to handmade soaps.
Sandra: I graduated in 1998, but I quit education after completing my social service. I had a number of different jobs after that. In 2009, I had my son and decided it was time to open my own business, something I could express my creativity with. I opened up a hairdresser's. I had it for a year, until I decided to do something different.
My paternal grandmother, Ofelia Zambrano Santiesteban, has been making creams, soaps and shampoos with natural products her whole life. She is a member of the Cuban Artisans and Artists Association (ACAA). She makes craft post-cards out of herbal plants, what we call "still life art". She had a perfumery before the triumph of the revolution. She studied at a French cosmetics academy and has studied botany a lot.
In 1994 she participated in a science and technology forum and won a prize for her natural product recipes. But at that time there was no possibility to obtain a license for making beauty products with natural ingredients.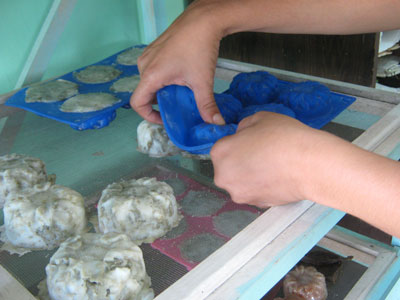 I plunged into it, using things I had learned from her and from my own studies about how handmade soaps are made and sold around the world. In many countries, there are stores that sell you the materials you need to make your own soap. We don't have those here. Two years ago, I started doing tests to determine what materials I could use. I had to adjust some techniques to Cuban reality.
I use the "recasting" technique, which is quite ancient. I did different tests until I was able to produce a Marseilles soap, which is a vegetable soap which makes it possible for the ingredient used to enrich soaps to become effective. I buy that ingredient at Habana 1791, in the old town.
HT: Though Sandra had the idea for the shop two years ago, making it a reality was no easy task. She needed a fairly busy place, frequented, not only by tourists, but by Cubans as well.
Sandra: These products are aimed at Cubans. I want Cubans to get to know them. Tourists have plenty of them where they come from.
HT: When you finally found the locale for your shop and you were ready to open the store, you had something of a set-back that endangered the business as such.
Sandra: They broke into my house, in broad daylight. They stole everything: my husband's computer, the uniforms for the clerks I had just bought.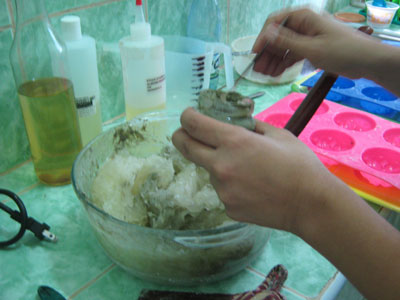 HT: But kind, helpful people came along.
Sandra: The person who makes the paper bags for me let me pay them later. A designer friend of mine helped me recreate all of the work I had lost and to restructure the business. A friend built the store counter for practically nothing. The owner of the locale we rented also helped us. The clerks went out and bought the garments needed for the uniforms again. They only had three blouses left, but we bought them and fixed them up.
HT: You say your product is aimed at Cubans.
Sandra: I was selling the soaps, on a trial basis, before I opened the store, to see people's reactions to it. The people who bought them were always Cuban.
HT: In State hard-currency stores, you can find soaps that are both bigger and cheaper than yours. Even the anti-bacterial soap, which is fairly expensive, is cheaper than the one you offer, which is small and costs 2 CUC. Why would someone buy yours and not the generic ones at the store?
Sandra: At those stores you can get a cheaper soap, true, but you lose in quality. My product is a healthier option. I don't use dyes or chemicals. Recast soaps retain nearly 100 % of the properties of the ingredient you use, in contrast to industrial soap, which is made with sodium or potassium hydroxide. I use fine cosmetic oils to make my soap. They are hard and durable soaps. Soap with zeolite you use on your face three times a day can last you a month and more. The soap doesn't become slimy; it makes a different kind of foam, because of the coconut oil I use. Since it's a handmade product, I can also make custom soaps for different customers. A customer could, for instance, ask me for a zeolite-based soap with a mint aroma.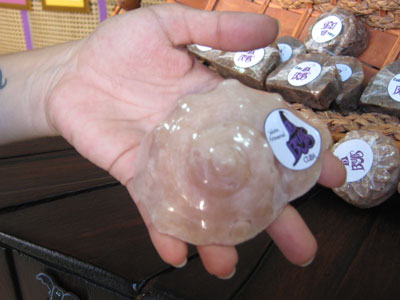 HT: How long does the aroma linger for in one's skin?
Sandra: I have highly aromatic soaps (though they say natural soaps should not have very strong aromas). Tourists tend to buy soaps with less powerful aromas. Cubans tend to buy the zeolite soap for greasy skins, acne and pimples. They also buy the honey soap (which has a very sweet fragrance) and the lime one as well.
HT: Your zeolite soap actually combats acne and greasy skin problems?
Sandra: I test everything I make on myself, even though I don't have those particular problems. It's the most popular soap so far. I opened the store a month ago and I have customers who buy the zeolite soap every week. It contains almond oil, to keep it from drying the skin. It eliminates excess oils but doesn't dry up the skin.
HT: I gather you don't use industrial soaps sold at stores.
Sandra: I haven't been using them for some time, no. My family and I use the handmade soaps.
HT: Any Future Plans?
Sandra: Many customers ask me whether I'll start making laundry soaps, or soaps for pets. The first would be very expensive to produce and I would have to see how soaps work on animals. I've thought of preparing facial masks with natural products that the customer can apply following a set of instructions. But I have to consult with the Ministry of Labor for that.
HT: Though a license for making soaps, polishes, ink and other such products exists, it hasn't been approved yet. To open her store, Sandra had to take out a crafts license.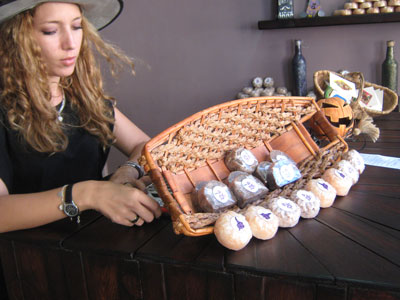 Sandra: It would be good if a government institution analyzed and validated the product. It would give me and my customer's added security.
HT: To date, there hasn't been a single complaint about an allergic reaction to the soaps sold at D'Brujas. And you haven't had a day without sales since you opened the shop.
Sandra:  One of our strengths is the way we treat customers. We give them all of the information they need, no matter whether they choose to buy something or not. We can't have a customer come into the store and have the clerks sitting around doing nothing; you have to see to everyone who comes in. I have very good salespeople. They believe in the product they sell because they use it and they know how to convey this sense of confidence to the customer.
Some tourists have been very rude. Though I try to be nice to everyone, I've had to set a few of them straight. You have to draw the line somewhere for people to start to respect you. We are a Third World country, a poor country with many problems, but not everything is on sale. We sell soaps. The clerk isn't for sale.
I also don't let people trivialize my product. Tourists know the product well, because they have them in their own countries. They know there's no magic there. No soap vanishes wrinkles, to claim such would be to lie. No natural product does that. These are merely a first step in taking care of one's skin.

Click on the thumbnails below to view all the photos in this gallery. On your PC or laptop, you can use the directional arrows on the keyboard to move within the gallery. On cell phones use the keys on the screen.