Hoping the End Never Comes
By Pilar Montes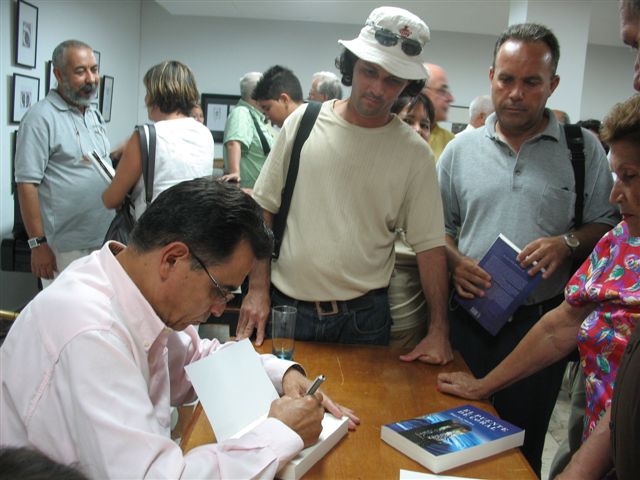 HAVANA TIMES, May 22 – Hugo Luis Sanchez is a journalist turned novelist and short-story writer, never abandoning either of the two professions. He says he has no new project on the drawing board but he probably wouldn't tell us if he did, to not build any expectations. Hugo's destiny as an author began in the 1990s with a successful track record to this date as narrator and novelist.
Born in Havana, 1948, Sanchez began publishing in 1993 (Letras Cubanas editorial) with El Valle de los Archipielagos (The Valley of the Archipelagos, followed by the novel Doble Jueves (Double Thursday) and Según la Noche (According to the Night) in 2005.
His most recent work, "El Puente de Coral" (The Coral Bridge) has just seen the light, published by Havana's Ediciones Union. It is a work that took him 10 arduous years to finish.
Why ten years?
I began writing it in December, 1992 when I was a Prensa Latina news agency correspondent in Panama. Then I thought it would be a short novel, but in time it expanded to 400 pages.
I took all that time because I didn't want to finish writing it. I had created a virtual world in which I felt comfortable, a town by the sea that I never wanted to leave. Every time I had the opportunity, I dived into that world.
I returned to Cuba during the worst and most cruel years of the Special Period (economic crisis after the collapse of the Socialist Bloc). I abandoned my job as a journalist and became a taxi driver, sold cigars, PPG tablets (successful Cuban pharmaceutical against high cholesterol levels) and served as a tourist guide in Old Havana in order to get by.
And you kept writing…
"The Coral Bridge is also about research, as it develops from 1930 to 1955 and I spent a lot of time studying that period at the Institute of Literature and Linguistics, above all at Bohemiamagazine.
"It was something that fascinated me and I didn't want to stop researching nor conclude writing the novel. It took great pains to write The End.
"The Coral Bridge is my most complete novel; I don't know if I will ever write something similar again, or if I will even write literature again. On the other hand, I may sit down and not stop writing for another ten years. Nobody awaits anything new from me or dares ask me what I am writing about…"
Hugo Luis does not take all the credit for himself. His modesty leads him to declare himself in debt with his wife and son. He says, "They injected me with the necessary courage, gave me patience to follow my dream in writing this novel for almost a decade."
The missing friends who helped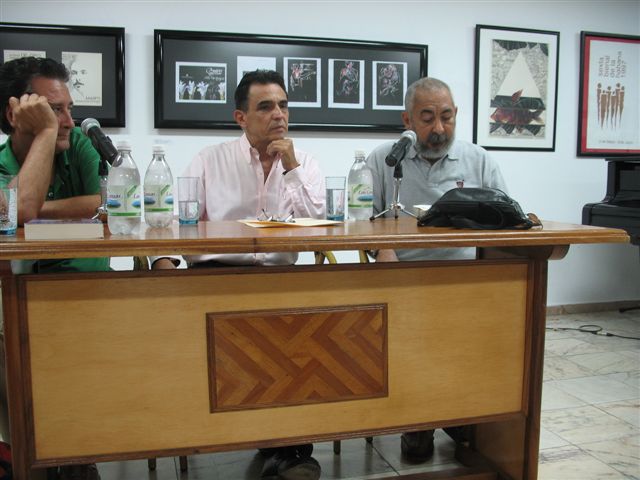 "What I most deplore is the absence of two friends. Fadra and Andres, who provided information and conversations about the time span of the stories included in the novel, but who did not live to see the book published, only reading the draft of the first chapters."
"Every Sunday, like a ritual, my wife and I used to meet with friends at their home for many years. They were Nancy de Oliver and Jose Figueroa Portela. Jose, who his friends and family call Pepito, had lived a very interesting life and in our talks he referred to events that happened to him. I listened to his stories for years.
"When I began writing The Coral Bridge, somehow Jose's real stories were inserted into the text. I think those conversations account for many interesting pages in the novel, for example, when the two leading characters (Joe and Carlos) do their school homework in a whore house.  Thank God that Pepito, who is portrayed as Roco the barman in the novel,  is still alive.
"One very lucky day, of those that are not very frequent, Guillermo Fabra began to talk to me about German submarines, which is one of the topics I write about in the novel. He gave me the keys to enter that extraordinary world, I think poorly written about in literature, in a stereotyped way. However, Fabra passed on and could not see The Coral Bridge completed."
The decades from the 1930s to the 1950s, -marking the events in the novel-, were an adventurous and dangerous time for life in Havana, and in describing the period Hugo Luis travels through all the genders of literary creation: espionage, mystery, romance, adventure, written in a cinema style to the point that readers think they are watching a movie, he writes with such detail.
¿How does your journalist experience influence your work as an author? How do you deal with both?
"I live on what I earn as a journalist. I am editor of two travel magazines and collaborate with a Spanish newspaper. Journalism and literature have the same instrument, the word, and share the need to charm readers. Only fiction makes them different. Journalism must search for truth or at least should follow that goal. Literature, at least the one I practice, feeds on fiction. In that we are similar to politicians."