HT with Brazilian Cellist Diego Carneiro
Helson Hernández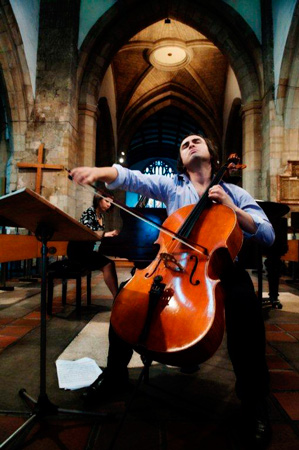 HAVANA TIMES — His unique and virtuoso style has earned him a place among the world's greatest cellists. "I am a loving servant of people and their traditions," Diego Carneiro said during his interview with HT.
HT: Did you become a musician in your country of birth, Brazil?
Diego Carneiro: Yes, in Belem, Amazonia, a city with a well-known opera theater. I was the first child to graduate from a music initiative there.
HT: What part of Brazil are your roots in?
DC: On my mother's side, they are in the north, the Amazonia. On my father's side, in the south, the home of the gauchos, the border with Argentina, Uruguay and Paraguay. I grew up with the rich popular traditions from these two regions.
HT: Brazil and Cuba are somewhat similar in terms of the musical traditions that distinguish the two countries.
DC: They're very similar. I feel that Brazil and Cuba are sister countries. The music from our countries are the most prominent in the Americas. We have African roots and, in Brazil, Caribbean music is gaining more and more ground, especially today.
HT: Tell us about your visit to Cuba.
DC: I visited Cuba last year thanks to Eralys Fernandez, a Cuban pianist who lives in London. Eralys and I played together some time ago. She is also working with me in Amazonart, the organization I founded to organize concerts, projects and cultural exchanges with other countries.
I had always wanted to get to know Cuba. I was able to have experience of living for almost two weeks in the neighborhood of Guanabacoa, where I lived among the locals and made some friends. I held two concerts and master lectures, accompanied by the great Cuban musician Pedro Luis Ferrer. We played some music and organized something of a cultural exchange. I hope to be able to return soon to have a more profound immersion in the culture.
HT: What impressions did you take away from your brief stay on the island?
DC: I confirmed everything I've heard about Cuba, that it has great artistic and spiritual merit, hard-working and strong people with a lot of passion.
HT: You've performed at world-renowned venues such as London's Albert Hall.
DC: Yes, I was invited to play at an important festival, BBC Radio's London Promenades. I was 23 at the time. I played contemporary pieces. It was a special moment.
HT: Tell us about your experiences in the African continent.
DC: I visited Kenya following an invitation from the Brazilian embassy, which promoted a number of concerts at the Alliance Francaise there. I also traveled as part of an initiative by Amazonart, the NGO I founded in London. I promoted classes, teaching concerts and a documentary about my visit, which shows how far music can go. I played for some tribes in the Massai Mara reserve.
HT: Tell us about your experiences with clinical hypnosis.
DC: Artists can benefit greatly from hypnosis, a natural life process. When we play, study or create, we enter a kind of trance, and the more we know about hypnotic processes, the more we can master our artistic abilities and the effects the public has on us.
I underwent studies at the London Clinical Hypnosis College. They were conducted by psychologists, psychiatrists, psychoanalysts, neuro-linguists and other specialists. It was a great experience which helped me as a human being, an artist in a world where hypnosis is used all the time, consciously and unconsciously.
HT: What would you say sets you apart as a Brazilian cellist?
DC: I believe it's the gaucho background and my experiences in the Amazons. The Amazonia accounts for 60 percent of Brazilian territory. Working with ecology, studying nature and its sounds, makes me more Brazilian. My experiences in Europe, the exchanges with the American and African continents, also make me understand what Brazil is more profoundly. As a musician, I am a loving servant of people and their traditions, which is why I founded Amazonat, as a social project. I don't consider myself a soloist, but rather a humble collaborator. Being a cellist is the way I express my idealistic, humanistic and artistic identity.