In Cuba, Art is not a Sidedish or an Appetizer
Interview with Oakland Symphonic Youth Orchestra's principal conductor Omid Zoufonoun.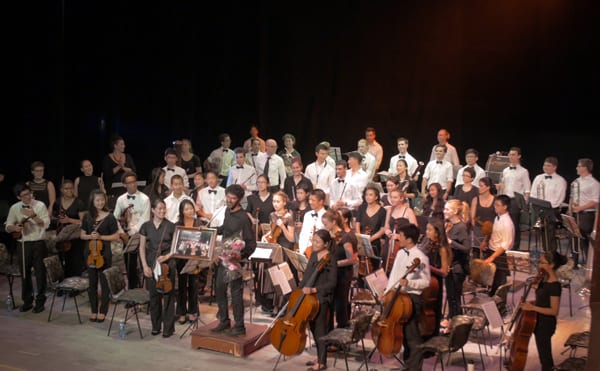 Por Yusimi Rodriguez                                             
HAVANA TIMES — The Oakland Symphonic Youth Orchestra was on a performance tour in Cuba from July 7th to 16th. The young musicians offered concerts in Cienfuegos, Santa Clara, and, hours before their departure, at Cuba's National Theater, on Saturday, July 16th.
Prior to this last concert, I had the chance to meet and interview Omid Zoufonoun, principal conductor of the Orchestra, a guitarist, educator and award-winning composer, who turned 42 on July 8th, in our country.
This is not the Oakland Symphonic Youth Orchestra's first time in Cuba. That was back in 1998, when many of the current members were not born yet and others were little children. The ages range from 12 to 22 years old. Then, Omid Zoufonoun was not the conductor either, so this is his first time in our country, and he states that he loves it.
Omid: It's famous for being very unique, for unique circumstances and combination of cultural elements. But one thing is to read or hear about it and a very different thing is to actually interact with people, walk through places, play concerts, and see the audience's reaction. It's been great. Not always easy. We are used to having easy WiFi everywhere, all this kind of things, but that's not why you come to Cuba.
He doesn't really know how difficult it would have been to come before 2014, when the relations between Cuba and the United States were re-established.
Omid: Maybe the visa process for a group visa is different. I know it's been possible for cultural exchanges for a long time now.  It's not easy, but possible. I don't know how much has changed actually, since the normalization, in terms of the actual paper work. We come with a tour company that organizes everything for us. They did all the research to find out what is involved to get the visa. It's different from when you try to do it yourself. I've heard stories of people having to come through a third country.
Even though Omid is aware that educating takes time he could devote to playing and composing, he considers teaching as rewarding as composing, and not a sacrifice.
Omid: It is if you do it only for the money, because you don't get enough from your art. There is an art to teaching that is separate; if you care about it you see it just as one more part of what you do. When you finish a composition and it is going well you get like a high, like when you drink or something. I think that if you care about education, you experience the same, when you see someone you are teaching get a new understanding.
We always practice nine or ten weeks, one day a week, for three or four hours, for only one concert, and then we do a totally different program, always pretty difficult music. When we go on tour, we do the same program for three concerts on a roll. That's a new opportunity to see how students grow, because after they play the first concert we can say: "this is wrong, this is good". We have the chance to fix some things and then we play another concert. As a teacher, I get to see that students have new discoveries when they play the concert again. They go a little deeper into the music.
He found the Cuban audience very appreciative, particularly in Santa Clara.
Omid: The theatre was full, people were dressed up. You could really feel the kind of cultural standard of awareness that was there. They were very generous and receptive.
Omid, whose composition work is influenced by Persian music learned from his father, and is an awarded composer, didn't include any composition of his own in the program, even though he picked the music himself.
Omid: This is only my second year conducting the orchestra and I don't want to make it about me, but about the ensemble. I want to make it as good as I can make it, and maybe then introduce some of my own music. This ensemble has actually performed my music before. They commissioned a composition from me that I wrote in 2010, and I conducted it myself, but that was before I was fulltime conductor.
Omid finds Cuban music amazing and states that "if you don't think Cuban music is amazing, you are deaf".
He likes classic composers, like Leo Brouwer who is "very famous in the guitar community, his compositions are fantastic".
Omid: But what I particularly like a lot is the traditional, sort of popular music. What is special about it for me is a kind of special combination you don't see in my country very much: it has incredible rhythmic drive, but is relaxed at the same time. Rhythms are extremely complicated and sophisticated, but it's all very natural. I think this is something every musician can learn from.
Besides from finding the country beautiful and hot and the people very friendly, he considers it valuable for the young members of the orchestra.
Omid: "to see a different system of government and what place art has in a different system. People talk a lot about the resources being difficult in Cuba because of the embargo, and you see it when you come. But they should also see what the people and the government have done to make art such a central part in people's lives. It is not a side dish or an appetizer. It is valuable to see that art can be central regardless of conditions".
Omid would like to come back with a smaller group so he can explore more, and maybe stay at a casa particular, "with a family", instead of at a hotel.