Institutionalizing Dialogue and Forgiveness
Dmitri Prieto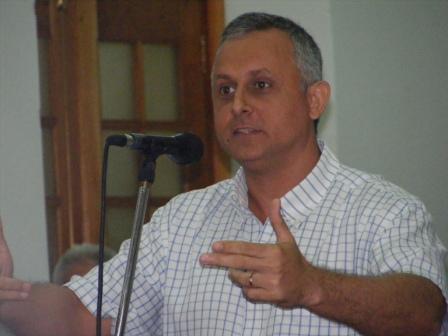 HAVANA TIMES, July 19 — Recently the Tenth Catholic Social Week of Cuba took place here in Havana.  To share a perspective of the event and its importance, Havana Times interviewed Roberto Veiga Gonzalez, a lawyer, essayist and the author of a wide number of social and political articles in the Cuban Catholic press.
Veiga Gonzalez (Matanzas, 1964), is the editor of the noted magazine Espacio Laical, a Lay Archdiocesan Council publication of the Archbishopric of Havana.
He is also responsible for the National Commission of Peace and Justice within the Havana archdiocese.
The Editorial Council of the magazine that Roberto Veiga coordinates has promoted the publication of works written by academics and activists of diverse tendencies of thought, including those who reside in Cuba as well as those living overseas.  This has transformed the journal into a valuable source of ideas for fueling the ideological and socio-cultural debate taking place on the island.
We discussed some of those issues in that same spirit of dialogue and debate that took place in the Catholic Social Week held here from June 16-20.
HT: In what way did the Tenth Catholic Social Week of Cuba insert itself in the current debate taking place among Cubans?
Roberto Veiga Gonzalez: For some time in Cuba, we have seen the development of a national debate geared towards shaping, renovating, and re-establishing —as I prefer to say— our community and national efforts.  This debate has limits, but it also has vitality.
Generally, each person is only heard in the environment in which they directly act, be it in a bread line, with their closest neighbors, with co-workers, small groups or whatever.  There are only a few people who are, in fact, able to express themselves through wider forms of communication and the media (through e-mail, online publications or in a few selective spaces on the radio or in the written press).
The full debate is usually not present in the media.  However, this would be indispensable for getting each person to understand the opinions of others, to enrich themselves with these, for people to be able to interact as well as to come to a consensus and to propose personal, group and community actions that lead to the betterment of all.  It would also be important in having those opinions and proposals that are shared by the general society being translated —in an explicit manner— into national policies. This, though, would demand the reconsideration of many aspects of democracy in Cuba.
In terms of the vitality of the national debate, I can point to its breadth and intensity, as well as its depth and spirit of "Cubania" (Cubaness) In this sense, the Tenth Catholic Social Week made an impact.
It contributed to the national debate, institutionalizing even more —at least ecclesiastically— a responsible spirit of "Cubanía," as well as several serious analyses and concrete proposals that are today emanating from the Cuban national fabric.  What was most important, its greatest contribution —though nor was this exclusive to Social Week— was a new methodology for dealing with the Cuban question and its future: This involved contact between all Cubans and dialogue as a path to achieving a national balance, as well as forgiveness between all those who have caused suffering, and the constructive love that was so insistently proposed to us by both Jesus Christ and Jose Marti.
It was a very positive climate because many people fraternally accepted each other's differences; they tried to discover what was positive in the opinions of others, and dialogue was identified as the road for our coming together and marching forward – of course, from the point of view of diversity.
HT: In the discussions, representatives of the Catholic Church were not the only ones who participated. Why were figures in the "secular" environment invited?
Roberto Veiga Gonzalez: Social Weeks are forums for delegates from all of the dioceses in the country to study the social situation from Christian perspectives; they serve to scrutinize the way in which Christians should participate.  Nevertheless, the suggestions that emerge from these participants do not seek to obligate Catholics to certain positions, but only to constitute these as references for those who find them useful for keeping in mind.
For this Catholic Social Week to fulfill its purpose, we decided to draw from the high levels of knowledge that our non-Catholic siblings could offer us.  We wanted them to share their ideas with us concerning the destiny of the nation.  For this, we invited Cuban intellectuals and academics of diverse tendencies, both those who are residents of the island and others abroad.
It would be an error, especially at this historical time, if we Cuban Catholics attempted to encase ourselves and if we projected a one-sided vision of what the nation should be.  That would not be intelligent, patriotic or evangelical.  This nation is made up of a wide group of siblings who, although thinking differently and embracing diverse religions, share a common destiny. Therefore, only together will be able to succeed in the present and achieve a more pleasing future.
HT: What is the contribution of the Catholic Social Week to the future of Cuba? What role should the Church play in that future?
Roberto Veiga Gonzalez: The future of Cuba should be much more prosperous and balanced, inclusive and participative.  This will be difficult if we do not institutionalize dialogue and conciliation or reconciliation.  The Social Week contributed a share of institutionalization along that path.  Moreover, it offered a new methodology for dealing with the Cuban question and its future: contact and dialogue, forgiveness and consensus.  Now what remains is promoting this dynamic and methodology in multi-mannered way through ecclesiastic entities.  The Diocesan Commissions of Peace and Justice could very well assume many of those functions.
However, the role of the Catholic Church in the construction of that future can be much wider and delicate.  Given its religious and anthropological message, its reading on perspectives of the Cuban situation, its presence during the entire history in the whole country, its framework of networks possessed across the whole island, as well as the political cleanliness and independence that it has reached —especially its hierarchy— these qualities have made it valuable at being able to constitute itself as a facilitator of the needed communion between all Cubans.
The Cuban government has accepted the Church as the interlocutor in solving the question of the Ladies in White and the prisoners being held on political grounds.  Perhaps it would be possible for the Church to also facilitate greater harmony in other environments: to find the best way so that each Cuban can outline their opinions, for consensus to be created among everyone, to renovate economic structures, and to achieve the best relations with everyone –and in particular with the United States.
The Catholic Church in Cuba should assume such a challenge as facilitator, more than as a mediator, although it can also exercise the role of mediation in certain cases.  Given our situation, the Church would be better at helping each Cuban, each group, each part, so that they end up being able to accept others and grant them the space they deserve.  As well, it could serve as an auxiliary to all so that there could be achieved a shared reflection and the best way could be carved out for gradually everyone being integrated in an inclusive and harmonious fashion.  For this it will be necessary to win the trust of everyone; this requires the confidence that each Cuban, each group, each part, can rely on the Church as a mother who is willing to be faithful to all and to offer fraternity among them.
Of course there will always be those who refuse to lend this trust to the Church.  Today we hear critiques, often offensive ones, about the role that it seems it can begin to carry out.  These come, for understandable reasons, from sectors that have been greatly harmed, from where there is plenty of hate and resentment. They need to be healed, let's hope they are able to play their part.  That will always be the road of the Church, of Christians, when it offers redemption to everyone, even of those who attack it.  The Church is much more faithful to Jesus Christ each time that it travels a road full of crosses and voices that scream at it like they did at their teacher and lord: crying "crucify him!"