Interview with Antonio Hens, director of the Spain-Cuba Film "The Last Match"
Helson Hernandez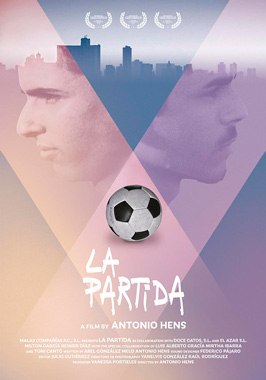 HAVANA TIMES — La Partida ("The Last Match"), a film that touches on a number of controversial issues, was screened at the 35th Havana Film Festival held in the Cuban capital the first half of December. "I beg to differ with those who see a portrait of contemporary Cuba in my film," said its director, Spanish Antonio Hens, during his interview with HT.
HT: Have you always worked in the film industry or do you have a different background?
Antonio Hens: I've been working in the film industry, where I've had different jobs, since I was 18. I started out as an editor. I later entered the directing department, first as an assistant director and later as a director as such. I've had technical training in film, though I hold a university degree in English Philology. I studied directing at the Madrid Film School (ECAM) many years later.
HT: Tell us of some of your other films.
AH: La Partida is the second film I direct. The first, from 2008, is titled Clandestinos ("Underground"). I started working as a producer in 1996 and, from that date until 2004, I produced some 12 shorts, including one I directed, called Malas Compañias ("In Bad Company"). That short became so well-known that I decided to give my production company that name. The short was screened in Cuba, as part of the La Huella de España ("Traces of Spain") film festival held in 2003, whose guest region that year was Andalucia.
I have also produced Cuban filmmaker Manuel W. Zayas' 2005 documentary Seres Extravagantes ("Extravagant Creatures") and Gerardo Chijona's 2010 feature film Boleto al paraiso ("Ticket to Paradise"), which won the audience's award at the Latino Cinema Festival in Biarritz, the Biznaga de Plata ("Silver Bishop's Weed") award for best picture at the Malaga Film Festival and was nominated for a Goya Award in 2011.
I have co-produced Enrique Pineda Barnet's 2011 feature Verde verde ("Green") and Sebastian Milo's short film Caminonero ("Trucker"). In Venezuela, I have produced the 2013 film Cuidado con lo que sueñas ("Careful What You Wish For") and Azul y no tan rosa ("Blue and Not so Pink"), made in 2012, which competed in the New Filmmakers section of the Havana Film Festival.
HT: How did you begin to work in the Cuban film industry?
AH: I started traveling to Cuba for family-related reasons in the 90s and immediately got in touch with people in the country's film industry.
HT: How does the film La Partida come about?
AH: I've always been interested in teenage characters, that critical moment in life when we are about to become adults. I am interested in its contradictions, its illusions and the strength of our first loves, which are always the most intense, the most passionate and, in a sense, the most authentic.
Later, we become adults and arm ourselves with protective shields. I am also interested in that time during our youth when we don't concern ourselves with the options we have, when we aren't interested in going anywhere, relaxed, and haven't found our path yet. Those are the contradictions I try to explore in my film.
HT: Your film was shown at the 35th Havana Film Festival.
AH: It was an honor for me to be able to show the film in the country where its characters were developed and where its actors and crew are from. No one who took part in the making of the film had seen it before, so the opportunity to show it in Havana was doubly rewarding, for them and perhaps the rest of the spectators, who were able to see how someone from Spain portrays their compatriots.
HT: The plot and characters of La Partida set contemporary and polemical issues in motion.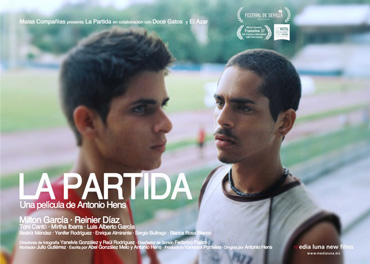 AH: I try to steer clear of all controversy. I beg to differ with those who see a portrait of contemporary Cuba in my film. It is rather a portrait of underprivileged people who can be found in Cuban society and any other, but who are not an exhaustive description of that condition. I focus on them because they shed light on the search for personal freedom, which is a universal issue.
There are other issues, such as first love as "amour for" ("crazy love"), and most importantly, the contradictory ways in which masculinity is constructed in certain social contexts. The film, however, is not analytical of society, not by a long shot – it is the portrait of certain characters.
HT: Has the film been screened in Spain or did it premiere in Cuba?
AH: The film was recently released in Spain at the Sevilla Film Festival, on November 9, 2013. The world premiere was at the 37th San Francisco Frameline Festival, the world's most important gay and lesbian festival. Since then, it has participated in nearly twenty festivals and we've had some eight thousand people see it – in Boston, Miami, Rochester, Philadelphia and Los Angeles.
It was screened at the 37th Sao Paulo Film Festival, at festivals in Germany, Croatia, and Greece before it was shown in Spain and Cuba. During this time, we've closed deals for its distribution in the United States, Canada, England, Puerto Rico, Germany and France and we've received offers from seven other countries.
HT:  What film project have you got in the works now?
AH: Several, as is always the case. One of them is a tete-a-tete or one-on-one private meeting between to characters, to transpire in a single location. I am also working on a comedic musical. As always, only circumstances will decide. I have other projects in the works. I hope to start filming next year.