Interview with Cuba Actress Claudia Alvariño
By Helson Hernandez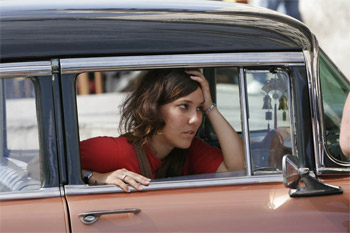 HAVANA TIMES, Sept. 21 — The young Cuban actress Claudia Alvariño, who plays an important supporting role in the recently released Cuban film "Habanastation" was interviewed recently by HT.  Commenting on the film, she noted that, "It reflects today's Cuba, how human qualities get lost when money appears."
Havana Times:  ENA, the National School of Art.  When hearing that name, what does it make you want to tell us?  
Claudia Alvariño:  I remember ENA with much affection.  I was admitted when I was 15.  It was a very nice stage in my life, where I had teachers who today are my friends, where I learned how to be a little bit more independent, where I met incredible friends.
HT: The Colmenita (literally "the beehive"), the recognized children's theater company, has been work for you even before your studies at ENA, that you assumed with great pleasure and vision for the future.  
CA: The Colmenita is my life.  It's the place where I'm always absolutely happy.  It's where I grew up.  It's where my uncles, cousins, siblings and friends are – all those people who one wants most in their life.  More than a theater company it is my home.  I joined the Colmenita when I was very young.  For me it was the best acting school.  Thanks to it, I wanted to enroll in the ENA.  I never looked at the Colmenita as a job, only as amusement, a healthy space, my home.
HT: Your professional commitments with the Colmenita weren't exactly in performing, at least at the beginning.  How is this experience reflected in you?  
CA: There were many of us, of all different ages, who joined to have a good time, to enjoy ourselves and to play as performers along with other children.  One of the principles of the Colmenita is that we have to play at giving performances in the theater, never like professionals and even less so when it's done by children.
The Colmenita has never tried to turn kids into professionals, and that influenced me a lot as a person.  I was lucky to join the Colmenita when I was a little girl, and from that moment — without realizing it — rules already existed in my life.  I remember that Tin (our guide) always demanded us to respect the stage, that it was something sacred, but that when we went out there, this would always be to have a good time and to give all our energy.
HT: Your last name is Alvariño, which is a reference in Cuban acting.  Can you clear up that connection for us?  
CA: Yes, the well-known actress Tahimí Alvariño is my sister, on my father's side.
HT: Has your training as an actress been influenced by your sister's recognized career? 
CA: I remember when my sister took me to parties with her friends, who were all actors and musicians.  I was the center of attention imitating a very popular comedian who had a characteristic voice.  I've always admired my sister and all those experiences very much.  Without a doubt they've had a certain influence on me.
HT: How did Claudia join the cast of the most recent movie by Cuban director Ian Padron? 
CA: Ian came to the Colmenita with the script for the movie so that they could read it, and if they liked it the Colmenita could help him as the Producer for the movie.  They liked the idea behind the story so they began castings with the children for the main characters.  As it turned out I was selected for what was a very small part at that time as the teacher.  Since I am part of the Colmenita they offered me that role even without casting.  Later on, though, in the editing room my part began to grow as they added scenes, which is what finally appeared.
HT:  Habanastation, what has it contributed to you as an actress and as a human being?  
CA: It's the first time that I worked in the cinema, and truthfully it was a privilege because very few films are made here in Cuba.  It has nothing to do with the theater or television, those are different readings.  All of one's expressions have to be more subtle.  I had a great time doing it.  It was nice working with Ernestico and Andy, children who I've known since they were tiny.  We had a fantastic team, the technicians as well as the actors.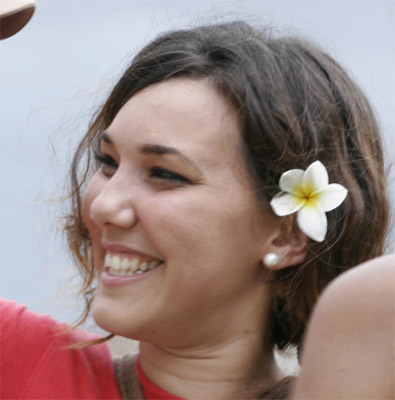 HT: Your character in particular, the teacher, do you think that it's framed realistically in reflecting today's Cuba, and what about the rest of the film's argument.   
CA: The teacher, my character, is a young teacher like so many of the ones here in Cuba.  This doesn't mean that all of them are like her; it's that she's only one of the many that do exist.  And yes, the movie is reflective of today's Cuba, human qualities get lost when money appears, and that generally does harm.
The movie reflects a part of Cuba, the happy children playing in their street, bathing in a rainstorm, flying kites, and if their economic position doesn't sometimes allow them to have the latest game or the most up-to-date clothes, they're still able to share their only piece of bread with a friend.
HT: What ideas does Claudia Alvariño have about her professional future? 
CA: To work a lot, to continue in my theater group the Colmenita, where I'm tremendously happy surrounded by children, this is something that fascinates me.  But if another movie comes up, so much the better!