Interview with Cuban Actor Carlos Perez Peña
By Helson Hernandez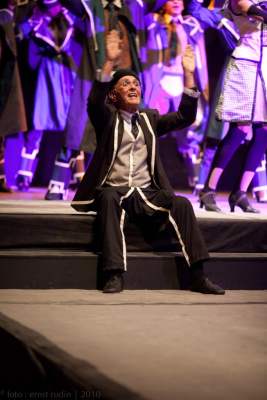 HAVANA TIMES, Feb. 21 — Actor Carlos Perez Peña, the founder of the famous Teatro Escambray and winner of the 2009 National Theater Award, spoke with HT about his life on stage and the motivations behind his career.
HT: Carlos, how many years have you been appearing on the stage now?
Carlos Perez Peña: Just imagine, last year I marked my fiftieth year of artistic life, though amid a total indifference.  I decidedly don't belong to the Havana jet set.
HT: Do you believe that Teatro Escambray was the door to your later artistic career, which has received plenty of recognition?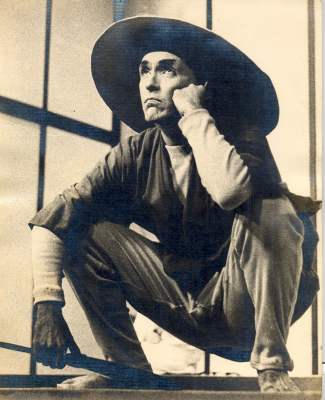 CP:  It's difficult for me to imagine what my life or my career would have been like outside of the Escambray.  Destiny — I believe in that — has afforded me I wouldn't have been able to be in any other way or in any other circumstance.  What I am, what I've done, has been almost a complete consequence of my 37 years in the Escambray.  Early on I had to get to know myself, then came the search, and the Escambray was where I found myself.  What I'm doing now is no more than using the resources that I've more or less accumulated over these fifty years to the best that's possible.
HT: Who were the essential people during those years of the Escambray?
CP: Sergio Corrieri, Gilda Hernandez, Albio Paz, Cari Chao at the beginning… at the end, and I want to believe that as an affective and professional legacy, there are Carlos Riveron, Ernesto Diaz, Roberto Mora… Rafael Gonzalez for more than twenty years.  Above everyone there was Maritza Abrahantes; plus my son Alvaro, who was born and raised there.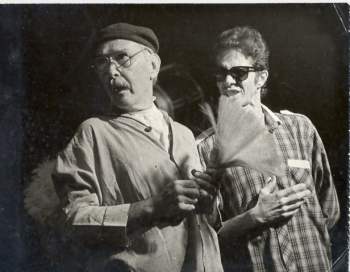 HT: Recently I saw the staging of "Ensayo para siete" (Rehearsal for seven), in which you acted, of course, but you we also the director.  We have known about your interest in this other activity within the theater for some time now.  In what circumstances do you note that in addition to being a good performer, you could also direct actors?
CP:  Working with actors has never been in my expressive universe or a need of mine (though yes, I do try to help them where I can). I don't feel spiritually qualified to practice something that I understand doesn't involve only technique.  My imagination — I'm an impressionist, to my chagrin — has always gone for the path of conceiving images or atmospheres; ever since I worked in the Guiñol Theater Co. it has been like that; sometimes (the best) have not been more than impulses, and other times, the majority, have not been anything other than responses to this "vocation of service"… to almost obligatory circumstances, and there have been the actors; together with them I always try to pursue the journey that allows us to find solutions to solve certain unknowns.
HT: Presently, you have become one of the figures of the company Mefisto Theater.  In their last productions you have participated leaving us with characters that have marked a place in the staging of this collective.  Musicals especially have been an appreciable contribution in the work of director Tony Diaz.  Tell me about this experience.  Was it new for you or did you already have a background in this theatrical genre?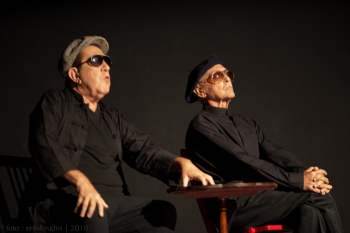 CP: All my life I have been a perfect cinema spectator (perfect in the sense of being passive).  So, in my adolescence — at the same time that I was suffering along with James Dean, Gene Kelly, Donald O'Connor, or Russ Tamblyn — I was fascinated by musicals, but I never remotely thought of the possibility that someday I'd be an actor or that I could be something similar to that which dazzled me.
Years later, in the Guiñol, I sung a lot; then later in the national dramatic group and in the staging of De película we were — well not just me — entering in that other stage language that in no way was done ad lib.  The crew of teachers and trainers was impressive.
In what has been said about the history of musical theater in Havana, very little mention is made of the seasons of what was called "Teatro loco" (crazy theater), where the trained actors, dancers and singers of the musical mixed with non-specialized actors (myself among them) and with major figures of the world of song, like Elena Burque or the D' Aida, even with Omara Portuondo.  Chucho Valdes was the pianist of the theater orchestra and Tony Taño was the director, in this way the culture broth was appropriate.  Those shows that were conceived of directed by Humberto Arenal had their ups and downs, but they were generally delightful.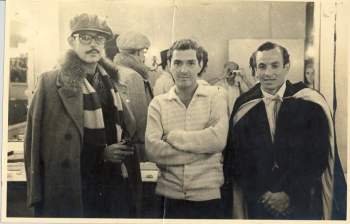 Later the La Rueda group, along with the musical, took on the staging of the "Three Penny Opera."  There, we the actors of La Rueda sang, acted and danced along with Mirtha Medina, Tomas Morales, Maria Elena Salas or Cirita Santana, because the work of Jose Milian as the adapter and playwright, the arrangements by Roberto Sanchez Ferres and the musical direction of Adolfo Guzman all transformed the writings of Brecht and the original music by Kurt Weil into a musical comedy in which one heard music like that which was in vogue in those years, especially that which came from El Peña and the Beatles.
Then came Los Doce, where music and rhythm were going along other roads, and later the years of the Escambray, in those that somehow I "specialized" in the campesino ballad, to such an extreme that one time I shared in and sang along with the great Luis Gomez.
Tony Diaz and I were in Camagüey when I presented Como caña al viento there, and this is why he invited me to work on Placido, which was not a musical though it had music.   From there to Chicago was only a matter of following the trajectory of a working relationship that up to now — and I hope for a long time — is a happy one.
I saw Chicago on Broadway, and I admit that the only thing I remember was the role of Mr. Cellophane, and later I ended up playing that role here in Havana.  For me it was a great pleasure… we are in the realm of memories (not nostalgia) and I can tell you that the first time I sang and danced in public it was in the epoch of James Dean and Gene Kelly, in one of the "baile de los teenagers," that along with the baile rojo were the two most splendid carnival parties that took place every year at the exclusive Havana Country Club.
HT: What were you doing at the time you found out that you had won the 2009 National Theater Award… and what personal importance is recognition like this for you?
CP:  I was transitioning from the Escambray to Havana.  I had one foot here and another one there, and at the end of December some very dear people called me to give me the news.  The fact of receiving that recognition publically was something touching and overjoying.
HT: If you had to define the word "theater," in its essence, and what you have devoted to it since you decided this would be your world, what conclusions would you make?
CP: I can't say that I decided the theater would become my world, and less still that it has been the most important thing in my life or any other of those topics.  I can only say this: it's the best thing I know how to do, it's what puts food on my table, and for me it's what produces more happiness than sadness.
HT: A man like Carlos Perez Peña, committed to the theater of his country, surely must have his own opinions and concerns regarding current and future development of this art form on the island.
CP:  For me, the best moments in the Guiñol, Los Doce, or the Escambray are those where the barrier between the professional and the individual, the rational and the emotional disappeared and each and every one of us shared our interests, investigations and proposals, which resulted in common, offered and shared thought and spirituality.
From that, as well as still being subject to structures and operating patterns that I feel are now obsolete, the Cuban theater is lacking today.  I desire, miss and demand experiences like those of La Candelaria, Teatro Laboratorio, Odin, Yuyaskanin… Could this be an unequivocal sign that, still without being paralyzed, I belong to another epoch?
HT: And the next character or the next staging by Carlos Perez Peña?
CP:  The next project by Tony Diaz with Mefisto Teatro will be the staging of a beautiful version that David Guerra has worked on involving the testimonial novel Cancion de Rachel, which as people know gave rise to the famous and excellent Bella del Alhambra.
Despite being based on the same story, the version is conceived as a theatrical show, a completely different language and homage to the forgotten vernacular theater, another of the things that — like the Campoamor Theater or that of the Marti Theater — no longer exist.
We began staging in January with the enthusiasm, confidence and the encouragement of Miguel Barnet.  I will play the Galician of comic theater, something that has me a little scared; I was joking with Hector Quintero and I told him that I feel closer to the charleston than I do the rumba.  Also in January, I'll begin to rehearse Cats, with Alejandro Milian and a group of children musicians and actors.  I'll interpret Zapiron, the king of the cats, or Gus, the old cat actor, or both.
So this coming year I'll continue working on things I like, which is fortunate these days.  Maybe it's the only luck I have right now.  But we are in Advent, a time of hope. And I am hopeful.