"Journalism and Humor Cannot be Silenced"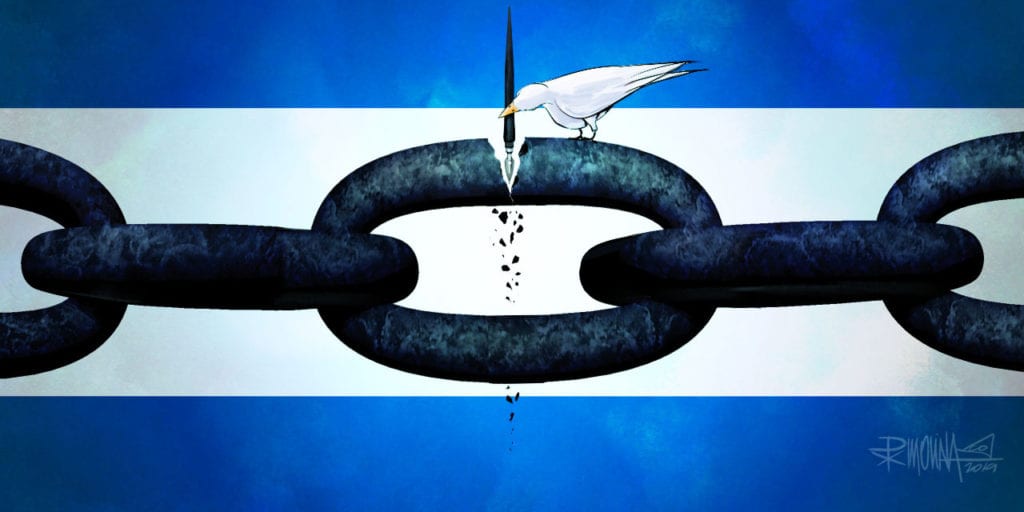 Cartoonist Pedro Molina laments the siege experienced by the independent press in Nicaragua and in his case he reported being the victim of a new campaign of intimidation and threats by the Ortega-Murillo regime.
By Yader Luna (Confidencial)
HAVANA TIMES – Cartoonist Pedro Molina reported being the victim of direct threats from fanatics of the regime of Daniel Ortega and Rosario Murillo, something that dozens of independent journalists in Nicaragua have also denounced. However, he assures that they will not shut him up and that the commitment he has, together with his colleagues who work from the underground or in exile, is growing every day.
March 1st was the Day of the Nicaraguan Journalist, and the cartoonist of Confidential reflected on how hard it is to practice the profession in these days of crisis in Nicaragua due to the constant attack directed by the Government. Molina is optimistic and says that the great triumph is that "we are still exercising our work, overcoming censorship and reporting."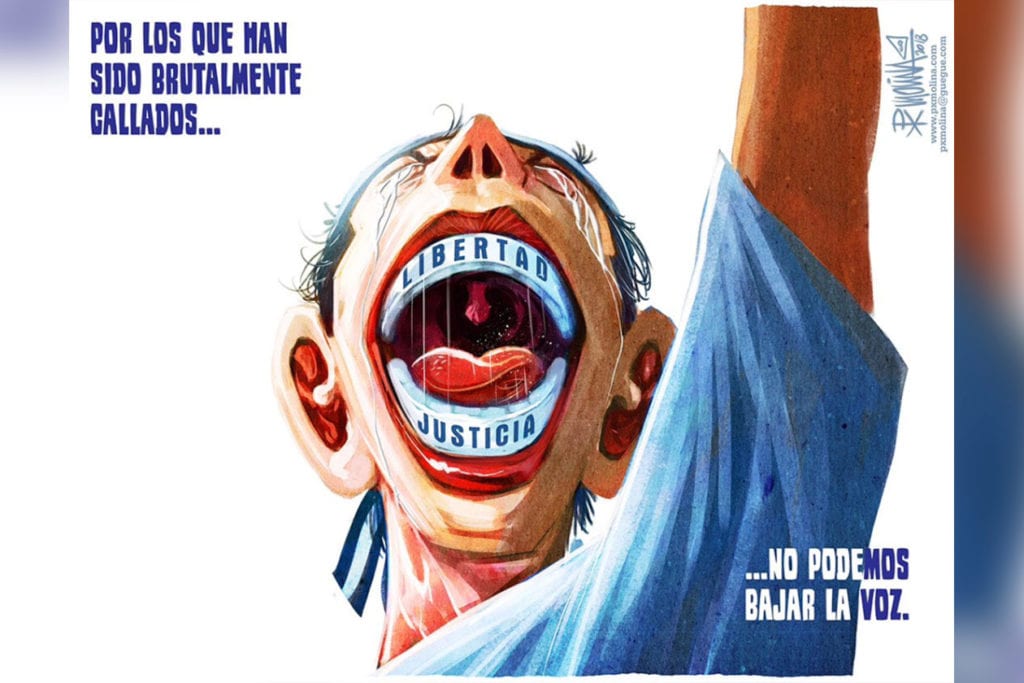 "The optimism I have is based on the commitment that every journalist who works under great limitations has today. Many of them working clandestinely or from exile, have shown that they are not (reporting) for a salary, but because they have recognized that with their work they can contribute to the liberation of the nation," he said during an interview on the television program Esta Noche"
The threats have increased
Molina, a man who has drawn the powerful for years is used to creating annoyance in those characters who believe they are untouchable. However, he admits that in the current context the threats have escalated to another level and blamed the dictatorial couple for anything that could happen to him or any of his close ones.
"The threats for my work have always been there, but they have risen in tone because they have begun to reveal details of my private life or of the people close to me; and having the 'butchers of El Carmen' cannot be overlooked and must be taken into account," he insisted.
For the humorist, in Nicaragua now "it is difficult to get any kind of protection" because "we are all exposed and anything can happen to us".
He explained that the last threat he received and that motivated him to denounce his situation through the publication of a cartoon on his Twitter account, was sent to him through a supporter of the Ortega-Murillo regime. But he, he preferred not to stay silent.
Celebrate independent journalism
Molina said that in the current situation that Nicaragua is experiencing, it is difficult to provide humor, because "there is not much to laugh about", but he values the emotional effect that his drawings can have.
"All of us who do independent journalism outside of the established power, have to celebrate it because we are doing it, in some way, even from the underground or from exile. I think we have to celebrate the commitment of independent journalism to the truth," he said.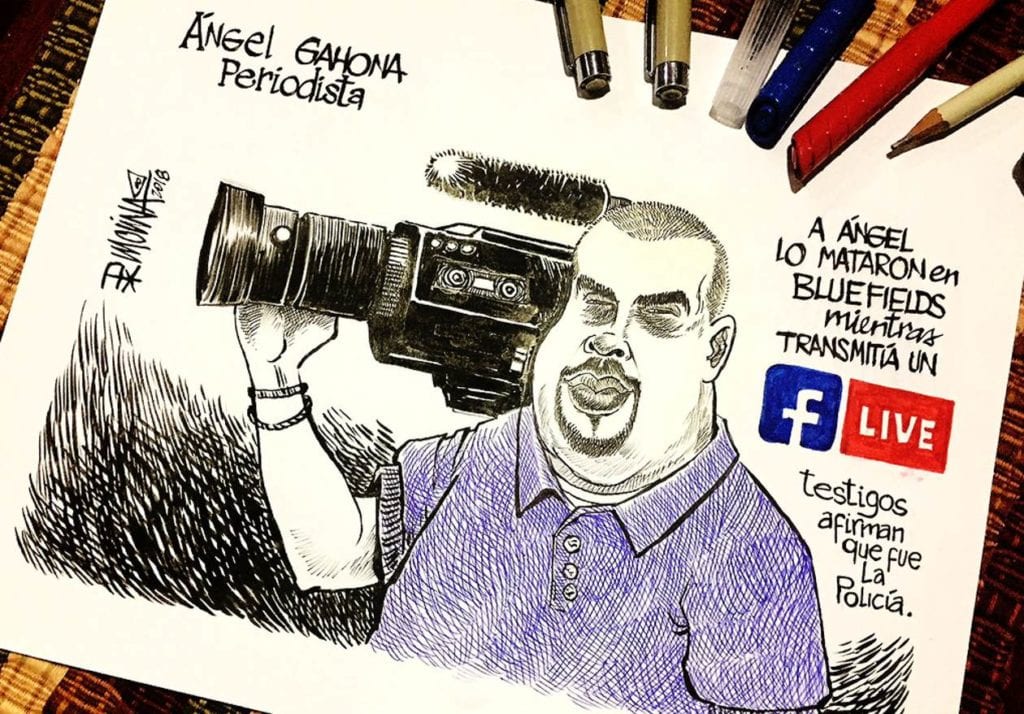 Cartoons challenges power
The cartoonist said that humor has the virtue of breaking with the powerful because "in order to work, it must upset the powers that be".
Molina explained that many of the characters who hold power "are dressed in a solemnity to believe they are omnipotent, so when you make them see with humor or with a caricature, that they are like any other person, they feel that they are diminished, that you bring them down from the place where they deserve to be. "
During the program Molina said he feels accompanied by the popular humor that Nicaraguans express on social networks "and I am glad that people are empowered by that weapon, because it is a tool that can help you and free you against the situation that oppresses you."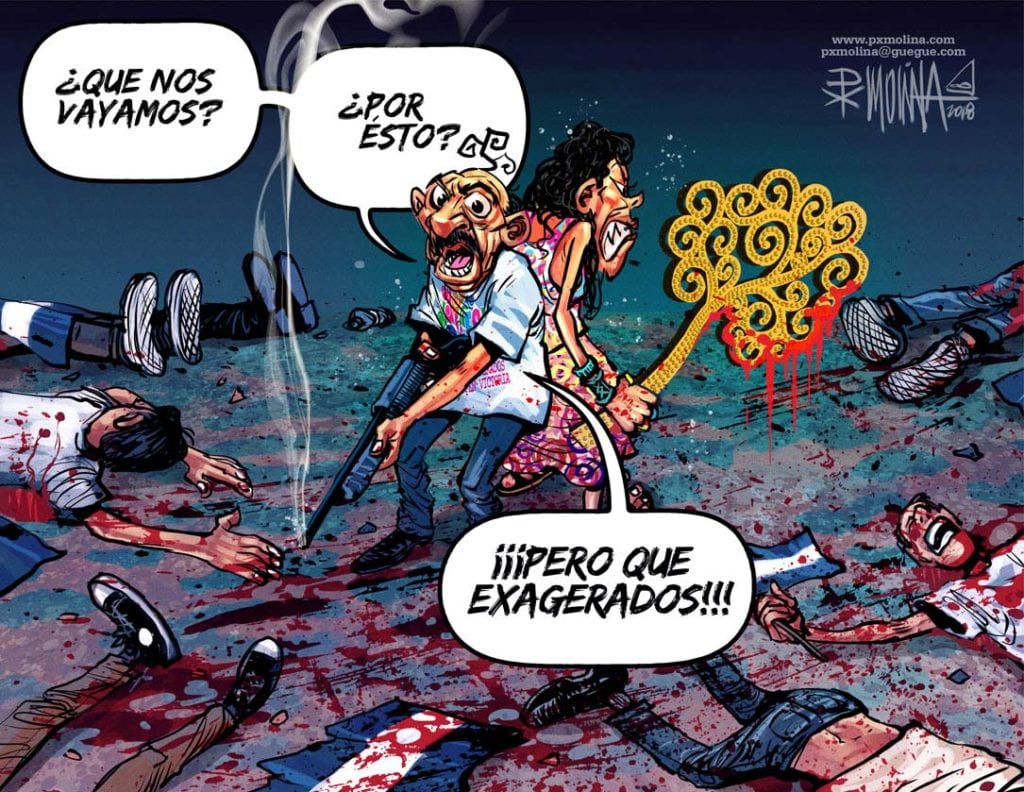 He recalled the assault on the Confidencial, Esta Semana, Esta Noche and Niú installations; but also thanked the readership and audiences for the support they show by sending their materials (videos, photos, complaints) to independent journalists.
Molina said that his opinion about young people has changed, people who he thought were asleep. He thanked them for being "one of the engines of awareness of the entire country."
"Many people (akin to the regime) boast of threatening and humiliating people (…) there is a lot of rejection of the government, but there is also a lot of fear; which does not mean that people have surrendered, because all fear has an expiration date," he said.