#La Bandera es de Todos Exhibition. Interview with the Curator
By Regina Cano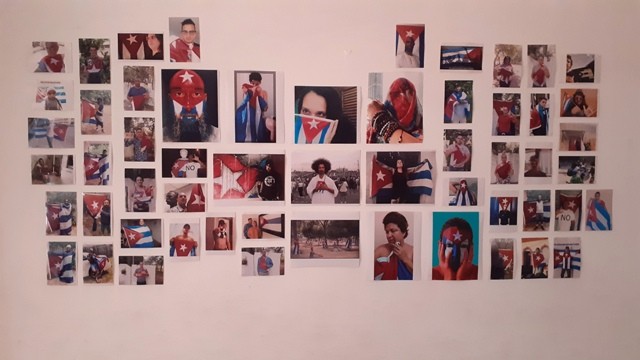 HAVANA TIMES – A unique exhibition being displayed at Bloque del Este gallery allowed me to sit down and talk with Claudia Genlui Hidalgo Moreno, the curator of the #La Bandera es de Todos exhibition.
Claudia completed her Art History degree in 2016. She has connections with the Havana City Historian's Office and has been working at Casa Guayasamin for a year, where she curates projects and works with different artists. She has been at Factoria Habana for two years now, as a curator's assistant and she also does projects on her own.
HT: Where did the idea come from?
Claudia: #La Bandera es de Todos is an initiative that the San Isidro Movement had, namely Michel Matos, Amaury Pacheco and myself, which was born when Luis Manuel Otero Alcantara was arrested for the first time (arbitrarily like every other time), when he began his Le Drapeu performance, which involved wearing the Cuban flag on his shoulders for a month.
This artistic action (independent to Luis Manuel's own art, but taking the same guidelines) called upon people to question this idea of patriotic symbols and the new law in their regard, which also influences what Luis does: what is a patriotic symbol? Nationalism? Homeland? Identity? And other concepts that he had been working on, ever since he began the series SE USA.
Symbols have added value, a series of references that tell you what it is, but it isn't exactly the object in itself: What does a flag mean? Is it a bit of cloth? Is it more than a piece of cloth? He (Luis Manuel) was calling all of this into question: nation, citizen, collective memory, even the colors, why this shape (and) it's all linked.
HT: How did you call upon people to take part?
Claudia: We launched the call on Facebook: We invited everyone who wanted to join the challenge to take a photo with the Cuban flag however they wanted to, with the hashtag La Bandera es de Todos, to show support for Luis' work, but also as an independent project. We were surprised to see how many people joined the initiative and took pictures, some being more creative than others.
In fact, I had the hashtag idea, and Amaury Pacheco and Michel Matos had the idea of turning it into a Challenge, as they had been wondering for a while what reach social media could have. As well as how does this have an effect on a given sector of the Cuban population, who not only think differently, but also those within the (offical) system, and others?
There was also a call for flags to be donated to the San Isidro Movement because every time they arrested Luis, they seized a flag and a flag can cost between 30 and 40 CUC (dollars). They were difficult to get a hold of…
Luis was released after that arrest and the Challenge continued.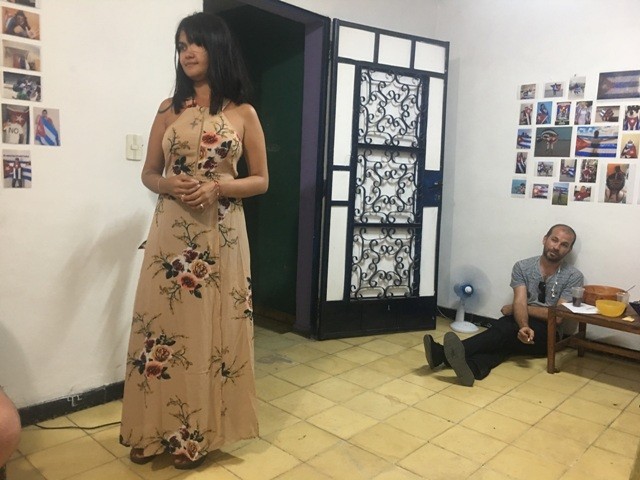 HT: How about the exhibition?
Claudia: I thought of it as more than just any old Challenge, we had reached our objective, people were thinking about an issue, they made it their own and they took it on as art.
I felt, and I believe the entire San Isidro Movement did too, that people weren't uploading a photo like "I'm going to take a selfie" and that's it, or "I'm going to join the challenge", and that's it.
Even people who weren't artists were trying to be creative, to make art. This is one of the things that the San Isidro Movement defends, which is to create a platform via art which is able to get all of society engaged, whether that be about politics, social issues, etc.
And I think this was an example to prove that this really is possible, that art has unlimited reach, that it can really move limits.
So, I felt I had the obligation to make a kind of tribute to all of these people, just, because it's on the Cloud and in our memories. We had selected many photos and had them saved. A lot of press such as ADN, Cuba Decide, wrote features and even OtaOla joined the challenge, but it was all in the past.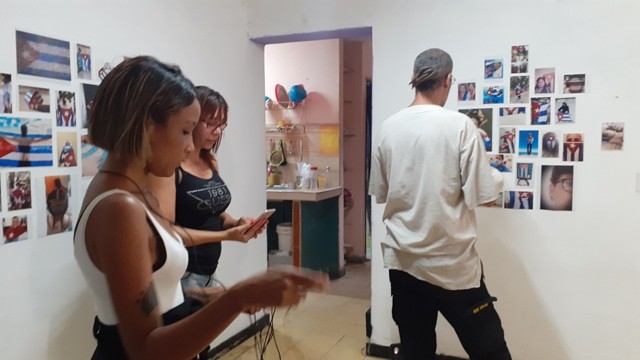 It was also an idea that Luis Manuel had had when brainstorming and I brought it to life.
Placing this challenge within a gallery is maybe a conventional way of seeing art, but it also serves to legitimize this art a little.
The fact that photos were digital, but in the physical space of a gallery, with a curator, was my contribution, beyond taking a photo or not and, of course, as a member of the San Isidro Movement. It was my way of joining the action, the gesture, all of the adrenaline, all of the energy that it transmitted.
I felt like I needed to pay a little tribute to all of the people who took on the challenge. I would have loved for all of the pictures to be here. But, it was impossible. Over 500 photos were taken. It was more than we were expecting
In fact, I'm surprised that, while people associated with us (artists, friends) joined the challenge, people tied to the opposition movement, who think differently, also openly took on the challenge, fearlessly.
I was struck by how some of my friends, who maybe deep within the system, who think and answer to a family tradition, also took on the challenge. That was huge in my eyes, because the flag really does belong to everyone. Before 1959, after 1959, to those of us living in Cuba, but also all of the Cubans living outside of the island.
It was open, and it gave rise to many interpretations of what the flag means to them.
It became clear in every one of the photos that was uploaded, or comment posted on other photos, or on their own.
For example, there was one that said that The Flag doesn't belong to anyone, the flag can belong to everyone, but it's also nobody's.
Another thing that surprized me was people's creativity when taking on the challenge. Some people folded it over, others added details of an object with the flag. Cocofusco, spectacular, with this extremely clever photo of a superhero.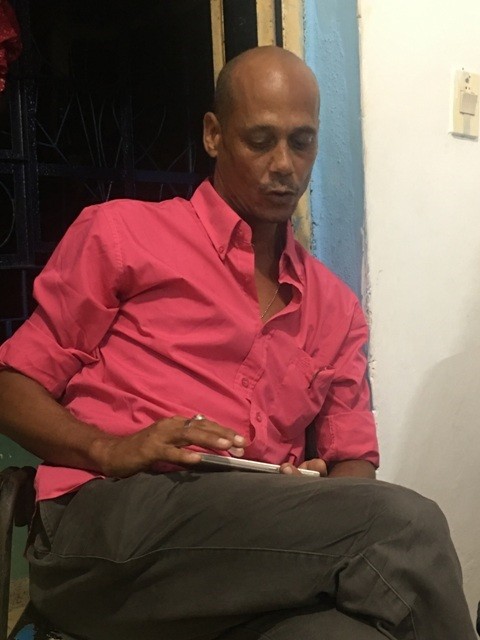 Many people uploaded photos they already had. For example, photographer, journalist and poet Ariel Maceo, had a photo series dedicated to the Cuban flag. Yasser Castellanos, who also belongs to the San Isidro Movement, had also been working with this symbol for a while now.
Photos, videos… even a song by Marichal, a rapper and another young woman, Laura, a YouTuber, who uploaded a video. She not only took on the #La Bandera es de Todos challenge and uploaded a video with the flag, she also made a song.
As the challenge spread and people identified themselves with it, I felt the need to pay a little tribute to all of these people and that's how the exhibition #La Bandera es de Todos came to be, with the same hashtag and name, because it's a tribute to the Challenger.
HT: How did you select the photos?
Claudia: First of all, and it's very important that this appears in the interview because I'm really sad because we couldn't print all the photos.
It's something that many people, who don't find themselves represented in this space and joined the challenge are upset with, and I know it's difficult. And just telling them that it was impossible to print 500 photos, isn't an excuse to do so.
I tried to select the most representative ones and the first ones that were uploaded on social media, especially the ones that had the most impact, maybe the most innovative ones. And the ones that had more of an artistic touch, for example the photos by Coco, Ariel, Yasser, Coyula, Mayili, which from an artistic point of view and in my experience of working with art, especially paintings and photography, didn't play with the obvious, but had this mischievous creative streak, portraying something different to get the message across.
Lots of images were a little repetitive, the flag hanging off people's shoulders, folded or the photo of the open flag.
There is a photo which I would have liked to have included, but I couldn't. It was taken by a young man, Joivan. He didn't have a flag and went to a polyclinic, he stopped in front of a flag and took a picture. For me, that was an act of "I don't have a flag, but I can find one", "The flag is mine and it's there. It might not be mine, but it is mine."
HT: Was the event incomplete?
Claudia: We took advantage of the exhibition to organize a series of activities which we would like to hold or still want to hold, as part of the day to celebrate the first anniversary of the San Isidro Movement.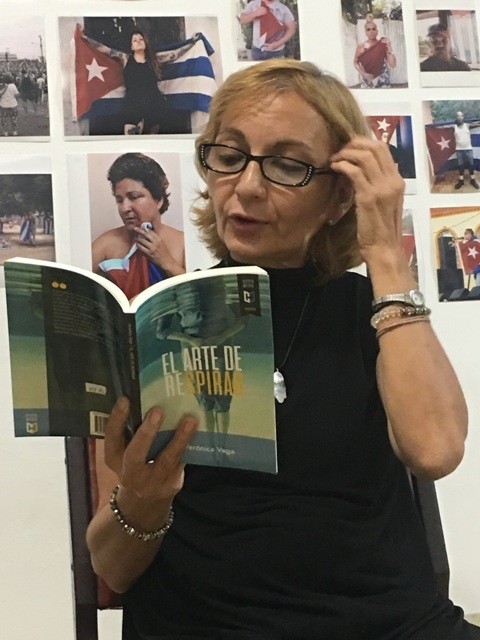 The celebrations which kicked off with the exhibition inauguration, would have a poetry reading the following day: the Demongeles group, presenting the book El Arte de Respirar, by Veronica Vega, presentations by Yasser Castellanos and Afrika Reina, and we were going to close the event with a rap concert, like a kind of National Culture Day.
But what happened? The next day, nearly every member of the San Isidro Movement woke up and discovered that they had been laid siege to: Michel Matos, Amaury Pacheco… Luis was arrested at his home, a police patrol car had been stationed outside his front door since early in the morning, to stop us from holding this activity and us going to see the end of a series of things that Omara Ruiz Urquiola was doing about Breast Cancer.
As Luis was arrested and San Isidro Movement members were being held under siege, we decided to cancel the event that day and to postpone the other two.
We couldn't do it that weekend as it coincided with Alicia Alonso's passing, all of the funeral celebrations and whatnot.
A week later, we managed to organize the poetry reading, the book presentation and the speeches by Afrika and Yasser, but as we were leaving the place that very evening, Luis Manuel was again arrested for no apparent reason.
The idea was to create a link between the Museum of Dissidence, here in San Isidro, and the Bloque del Este gallery.
We had to cancel the concert, which is still pending.
(Click on an image to display the gallery.)